15 Best ELD Devices for Owner-Operators In 2023
As an owner-operator in the US, you already know that having one of the best ELD devices is the perfect ally you can have. Apart from compliance, a good Electronic Logging Device can work wonders in keeping your drivers and trucks safe.
When FMCSA introduced ELD In 2019, its core purpose was traffic safety. However, with integrated GPS tracking, these devices can elevate several trucking business operations – fuel usage, insurance costs, vehicle maintenance, routing, and assigning jobs as well as making it easier to manage and share data in compliance with the Department of Transportation's Hours of Service rules.
The ELD mandate only applies to carriers and drivers who are required to maintain Records of Duty Status (RoDS), in accordance with US federal hours of service regulations. Those who fail to comply will be penalized with fines, placed out of service, and CSA points added to their record. To stay in compliance, you should make sure you understand all of the hours of service violations you could potentially get.
Who is required to have an ELD?
An electronic logging device, popularly known as ELD, is hardware that drivers and fleet managers of non-exempt commercial motor vehicles use to track Hours of Service (HoS). Designed for accurate recordkeeping, the ELD attaches to a vehicle's engine and automatically records engine status, miles driven, engine operational hours, and more.
When FMCSA came up with the idea for ELD, the basic motive was to ensure adherence to the rules and regulations stipulated by the Department of Transport. However, since the ELD connects to the vehicle's engine, it collects pertinent data that not only allows compliance but also helps drivers and fleet managers in business operations like fuel and tax management. Most ELDs are GPS-enabled and employ other technologies such as cloud-based data storage, satellite, and wireless communication, making them an essential part of fleet management.
Driver and fleet managers must use FMCSA-approved ELDs. The ELD providers are required to register and self-certify their devices with the FMCSA. Also, although ELD is required for all CMVs that maintain Record of Duty Status (RoDS), there are certain exceptions:
CMVs that work short hauls – within 100/150 air miles
CMVs with engines manufactured pre-2000
Driveaway-towaway operators
CMVs used to transport agricultural equipment, produce, etc.
Drivers/fleets who maintain RODS for less than 8 days
One of the most important criteria that an ELD must fulfill is to be on FMCSA's list of approved devices; failing which might attract heavy fines and penalties. Although getting an electronic logging device has been made mandatory, it is pertinent for your business to choose the best ELD solution from the several options available in the market. You can also use their ELD software on any budget tablet.
Best ELD Devices for Owner-operators
If you go through the list of FMCSA-approved devices, you will find hundreds of solutions. However, based on the market study, customer satisfaction rating, ease of use, features, adaptability, and cost-efficiency, Matrack ELD proves to be the best ELD device out there. With GPS-enabled real-time tracking, Geofencing, aggressive tracking mode, and many other features, Matrack ELD comes with a minimal monthly subscription and no device cost.
The purpose of this article is to list the best products in the market, and not to review or rank them. All the products listed here have several unique features catering to a wide range of customer requirements. The intention is to inform and educate the reader on the variety of options available in the market.
Here are the 5 top ELD devices:
Matrack ELD – Best Overall ELD
GPS Trackit ELD – Easy Installation
Gorilla Safety ELD – Document management
EROAD Ehubo ELD– enhanced driving behavior
Drive ELD – Best for basics
Top 15 Best ELD Devices Reviewed for 2023
Matrack ELD – Best Budget ELD device
In comparison to the various other electronic logging devices available in the market, Matrack ELD is more reliable and easier to use. Along with the dependable ELD device, the provider also offers a seamless, intuitive, and user-friendly app. With a free ELD device, low subscription cost, no contracts, lifetime warranty, and more, Matrack ELD is the best in the current market. The device is a perfect combination of a wide variety of ELD, tracking, and other FMS services, and comes with sturdy and long-lasting, warranty-covered hardware, making Matrack a popular choice for owner-operators as well as fleets of all sizes.
More importantly, Matrack ELD is in complete compliance with FMCSA guidelines, thereby making it most preferred by drivers who are required to comply with the ELD mandate.
The device is extremely easy to connect with the vehicle's OBD II port and does not require any special expertise. The app that comes along with the device, can be installed on any Apple or Android device of your choice, and once integrated with the ELD, all the information you need becomes easily accessible. Also, the manufacturer offers round-the-clock technical support for all their clients making onboarding extremely easy and simple. You can buy it on their website.
Pricing
Matrack ELD is available for free, with the lowest subscription of $14.95 /month only. You do not have to pay anything for the device, there are no contracts or hidden fees, and you can also cancel the subscription anytime. The provider also offers a lifetime warranty on all electronic logging devices, and a 30-day free return policy, making it the best and most affordable ELD.
Features
Matrack ELD is also in our Top 5 ELD list because of its numerous features. It's a smart ELD with GPS-enabled real-time location tracking, Bluetooth compatibility, voice-based ELD status changes, and more. Some of its amazing features include:
FMCSA and DoT compliance
Automated and accurate HoS logs
Easy DoT log transfer on inspections
Geo-Fencing
Accurate travel logs
Idle time tracking
Real-time safety management and risk alerts
Automated reporting
Accident reporting
IFTA calculations
Fuel and vehicle maintenance management
Historical records, easy storage, and retrieval of data
Voice-enabled interface
Matrack ELD is also popular in the fleet industry because of its unparalleled customer service, which is available 24/7. They have experienced staff that takes care of all your queries in record time.
Matrack ELD also comes with Fleet management solutions that help you in streamlining your business operations, at no extra cost! It helps in managing and recording the data, avoiding violations, keeping an authentic record of drivers' logs, manage fuel and maintenance schedules and expenses. Getting a Matrack ELD is making more money – it is the best investment. Whether you are an owner-operator or have a huge fleet, Matrack's free ELD and low monthly subscription rate, its features, and customer service make it the best ELD for you.
GPS Trackit ELD – Easy Installation
Just like our top-rated Matrack ELD, GPS Trackit ELD is also a good option for owner-operators who do not want to be tied down under a contract. The hardware is simple plug-in-play and FMCSA compliant and comes with a software application that can be downloaded on the device of your choice.
Pricing
GPS Trackit offers hardware packages as well as the option of BYOD (Bring Your Own Device). Their monthly subscription rate starts at $24.95. There are no contracts required to be signed. This makes it a good option for owner-operators and small-sized fleets, who often prefer to first use and check the features of their ELD before entering a long-term commitment.
Features
With GPS trackit ELD e-logs, you can:
Generate and Transmit Reports
Saves Time and Reduces Errors
Store and retrieve data easily
Track HoS Status of All Vehicles
Minimize Violations
The software allows managers to customize alerts and highlight important details in a report, making it easier and faster to take crucial decisions. The GPS Trackit ELD comes at a starting monthly rate of $24.95, with no contracts.
Gorilla Safety ELD – Document management
Gorilla Safety is the comparatively newer service provider in ELD and fleet management industry. However, if you are looking for an ELD that also helps in proper document management, then Gorilla Safety ELD is the right option for you.
As required by law, the ELD by Gorilla safety is also compliant with FMCSA regulations. The app allows drivers to switch on document tracking while driving – assisting them in scanning and digitally recording documents to relevant categories, including sections specific to the driver, the truck, or the company.
Pricing
The Gorilla Safety ELD comes at an upfront lease price of $7 with a subscription that starts at $12 per month. It has one of the lowest costing ELD plans, offers a free trial.
Features
Gorilla Safety ELD comes with several features:
Location tracking accurate to one mile
Easier driver-mechanic communication
Immediate help in case of an accident
Schedule Mechanic inspections
Easy documentation of data and records
Gorilla Safety was among the very first ELD service providers to combine full fleet management and ELD solutions. They also offer a comprehensive package, including the actual device, Elog mobile App, website, and several other additional features. TELDLD's solution has been proven to make fleet management easier and more efficient for owner-operators.
EROAD Ehubo ELD
If you are looking for a basic and affordable FMCSA-compliant ELD with an accurate recording of hours of service, then EROAD Ehubo ELD is the one for you. This device not only comes with sturdy hardware but also supports a wide range of services including reporting and compliance, a dependable back-office feature suite, ease of use and installation, and more. It is a convenient, cost-effective, and reliable ELD to choose for owner-operators.
Pricing
EROAD has three different ELD plans ranging between $30 -$60 per month. There are no upfront charges for the hardware, except a set-up fee of $35 applicable on any plan you choose. With the kind and range of features, EROAD ELDs offer great value for money.
Features
EROAD Ehubo ELD offers the following features:
The compact and single in-vehicle unit
Location tracking
IFTA reporting
Safety management and risk alerts
Geolocation capabilities
Project time monitoring
EROAD also offers fleet management services. All their hardware is backed by warranty plans, and they also provide reliable technical support. Some of the benefits of EROAD ELD are reduced paperwork and administration time, accurate records of mileage and route data, management of fuel receipts, compiling of IFTA return data, and fuel trip records. These features and benefits make it a great fit for owner-operators as well as small-sized fleets.
Drive ELD – Best for basics
Drive ELD is the best option for businesses that are only focused on being FMCSA regulation compliant. The device doesn't come with a huge list of features but fulfills the basic necessity of an ELD.
Pricing
The Drive ELD package starts at $99 per year per vehicle. There are no initial costs for set-up or hardware installation. For a basic package, the pricing is perfect. It comes with a 30-day money-back guarantee.
Features
The Drive ELD is an absolutely basic electronic logging device, without any additional advanced features like the options mentioned in the list above. Its top feature is FMCSA compliance. It also offers:
Cloud-based storage
Easy Installation
Free Trial
Phone and email support
The ELD provider is best for those who are not looking for advanced fleet management solutions and are only required to fulfill FMCSA and DoT regulations. It just takes care of the bare necessities of the ELD mandate.
KeepTruckin ELD – Best for Vehicle Diagnostic
Trusted by thousands of truckers, KeepTruckin ELD is best known for not only its user-friendly interface but also for cost-effectiveness and affordability for all fleets. They have an intuitive driver app that helps them in improving efficiency. The services provided by KeepTruckin are attuned to provide for vehicles of all sizes and can be availed for several commercial and fleet tracking purposes. Given the range of features and added services it offers, it is one of the best in its price range.
Pricing
The ELDs provided by KeepTruckin start at a nominal cost of $20 per month. There are no initial costs involved, and the hardware units are free for lease for the duration of the one-year contract. This also comes with free 247 support and an array of features including IFTA fuel tracking and driver coaching with its services.
[Read more about IFTA calculation HERE]
Features
FMCSA and DoT compliance
IFTA fuel tax reporting
Intuitive Driver app and Driver coaching
Vehicle Inspections and Diagnostics
Trailer and Equipment Tracking
In-Cab Wi-Fi Hotspot
24/7 tech support
The ELD services provided by KeepTruckin also provide other features ELD-compliant logs, location tracking, two-way messaging, and more. The services start at a rate of $20 per month including most of the services listed above, while additional capabilities like vehicle diagnostics and IFTA fuel tracking can be availed for a plan of $30 per month.
Verizon Connect ELD – Best for Reporting
Verizon Connect offers a bundle of fleet management systems together with their specifically curated Verizon Connect Reveal ELD. Apart from compliance, Verizon also provides services to ensure safe driver scheduling, vehicle maintenance, and easy generation of Driver Vehicle Inspection Reports (DVIR). The USP of this solution is that it can be clubbed with any other FMS service provider. Verizon's offerings include a wide range of efficient tools at a remarkably competitive price.
Pricing
Verizon has not made its pricing public. If you are considering it as a prospective option, you will have to contact the business and get a personalized pricing quote which depends on all the features you require and opt for.
Features
DoT compliance and FMCSA-approved
Integrated reporting
Live location tracking
Free Demo
Fuel tracking
Improved Driving Experience
The plethora of services Verizon Connect offers can fulfill your compliance as well as fleet management requirements, and help you focus on increasing your business's ROI.
Azuga ELD – Best for Flexible Plans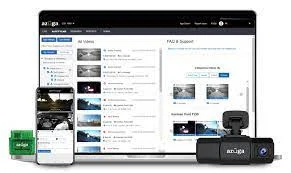 Azuga ELD facilitates effortless compliance with the ELD mandate. It can be availed with its comprehensive FMS system provided by the company. It is known best for its seamless adaptation abilities as it is quick to adjust and work with. The hardware can be installed on your own and this solution can serve fleets of all numbers and sizes.
Pricing
Azuga offers personalized quotes for products and services, which can vary according to the size of the fleet and the features added. However, Azuga also offers a $28 per month bundle plan wherein the hardware is available for no cost at all. Another plan leads to paying $99.99 for each unit with a flexible $22 monthly plan. If you opt for this service will also save your money in several ways such as reduced fuel costs and overall enhanced customer service.
Features
Geofencing
GPS Tracking
Can adhere to fleets of all kinds
Driver alerts
Event History
Safety alerts
Third-party services such as DashCam and Fleetio can be accessed via Azuga's app marketplace
Overall, Azuga is fairly easy to use and adaptable for your fleet businesses for a moderately average price. However, as far as the pricing is concerned, you will need a personal quote from the company to confirm the price due to its customizable nature.
Garmin ELog – Best for Long-Term Use
If you are looking to make a long-term investment in your prospective ELD device, Garmin ELog is the one for you. One of the things that differentiate Garmin from other ELD providers is that it has flat pricing with no periodical subscription or cost. The device is easy to set up, and FMCSA and HoS compliant. The device-compatible app – Garmin eLog app – can be downloaded to any smartphone or tablet of your choice.
Pricing
Garmin ELogs can be availed for a one-time purchase of $249.99 with no additional costs from there onwards. It also includes an app (which is free and user-centric) that can be used by the drivers to update their status efficiently and manually. As the device records fuel usage, it helps in the accurate calculation and filing of IFTA.
Features
IFTA fuel tracking
Free mobile app for updates and data
No ongoing costs
24/7 customer support
Supports both 9-pin and 6-pin diagnostic ports
Automated recording of Hours of Service (HOS)
No ongoing costs, no subscription fees, and an ideal choice for the long run- the Garmin ELog device is a great choice overall.
Samsara ELD – Best for Reliable Services
Known for its impeccable fleet management features, Samsara is an ideal choice for fleet managers, both experienced and new to the field. You do not need to purchase a Field Management System (FMS) to opt for Samsara, though it allows you to easily upgrade to one. As far as ELD services go, Samsara is one of the most reliable ones out there. Samsara's ELD services can be depended on even when there is no coverage (it provides WiFi and hotspot facilities) and they can also be used to monitor a driver's HoS to prevent any violations.
Pricing
The Samsara ELD requires an initial down payment of $99, followed by a starting plan of $30 per month. Costs depend on the plans and features you require from your ELD device as well.
Features
Asset tracking
Fuel cost management
Data visualization
Driver and Customer management
Emergency dispatch
Audit trail
Rand McNally ELD 50 – Best for Seamless Communication
The Rand McNally ELD 50 is known in the market for its easy installation and user-friendly interface. It is a fist-sized device equipped with features that come in handy for fleets, especially those which do not have a complete FMS service to rely on. Rand McNally essentially has a plug-and-play installation and does not require any expert help.
Pricing
Rand McNally 50 is also known for its low-cost monthly payment. However, it comes with an initial price of $150. They have various subscription plans based on your fleet requirements. The basic monthly plan billing price starts from $20 per month. They have a separate compliance plan which is priced at $19.95 per month and allows managers to get ELD-compliant HoS, real-time location tracking, and two-way messaging. There is another plan for $25 a month that also includes features such as workflow assisting features and IFTA fuel tracking, among others.
Features
Easy installation
Free trial
Two-way messaging
IFTA fuel tracking
Workflow reporting
The Rand McNally 50 is also suitable for fleets of all kinds and sizes.
Trucker Path ELD
TruckerPath ELD is an easy-to-use electronic logging logbook that helps you to keep track of hours of service with convenience. It has an easy-to-use interface, so your drivers can adapt to it in no time. They can download the mobile application from the app store to log, edit, or certify their logs with ease.
TruckerPath ELD also has integrated GPS tracking so fleet managers can get real-time location updates on the truck. It helps you to improve customer satisfaction by providing accurate delivery timing. It also provides a driver's driving behavior report, so you can identify vehicle idling or reckless driving activity. It also provides security protection for your valuable asset.
Pricing
Trucker Path ELD is an affordable solution. Apart from the hardware cost, you will have to choose among various subscription plans: $19.95 (basic), $25.95 (Pro), and $39.95 (Premium) plans.
Features
Versatile and user-friendly solution
Fuel-saving
International fuel tax agreement reporting feature
Accident Navigator and Reporting Tool
Driver Behavior Monitoring Feature
Integrated DVIR
GPS Tracking Service
24/7 customer support
The solution is backed by dedicated customer support, who are available 24/7 to resolve your queries. It also has additional features beyond compliance, such as DVIR, fuel tracking report, driver behavior report, accident navigator, etc.
BigRoad Dashlink ELD
BigRoad Dashlink ELD is an affordable device to comply with the ELD rule and protect oneself from violation. It is an easy-to-use device, so you won't have to arrange training sessions to adopt this new technology. Anyone can install the device in a few minutes.
The notable feature of this device is that it complies with the rules of the USA and Canada. So if you often travel between these two countries, you won't have to worry about buying another device for compliance.
Do you know there is one significant feature of the BigRoad Dashlink ELD that you cannot miss? What? Well, it offers in-app load matching. It helps you to find suitable loads for you. It means you don't have to spend time finding loads and can spend time on the road.
Pricing
BigRoad Dashlink is a cost-effective solution. You can get the device for free by paying monthly subscription fees ranging from $25-$36.
Features
Innovative mobile application
GPS tracking
BigRoad web portal
IFTA report
Real-time visibility
Document Scanning
Easy Installation
Another significant benefit of BigRoad Dashlink is that it helps to bridge communication gaps in your fleet. It provides two-way messaging, so you don't have to depend on the phone network. It also supports integrated GPS tracking that offers real-time updates on your trucks. It means you are always updated on where your driver is and how long it will take to deliver the load. It also helps you with route planning, job allocation, etc.
Transflo ELD
With Transflo ELD, you get access to a contemporary approach linking the drivers on the road with the people at the office. Its solutions go above and beyond simply offering ELD compliance by directing the allotment and utilization of an entire fleet solution. Transflo concentrates on guaranteeing driver safety, and smooth and streamlined fleet management with its technologies.
Like many other ELDs, the Transflo ELD follows the trend of 'Bring Your Own Device' or BYOD. Any device, including tablets running Android, iOS, or Microsoft, can simply be connected to the ELD. If your device is incompatible with the ELD application, you can rent one from the vendor.
Another USP of the Transflo ELD is the incorporated cellular chip that guarantees continual data records in the absence of a connection. The data stored can be retrieved when functional connectivity is available.
Pricing
The ELD from Transflo costs $109.99. The standard subscription that includes DVIRs, IFTA fuel tracking, HoS tracking, DoT compliance, and GPS tracking starts @$28 per month. For vehicle analytics and additional features, buyers can subscribe to the fleet plan starting at $31 a month.
Features
Easy-to-install solution
Driving time Compliance
Instant GPS tracking
Accident Reconstruction and Accident Detection
DVIRs
Fuel Tax Reports from IFTA
Documentation
Service Hours Vehicle Diagnostics
Reduce costs and time
Transflo ELD can help fleet managers and owners keep track of the fleet. It closes the communication gap between vehicles, drivers, and managers with the aid of real-time GPS tracking. To protect drivers and keep other assets safe, the Transflo ELD comes equipped with a variety of functions like monitoring driving habits, precise car diagnostics, managing fuel use, reducing idle time, and more.
Bit ELD
If you are looking for a low-cost ELD, you should check out Bit ELD, a newcomer in the fleet management sector. Another factor that makes this vendor different from the other players in the market is that they have achieved one of the most sought-out features in this industry – personalized solutions at a very lucrative price. Moreover, the vendor has carved out a unique niche for itself in the transportation sector by providing gadgets without contracts or monthly costs.
Bit ELD is more suited to small and medium-sized fleets as the upfront expenditures are comparatively less. It also has no monthly fees, which makes it a great option for freelance drivers.
Pricing
As mentioned earlier, there is no monthly or annual fee. Buyers only need to pay $295 one time for the device. However, services like Geofence or IFTA can be availed at $30 per month.
Features
Vehicle Maintenance Easy to Set Up Interactive App Web Portal In-Motion & Engine On/Off Status
Data from the E-Log Engine VIN ELD Compliance HoS Tracking
Fuel Reports by IFTA
GPS Tracking Without Monthly Charges
If your concern is only compliance without the other fancy features, then Bit ELD sure fits the profile. The Bit ELDs abide by the FMCSA regulations as stipulated in Section 49 CFR 395.34c. Additionally, by adding a chipped antenna, the ELD can operate within Canada (as per Industry Canada).
How to Choose the Right ELD as an owner-operator?
Now that we have seen the top 15 best ELD devices in 2023, each best suited to the requirements of their customers, let's take a look at certain things you need to consider before choosing the best ELD for your business:
Here are a few things to consider before choosing an ELD for your fleet:
One Device for all
A fleet consists of several classes of vehicles – light-duty, van, box truck, tractor truck, and more. It is always best to choose the right vehicle for your fleet and even more important is choosing an electronic logging device that can be used in any kind of vehicle. Opting for different ELDs for vehicles would mean training all the drivers and employees, and would unnecessarily complicate the entire process. Having a universal ELD for all vehicles would save time and allow for easier and more organized rotation for drivers.
Is it economical?
You have to think of ELD as an investment and not an expense. In the long run, an electronic logging device can assist you in avoiding fines and form-and-manner violations, help in improving your CSA score, and thus bring you more clients. Also, some of the top-notch ELD solutions available in the market can be fairly expensive, ranging between $2,000- $3,000. However, these may include professional installation, advanced hardware and software solutions, and many more features. You can also opt for cheaper versions, but they may not support the features and services you need for fleet operation.
User-friendly
One of the reasons for implementing ELDs is to simplify the process of recording data. Therefore, getting an ELD solution that is easy to operate will also mean lesser time spent training the drivers and technicians. A complicated system with too many unrequired features will only lead to difficulty in understanding.
Compatibility
One of the best methods to reduce cost while implementing ELDs is to search for solutions that are compatible with existing resources. ELDs that can be integrated with available smartphones, tablet devices, and other similar devices would eliminate the expenses made against acquiring new resources. Also, if an ELD is compatible with the devices already being used by the drivers and other employees, it would be easier for them to operate it.
Intelligent Solution
There are usually two kinds of ELD solutions available based on when they record data – time-based and event-based. Time-based electronic logging solutions will record data at intervals, which means that they could miss certain information or data regarding some event that happens during the interval. The event-based solution, however, is wired to record data every time there is a certain change, like acceleration, hard braking, a deviation in predetermined route and location, engine diagnostics, and more. ELD solutions that are event-based provide accurate data which can be used in improving fleet operations.
Responsive
The ELD mandate is still being studied and updated. Therefore, choosing a solution that can be upgraded with changing regulations to be compliant is important. It will not only be economical in the long run but also efficient to adapt to required changes.
Cloud-based solution
Data stored in the cloud-based solution can be accessed through any device by an authorized user. It also ensures that any crucial information such as Hours of Service data is safely recorded and stored, and will not be lost even if the smartphone or tablet malfunctions. When required to transfer or share the recorded data, no pairing is required thereby eliminating any issue that could arise due to compatibility in devices being used by the sender and receiver. Cloud-based ELD solutions can store data whenever a connection is established in areas with lesser or no cellular coverage, thus ensuring that no data is lost.
Data Security
ELDs record and collect a plethora of data which include driver identification, motor carrier addresses, client information, location, and much more. Some of this data is sensitive and therefore must be protected. While selecting an electronic logging device solution it is the responsibility of the motor carrier to ensure that the data collected must be completely secured and cannot be misused.
Customization
Most ELD solutions are made to provide various services. However, it is advisable to choose a solution that can be customized to fit the needs of your fleet and its operations. A comprehensive solution with innumerable features may sound good but it may not be the solution you need. However, you will also need a solution that can be expanded or upgraded in the future, if required. It would be best in the interest of your fleet that you choose a service that is flexible and can adapt and evolve as and when necessary.
Conclusion
Apart from choosing the kind of ELD solution you need, it is also important to select a reliable ELD service provider and vendor. A vendor with good market feedback and reputation, dependable and approachable customer service, and competitive prices will be the best option.
We hope that this guide will be of help when you choose the best ELD you need for your business.
Want to share some suggestions and tips with us? Leave a comment below!