10 Best Dash Cams for Truckers In 2023
Did you know that one of the biggest challenges in any accident is establishing responsibility? Moreover, in accidents involving vehicles, the blame is invariably placed on the bigger one. While witnesses, if any, can be vague, technology can offer only accurate and reliable evidence through CCTV cameras in the area around accidents and dashcams.
A dashcam, short for a dashboard camera, is a camera that you can mount on the dashboard of your vehicle. It records everything that happens through the windscreen. Traditionally, these dashcams could record only the front view of the driver. But in recent times, these devices have improved and can also record the rear view from the vehicle.
How Do Dashcams Work?
Once mounted on the windscreen, the dashcam records the road in the front and back. The camera runs on power through either the cigarette lighter cable or after being hardwired into the fuse box. Most modern dashcams automatically start recording as soon as the engine turns on.
The recordings from the camera are stored on an SD card or built-in storage. If the camera is set to record on a loop, it deletes the old files and makes the storage space for new files. To ensure these video files are accessible for over a year, you can go for a dashcam vendor that offers cloud storage.
Some advanced variations of the dash cams have a wide-angle lens or/and dual-lens that capture the full-width area of the road and other minor details by their image stabilizing feature.
Why Do Fleet Vehicles Need Dashcams?
To identify accountability in case of accidents
To add another level of security when the fleet vehicles are parked in the yard or rest stops.
To ensure that driver is not breaking any traffic or safe driving rules.
Insurance Discounts
To instill safe driving
To tackle unauthorized use of fleet vehicles
Advantages of Using Dash Cams for Fleets
● Evidence for accountability: The USP of any dashcam is that it can clearly record everything happening around the vehicle, helping establish accountability in case of a crash or major accident. It can help find who is responsible for accidents and crashes. In the absence of any concrete evidence, the driver of the bigger vehicle is blamed. Fleet vehicles are larger than others, and in accidents involving them, a dashcam can help in accurate identification.
● Reduces insurance premiums: Using a dashcam may indirectly help you get a discount on your insurance premium. Some insurers check out the preventative measures you take for your vehicle and offer a discount if you state that you have one dashcam fitted in your car.
● Report against rash drivers: Drivers can take the footage to law enforcement to report unsafe driving. ​​This feature is helpful for fleet managers who can reprimand the drivers for putting assets and their life in unnecessary danger.
● Help fight insurance fraud: Insurance fraud is one of the most common problems nowadays. The fraud affects insurance companies on a large scale, and it takes a toll on innocent drivers as well. Some scammers purposely cause car accidents to extort money and usually target high-end cars or commercial vehicle drivers. The dash cams can help you to come out of these dreadful situations.
● Prevent parking accidents: The best dash cams for fleets come with parking assistance. You can easily park your vehicle as it alerts you if you are close to any collision.
● Keep an eye on idle vehicle: The advanced dash cams for fleet vehicles have a smart standby mode. The dashcam will turn on and capture any collision, vandalism, attempt for theft, and more.
● Vehicle tracking: If you own a business and deliver your goods, you can keep an eye on the transporting vehicle. You can check the driving behavior, routes, delivery timing & locations, etc. As a fleet manager, you can monitor your vehicle and act accordingly to protect them. Protect your fleet with irrefutable evidence of accidents, mishaps, or frauds. Commercial vehicles are prone to troubles on the road. They are intentionally targeted by scammers looking for a quick payout.
10 Best Dash Cams for Fleets Available in the Market
The best dash cams for cars are indeed lifesavers. A regular dashboard camera can help you watch and record the road ahead, but the advanced models offer more than just recording the front view. They provide way more protection. They have multifaceted features, including driver aids for avoiding accidents and automatically contacting emergency services after an accident. Here are the nine best dash cams available in the market in 2023: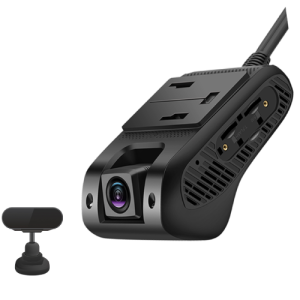 Matrack Dashcam is an AI-enabled camera that can help you to improve your driver safety and prevent accidents. It is a dual-facing camera that provides both in-cab and on-road video footage. It provides you with 1080p HD-quality videos, so you can cover everything without missing anything that can serve as crucial evidence.
Apart from these, Matrack offers multiple features, such as lane departure warning, forward collision warning, and D.U.I Alerts, etc.
The AI-sensor of the camera can detect the driver if they are drowsy, texting, using their phone, or not paying attention to the road. It will then send audible alerts to your driver so that they can refocus and drive safely.
The lane departure warning sends an alert to the driver if they are diverging from their lane and could impact the other vehicle.
Forward collision warning allows the driver to avoid impacting the venue in front. It sends them an alert if they are getting too close to other cars.
You can also download the comprehensive reports from the portal. It will help you to understand the driver's needs and where they are lacking so that you can take the necessary steps to improve them. It will also help you to shape the driver training program in the future.
Apart from these, you get to enjoy additional features like real-time location updates, driver driving behavior reports, monitoring vehicle health, geofencing, etc.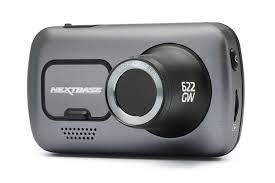 The Nextbase 622GW dashcam is a 4k dashcam with an abundance of features. It brings better video quality and improved stabilization than the previous versions of the Nextbase.
The dashcam can capture exceptionally crisp footage with great details in poor lighting. With its 4K image quality, recording at 30fps, the 622GW further breaks fresh ground of what a Dash Cam is capable of.
The 622GW comes with many world-first features, including what3words and digital image stabilization.
What3words provides you with the coordinates within a three-meter square, which you can share with emergency services or friends and family to locate you. The innovative global system allows you to give your precise location to first responders by just giving them three words.
Digital Image Stabilisation efficiently reduces vibrations from your vehicle, ensuring crystalline image quality. It enhances the video quality to show finer details such as signs, number plates, and other minor detail.
This dashcam is compatible with Alexa voice control on the go. You can play music, listen to an audiobook, read the news, place calls, check the weather, control smart home devices, get directions, find parking, etc., just by voice commands. It has a 3-inch rear touch screen, which is very crisp and easy to use.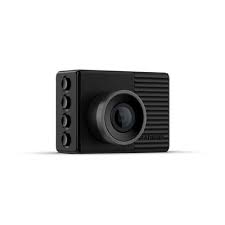 The Garmin Dash Cam 66W is a tiny 2.2-inch dash cam weighing just 2.2 ounces. This little device is more than just a dashcam as it comes with a plethora of features.
It has a wide-angled view of 180 degrees, giving a broader view of the front of your car and the road ahead. The HDR video of the 1440p recording helps to retain detail in a low-light situation.
You can connect the dash cam to Wi-Fi and synchronize it with the smartphone with the free Garmin Drive app. It will allow you to connect up to four cameras at once and synchronize the video shooting, giving a 360-degree view around your car.
It has a battery backup of 30 minutes when unplugged from the power socket. You can also opt for the wired version that remains on when the vehicle is parked. It can record if someone carelessly crashes your car while it is parked.
The Garmin Dash Cam 66W comes at the price of $249.99.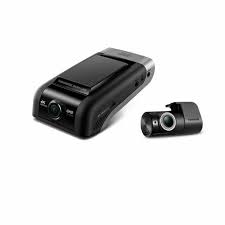 The Thinkware U1000 4K UHD Dual-Channel is one of the flagship models in the market that delivers 4k video quality through a wide 150-degree lens and boasts extensive driver assistance. Its enhanced night vision and dynamic range capture high-quality video – day and night.
It has the option of connecting a 2K QHD rearview camera and hardwired cable for a complete high-quality recording.
This dashcam comes with high-tech parking surveillance and cloud technology. Its energy-saving option conserves energy by going on a standby mode when entering a parking surveillance mode and waking up to record after an impact.
Thinkware Cloud app provides convenient control and constant communication. It gives access to advanced location-based Features like geo-fencing, locating the vehicle, and remote live view.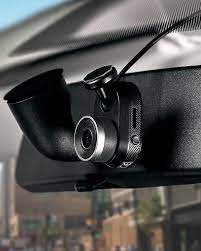 The Garmin Dash Cam mini is one of the compact dash cams on this list and measures (3.1 x 5.3 x 2.9)cm – almost the size of your thumb. It records 1080 full HD crisp video through a 140-degree wide lens. It is an automatic device that boots up after the ignition and records when it detects a collision. Once installed, it would also remain active while the vehicle is parked and can capture the footage if someone bumps your car.
The Garmin mini has built-in Wi-Fi connectivity that uploads saved footage to your smartphone running The Garmin Drive app. It syncs and enables you to control and playback footage from up to 4 cameras – all at the same time from your smartphone.
There is no display for the dashcam, which is a plus point as there won't be any distraction while driving the car.
The BlackVue DR900S-1CH is a super-compact factory-fit-designed dashcam. It offers a 4K video recording and a 162-degree wide lens with GPS and parking mode.
There is a cloud-based subscription pack that assists you in seeing live or recorded footage whenever and wherever you want.
Use Wi-Fi to connect your BlackVue with a cellphone or tablet and download files at a blazing speed. Wi-Fi also enables the dashcam to connect to Cloud service via any home or router/mobile Wi-Fi hotspot.
This dashcam sends you a notification to your cellphone when it detects a collision. This feature comes in handy if a rash driver crashes your car when you are away.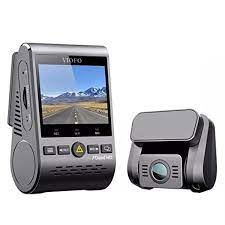 If you wish to buy a budget-friendly and multi-feature dash cam, then VIOFO A129 Plus Duo 2K QHD is what you need. It is a bit bulky device, but it offers the necessary features that you need while driving. It has a G-sensor, auto start/stop, loop recording, motion detection, time-lapse recording, built-in microphone & speaker, and mobile APP.
The camera records high-definition, crystal clear, 2K videos. Its 60 fps recording reduces the motion blur and will easily capture fast-moving objects. It supports up to 256GB SD card, support optional CPL and Bluetooth remote control,
This dashcam has an in-built 16 GB flash storage. It also gives the option of choosing the storage capacity before buying.
A129 Plus has three parking mode solutions in which the auto event detection will automatically start recording once it detects any event. The time-lapse records videos at low frames per second, like 1/2/3/5/10/15 fps. The low bitrate keeps recording continuously in mini file size, which might affect the video quality. It will help save the storage and keep recording for a longer time in parking mode.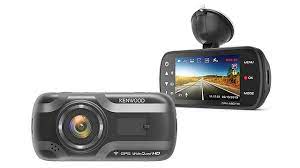 The Kenwood DRV-A601W dash cam is one of the most popular dashes cams. It has two interior cameras to record the front view (8.3 megapixels) and the rear (3.7 megapixels). While recording with both the cameras, the maximum resolution is 3.7 megapixels. You will have to switch off the rear camera to enable 8.3 Megapixels recording (4K) from the front camera. It has a 3-inch LCD screen for live video playback.
The DRC-A601W has an in-built GPS that can display and record the time and GPS positioning directly onto the recorded videos or the captured images.
This dashcam utilizes WDR (Wide Dynamic Range) technology that easily records clear images in dark or over-exposed situations.
The dashboard camera has a microSD card slot for a microSD, microSDHC, or microSDXC memory card (storage capacity 8GB-256GB).
This dash camera draws the power from the cigarette lighter power adapter. The power adapter supports 12V and 24V applications.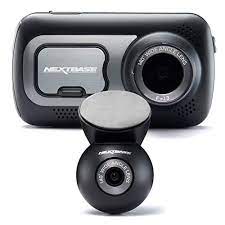 The Nextbase 522GW is a mind-blowing, budget-friendly, and 2K video recording dashcam with a whole suite of features. It includes Alexa compatibility, GPS positioning, and an emergency SOS option.
The 522GW shoots the videos at 2K resolution. It captures (1440p) at 30 frames per second, or regular (1080p) full HD video at 60fps. It has a wide 140-degree viewing angle and integrated GPS for accurate positionings, directions, and speed data.
It features Alexa that allows you to play music, listen to the news headlines, get directions, and control your smart home gadgets while driving.
The Emergency SOS feature helps sense a collision, alerts the local emergency services, and shares the location of the mishap.
The Thinkware Q800 Pro is a dashcam that gives a factory-fit look when installed in your car. The design allows it to fit perfectly on the surface of your windscreen. It has many functionalities, such as GPS built-in for red light/speed camera alerts. It also can set Geo-Fencing alerts.
There is an option of night vision setting to improve low-light videos.
In the case of a collision, the Deep Impact feature helps the driver notify others of the emergency.
If the driver is not in the condition to do so, the concerned people can then remotely check on the situation from wherever they are.
The Pro model of Q800 connects to your vehicle's battery. The recording starts as soon as you turn on the engine. It will continue recording while the car is parked. The Energy Saving Parking Recording will reduce power consumption by 1/3 less and gives 3x long video recording than normal parking mode.
Fleet Management Solution Integration
If you want to make the most of your investment in a dashcam, we suggest integrating it with your existing fleet management solution. For example, all the services and products offered under Matrack fleet tracking and management are compatible with most dashcams. So, when the GPS tracker tells you that a fleet truck is idling when it should be moving, you can check the feed from the dashcam to find the reason behind the delay.
Similarly, you can use the dashcam video footage to determine the cause of your driver's rash driving or harsh braking. Based on the findings, you can instill driver training programs and motivate them to adopt safe driving practices. It also keeps your employees in line with the existing rules.
Dashcams with fleet tracking solutions give you extra and precise information without leaving any room for errors. You can double-check all the data if needed. These cameras can be your eyes and ears on the road.