17 Steps To Start A Hotshot Trucking Business – A Matrack Guide
Do you want to start a trucking business? Why don't you try your hands at hotshot trucking? It is a profitable business venture that you can start without heavy finance. It involves delivering lighter and time-sensitive loads. It allows you to share the profits of this lucrative industry without getting stuck in hurdles in the form of licenses and utilizing cheaper equipment or getting into heavy loan traps.
Sounds exciting? Find out more about hotshot trucking and how to start in 17 easy steps in this article by Matrack.
What Is Hotshot Trucking?
Hotshot trucking involves hauling lighter and time-sensitive goods, some have to be delivered over a short distance, while some may even require you to cross the state or country.
It is different from heavy-duty trucking as it involves medium-duty trucks that pull a flatbed trailer. The hotshot drivers are experts at delivering small and lighter loads within a restricted time frame, like construction equipment, agricultural tools, heavy machinery, etc.   
How Much Does It Cost To Start A Hotshot Trucking?
The startup cause for a hotshot tracking business varies from $15,000 to $80,000, with an average of $50,000. But 80% of the cost is of the equipment, so if you already own them, then you can start your business at a low price.
How Much You Can Earn From Hotshot Trucking?
Hotshot trucking business owners can earn up to $60000 to $120,000 annually. Increase your earnings while reducing fuel expenses, vehicle maintenance, insurance premiums, and operational costs.
17 Easy Steps To Start A Hotshot Trucking
Understand The Business
Hotshot tracking is a first growing business because it fulfills the market gap and helps shippers move small freight loads quickly that large trucks would not or would prove to be costly. There are many pros to starting your career as a hotshot truck driver, low initial investment, flexibility, simplicity and ease of management, etc.
Recent Trends Of The Hotshot Trucking
Hotshot trucking shares a small segment of the $732 billion US trucking and transport industry.
According to Data firm IBISWorld, the less-than-truckload market in the US costs $88 billion while growing at 2.4% annually.
The LTL market in the USA will grow by 5% annually through 2025.
There are more than 120,000 LTL businesses that employ more than 500k people.
The demand for hotshot trucking is rising. Additionally, it is a cost-effective, fast, and reliable trucking solution, so many companies prefer this over large trucks to deliver their lighter loads.
But there are some challenges you will have to tackle. The rising prices of fuel soaring in the lack of qualified drivers are some of them. 
Create A Business Plan
A business plan is an effective way to map your progress. It gives you a clear idea about your background, goals, and weaknesses. But the benefits are not just that limited. It is way beyond. It will help you develop an effective strategy for success, reduce risk, explore more business ideas, attract funding, and many more.
There is not a single reason you should not pick a business plan, even if it seems like a big task to you.
Components of a business plan:
Executive Summary
Company Description
Market Description, Opportunity, and Industrial Research
Competitor Research
Products and Service
Customer Research
Marketing Plan
Operational Plan
Financial Plan
Appendix
Choose Your Niche
If you are wondering which is the best category to start your career as a hot shot driver, then here are some best niches:
Pipeline Service
RV Hauling
Livestock Hauling
Shed Delivery
Car Hauling 
Construction Equipment
Boat Transport
Home Improvement Centers And Contractors
Be Financially Prepared
Before you start any trucking business, you will need an initial investment for the operation and asset procurement. 
Be prepared for the initial cost:
| | | |
| --- | --- | --- |
| Startup Costs | Ballpark Range | Average |
| LLC incorporation, licenses and permits | $500 – $1,000 | $750 |
| Insurance | $3,500 – $4,000 | $3,750 |
| Marketing and advertising | $500 – $2,000 | $1,250 |
| Website | $100 – $750 | $425 |
| Software | $200 – $250 | $225 |
| Pick-up truck | $15,000 – $45,000 | $30,000 |
| Trailer | $7,000 – $20,000 | $13,500 |
| Other tools and equipment | $200 – $1,000 | $600 |
| Miscellaneous | $1,000 – $1,000 | $1,000 |
| Total | $28,000 – $75,000 | $51,500 |
You can secure finance by following ways:
Bank loans
SBA- guaranteed loads
Government grants
Venture capital
Angel investors
Friends and Family
Crowdfunding
Personal
Get The Right Equipment
The next step to start the hotshot business is obtaining the required equipment. You need to invest in solid and trustable trucks or trailers to save yourself from trouble in the future.
Trucks
You need to invest in a medium to a heavy-duty truck with a minimum of 400 horsepower to tow at least one ton of load. A good truck may cost you $15k to $60k.
A hot short truck usually falls under class 3, 4, or 5.
Class 3 medium-duty trucks have a weight restriction of 10,001-14,000 pounds, for instance, Chevrolet Silverado 3500, GMC Sierra 3500, Ford F-350, etc.
Class 4 medium-duty trucks have a weight limit of 14,001-16,000 pounds, for example, Chevrolet Silverado 4500, Ford F-450, Ram 4500, etc.
Class 5 medium-duty trucks have a weight limit of 16,001-19,500 pounds, for example, Chevrolet Silverado 5500, Ford F-550, Ram 5500, etc.
Trailers
Another thing you will read is a trailer. There are three most popular kinds of trailers. Let us look at them one by one.
Gooseneck hotshot trailer
Dovetail hotshot trailer
Tilt deck trailer
Lowboy trailer
Bumper pull hotshot trailer
Gooseneck hotshot trailer measures 40 feet long and is one of the most popular trailers. They are known for their stability, are easier to handle through tight turns, and are sturdy during long stretches of open road miles.
Dovetail hotshot trailers are specifically designed to haul light equipment, construction machinery, etc.
A tilt deck trailer is an ideal trailer to carry heavy loads. One thing you should remember while choosing this trailer is that it requires a lot of maintenance and care.
Lowboy trailers have a low center of gravity and are ideal for carrying the heaviest loads. The only thing you need to know is that it has a minimal deck space, so you cannot carry many goods at the same time.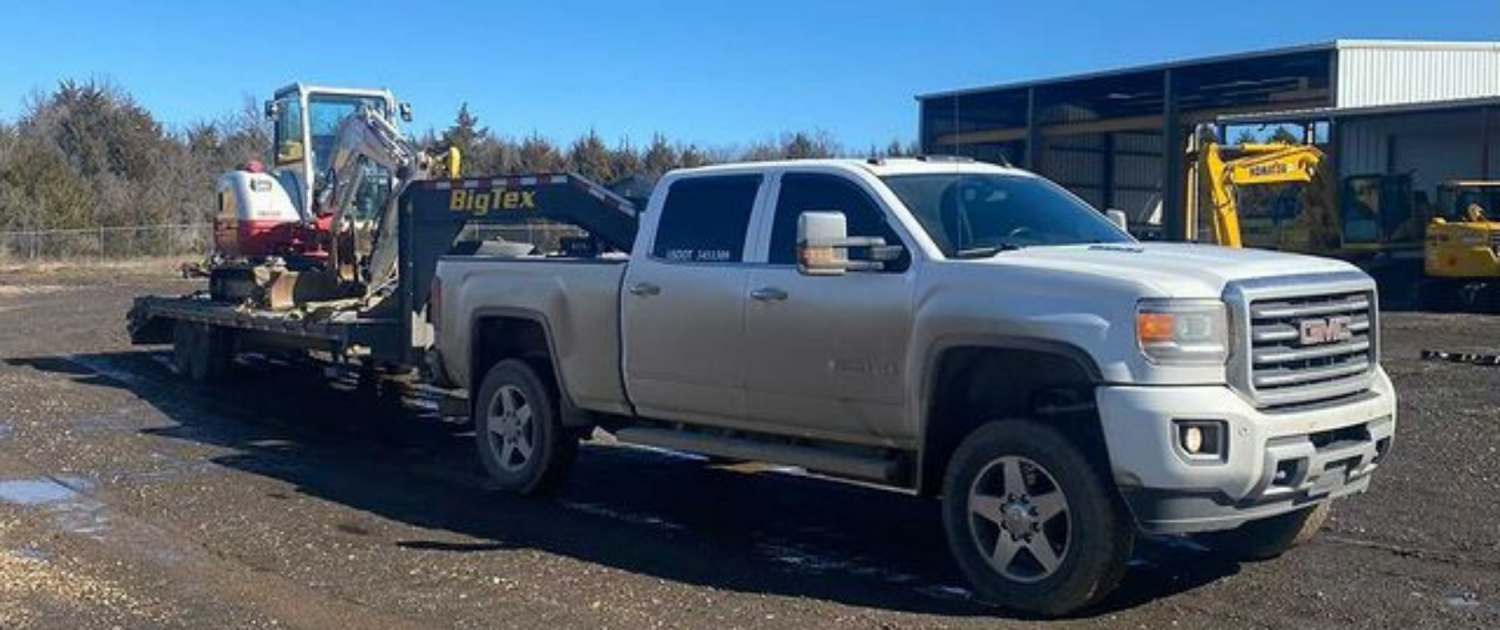 Lastly, bumper pulls hotshot trailers are shorter and cheaper and one of the most common trailers you will see on the road. They are easier to drive, and the driver does not need a CDL license to operate them. 
Choose A Name For Your Business
Now that you have got all you need, you need to decide on a good name for your business. A name will represent you, so you should be careful while choosing it.
You also have to ensure that no other business entity is using the same name as yours. So before you decide, look if the name is available or not. 
Create An LLC
The next includes registering your business with the government. When you start a business, the government automatically registers it as a sole proprietorship. To protect your assets from lawsuits, you need to change this to an LLC.
A trucking company often faces lawsuits. Even if they are not at fault, sometimes their whole business comes at stake. But what is worse is that the owner's assets also fall under the scope, and they have to lose both. Additionally, the bank would seize your assets to reclaim them if your firm filed for bankruptcy or is unable to make loan EMI payments.
To prevent this, you need to register your company as LLC. It means a limited liability company. It is a legal separation of your personal life and business. It provides you with tax privileges and no personal financial risk if the business fails. 
Open A Bank Account
Another thing you need to do to separate your business finance from your account is to open a bank account specifically for your business. It makes it easy to file taxes and tractor companies' expenses.
Additionally, it is not a complex process. It is as simple as opening your account. Most banks offer bank accounts tailored specifically for business. You need to enquire about their rates and features. It is a good idea to go through the plans of different banks and then choose one according to your needs. 
Commercial Driver Licence
The next step is getting a commercial driver's license. But this is not a compulsory step if you meet the following criteria:
You haul a total weight of fewer than 10,000 pounds
Your truck and trailer combined weigh less than 26,000 pounds.
If you don't meet the following criteria, you should apply for CDL. You will have to enroll in a recognized training center, undergo weeks of training, pass the licensure examination, etc.  
Apply For A Department Of Transportation Number
The next step requires getting a duty number to operate your business. To begin with it, you have two options:
You can operate the business under your full tracking authority and establish your DoT and MC number connected to your LLC. 
Or lease another company's authority to put their number on your truck. 
Get a DOT Physical And Medical Card
The federal motor carrier safety administration requires drivers to pass the duty physical examination to maintain their commercial driver's license. You have to get this if you want to engage in interstate trade or haul hazardous materials.
Apply For EIN
The next step is to get your employer identification number. You need to get this number if you want to expand your business with other employees working with you. 
Get A Motor Vehicle Record
A motor vehicle record is a summary of your driving history by the state. It is helpful when applying for insurance, where they will inquire about your driving record to decide your premiums. A good driving record means a lower premium and increased profit. 
Insurance
Insurance plays a significant role in your success. It protects you from property damage and absorbs the financial risks in accidents. There are different types of insurance in the market that you can consider for your business:
It is comprehensive insurance with broad coverage.
It is the first layer of insurance that protects you against third-party claims.
Non-trucking Liability Insurance:
This insurance covers you when you don't have a load attached. It means when your truck is not in use for business purposes.
Motor Truck Cargo Insurance:
This insurance provides coverage against the risk of physical loss to the property while loading or unloading.
This insurance provides coverage over your equipment and supplies.
Equipment Breakdown Insurance:
This insurance covers replacing and repairing equipment that has broken.
This insurance prayer compensates employees injured on duty.
It covers the damage to your physical space.
It protects your company's vehicle.
It protects against the claims of the client who suffered a loss due to your work.
Employee Practice Liability Insurance:
This insurance protects businesses against employee-related claims.
Tracking Physical Damage Insurance:
This insurance pays to replace or fix your damaged trucks and trailers.
It is all one insurance policy and a combination of the above.
Before you sign up for any insurance plan, you should sit down with your insurance agent, who is familiar with the trucking industry, and go through their different plans. 
Set Your Rate Per Mile
The rate per mile is one of the significant determinants that will decide your income. So you have to be careful while deciding this.
On average, The hotshot hauling rates are around $1.5 per mile. In the peak season, it can even rise to $2 per mile.
A good point to start is around $1.50, but you can even lower it to $1-$1.25.
But before you set your rate per mile, ask yourself these questions:
What are your expenses?
What is the fuel cost?
How much money do you have to pay to employees?
What type of loads is it?
How far do you have to deliver it?
What is the road condition?
How fast do you need to complete it?
After you calculate your expenses, set the charge per mile above this. Why? You don't want to operate your business at the break-even point. You have to earn profits.
Additionally, consider your competitor's rate per mile before deciding. It will help you to get that competitive advantage. 
Find Loads
The most effective way to find hotshot loads is to use a load board. Go to the search setting and refine your search by adding your preferred geography region, clients, routes, etc., and the system will show you the appropriate loads.
These job boards are the best way to find jobs with little hassle. Another way to find lucrative opportunities is to consult your supervisor or manager of the previous tracking service company. They are likely to have connections with other professionals in the industry, they can give you updates.
The third option that you have is to join a simple syndication feed. RSS is an application that allows you to receive notifications about new job posts. 
Invoice Factoring 
To run your business smoothly, you need a continuous money supply. But it is common in the trucking industry for clients to delay the payment or give a bill of exchange instead of cash.
These bills of exchange usually cash out in 90 days, but it is a long waiting period. And you cannot wait as you have other expenses to pay to run your business. Traditionally, people used to take money from lenders to fulfill this gap, but today there are many options too.
One such option is invoice factoring. It is the best way to cash out your bills of exchange without getting into debt. There are two types of them- recourse and nonrecourse.
The recourse option has a low charge rate, but it holds you liable if the client declares bankruptcy and is unable to make payments after 90 days.
The nonrecourse one has a little higher charge rate than the recourse factoring but is safe for small businesses. If your customer goes bankrupt and is not able to cash the bill after 90 days, the company won't hold you responsible.
Bonus- Getting A Fleet Management Solution
Managing a business is a difficult job. But if you have the correct strategy and tools, you can rock it. When operating more than one truck, you need a fleet management solution to help you manage them, allocate jobs, and monitor them in real-time.
Here are some benefits of investing in a fleet management solution:
Vehicle maintenance is one of the most crucial elements of fleet management. Systems for fleet management can plan routine maintenance visits and track when each vehicle needs service. By doing this, the cars are kept in top functioning order and may help avoid expensive breakdowns.
Another important aspect of fleet management is monitoring fuel consumption. Fleet management systems can monitor fuel consumption and give businesses information on the cost of fuel as well as how much fuel each vehicle uses. Companies can use this data to discover which vehicles are using more fuel than others and take action to increase efficiency, such as changing routes or reducing idling time.
Another essential element of fleet management is driver management. Fleet management systems can monitor driver performance, including speed, fuel usage, and accident frequency. Employers can utilize this data to identify failing drivers and take action to improve their performance, such as through coaching and training.
Some other benefits of a fleet management system are:-
Increased visibility
Theft protection
Route management
Compliance monitoring
Increased customer satisfaction
Matrack Fleet Management Solution
Now that you have decided to get a fleet management solution. Do check out Matrack.
Matrack offers a straightforward, reliable, and affordable platform to help you monitor your vehicle and valuable assets. It simplifies your business operation to improve accuracy, efficiency, and productivity.
It can help you to keep an eye on the vehicles' whereabouts to ensure they are on course, give customers up-to-the-minute delivery updates and give them a mechanism to track the trucks & get in touch with the driver.
What Do You Get?
Matrack OBD-$85/ MA Hardwired Classic-$50/ MA Hardwired Silver-$135
No contract- Pay as you go
Lowest monthly subscription fees
Highlights
Vehicle maintenance and diagnostics
Exceptional client service
Simplified Report Generation
Eliminate Expensive Repairs
Final Words- Start Making Money
The pandemic has several growth opportunities for the trucking industry. So it is the best time to open your trucking business.
Hotshot tracking is a lucrative business. And if you have enough information and skills, you should not wait anymore. Just get ready with your truck to earn some real money.