Top 9 Highest Paying Jobs For Truck Drivers In 2023
A career in the trucking industry can be rewarding. An experienced truck driver with a clean driving record can earn as high as $85,000 annually.
But the salary varies depending on various factors, for example, experience, driving record, organization, type of load, and mileage, are some of them. So if a driver is taking more risks and completing a difficult job, their compensation will be higher than others' daily tasks.
If you are an aspiring truck driver or wondering how you can increase your income, then read this article till the end. Here we will discuss some of the highest paying trucking jobs in 2023.  
Average Truck Driver Salary
According to the US Bureau of labor statistics, the average pay for a truck driver is $47,130 per year or $22.66 per hour.
In the US, the salary of a truck driver is calculated according to their working hours. They are paid up to $20-60 per mile. It is known as CPM.
Truck Driver Salary In Different States
Here are the truck drivers' salaries in different states. You can look at them to know how it varies from region to region.
| | |
| --- | --- |
| State | Wages (per year) |
| Alabama | $56,000 |
| Alaska | $42,000 |
| Arizona | $46,000 |
| Arkansas | $51,000 |
| California | $55,000 |
| Colorado | $46,000 |
| Connecticut | $55,000 |
| Delaware | $49,000 |
| Florida | $50,000 |
| Georgia | $54,000 |
| Hawaii | $40,000 |
| Idaho | $45,000 |
| Illinois | $56,000 |
| Indiana | $56,000 |
| Iowa | $50,000 |
| Kansas | $48,000 |
| Kentucky | $53,000 |
| Louisiana | $49,000 |
| Maine | $49,000 |
| Maryland | $53,000 |
| Massachusetts | $59,000 |
| Michigan | $49,000 |
| Minnesota | $50,000 |
| Mississipi | $68,000 |
| Missouri | $55,000 |
| Montana | $52,000 |
| Nebraska | $45,000 |
| Nevada | $48,000 |
| New Hampshire | $53,000 |
| New Jersey | $53,000 |
| New Mexico | $47,000 |
| New York | $60,000 |
| North Carolina | $48,000 |
| North Dakota | $52,000 |
| Ohio | $50,000 |
| Oklahoma | $48,000 |
| Oregon | $50,000 |
| Pennsylvania | $47,000 |
| Rhode Island | $53,000 |
| South Carolina | $48,000 |
| South Dak | $47,000 |
| Tennessee | $50,000 |
| Texas | $50,000 |
| Utah | $48,000 |
| Vermont | $55,000 |
| Virginia | $53,000 |
| Washington | $47,000 |
| Washington | $59,000 |
| West Virgin | $58,000 |
| Wisconsin | $44,000 |
| Wyoming | $61,000 |
Factors That Affect Salary Of Truck Drivers
Several factors affect a truck driver's salary. Let's discuss them one by one:
There are many jobs that possess a higher risk than others. Sometimes the drivers have to ship hazardous materials. Any carelessness can cause disaster, and your & other's life will be in danger. And this is why the fleet manager would pay you higher than others.
Another important factor is a liability. If you are responsible for an expensive load, you are likely to get good pay because of the responsibility that comes with it.
If you are highly skilled in a specific niche, you can easily find a job in a decent organization with a profitable salary.
While recruiting, the company's recruiter will likely check your past driving record. If it is clear and proves that you are a safe driver, you can expect decent pay.
An experienced driver is a better choice for any organization as they are adaptable, skilled, and can deal with unwanted situations smoothly. But it is not easy to find one in the industry, so if you are a truck driver with more than five years on the road. And have a good driving record, you can expect advantageous compensation from the organization.
Longer hauls require you to travel for more than 3-4 days. You can expect a lucrative salary if you are ready for such hauls.
National Average Salaries By Specialty
| | | | |
| --- | --- | --- | --- |
| Specialty | Salary | Specialty | Salary |
| Boat Haulers | $34,000 | Household Goods Drivers | $54,000 |
| Vocational Drivers | $35,000 | Local Drivers | $55,000 |
| Dry Van | $44,000 | Tanker Drivers | $55,000 |
| Reefer Drivers | $46,000 | Auto Drivers | $59,000 |
| Team Drivers | $51,000 | Flat Bed | $60,000 |
| Interstate Drivers | $53,000 | Regional Drivers | $67,000 |
| Dry Bulk Pneumatic | $53,000 | LTL Drivers | $84,000 |
Top 9 Highest Paying Jobs In Trucking
Specialized Team Driver
Team drivers are probably the highest job in the trucking industry due to the sensitivity of the loads. These drivers work for specialized departments, for example, the department of defense or banks. They are responsible for transporting self-defense equipment or similar things.
It is a sensitive matter, and therefore, they have to go through a detailed background check. And also, you have to pass specific qualifications. These processes are so lengthy that most truck drivers give up in between. Additionally, it is also not easy to pass this process. And therefore, it is a tough nut to crack.
But whoever successfully clears all the processes and checks they are paid heavily. You can expect upwards of six figures every year.
Heavy Haul Driver
Another promising job for a truck driver is heavy haul driving. For this job, the driver has to attain specific years of experience, certificate, and skill set. They are responsible for transporting oversized hauls. It may look easy at first glance, but it is not.
The driver should have years of driving experience, impeccable maneuvering skills, and patience. And also, they have to be informative and adaptable to different and changing rules of federal and state.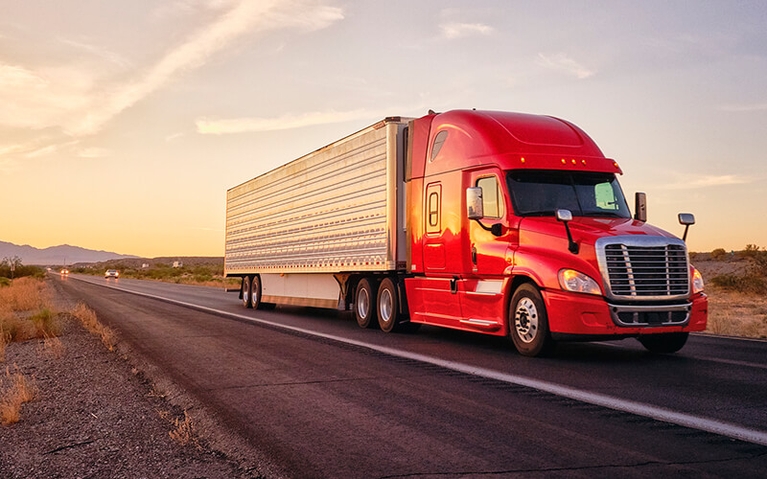 Hazmat Haulers
Hazmat hauling is another highest-paying trucking job. A hazmat hauler is responsible for loading, transporting, and unloading materials such as flammable liquids or corrosive substances. It is a job with severe liability and risk.
The drivers have to pay special attention and care while driving and also, follow precautions as there is the risk of being exposed to dangerous fumes. A hazmat driver can expect to earn more than $87,000 annually.
Tanker Hauling
Tanker drivers also paid handsomely. They are responsible for transporting dangerous material. And on occasion, ship liquid such as milk or water. They are not easy to transport and require great attention.
Refrigerated Goods Drivers
Other decently paid drivers are refrigerated-good drivers. They are responsible for transporting refrigerated goods. The challenging part is that it needs to be delivered at a specific time. Any delay can spoil the quality of the goods, and the driver or their company can be held responsible. Additionally, they have to be comfortable with night driving as the delivery happens in the morning.
Private Carrier Drivers
Another option for you is to become a private carrier driver. In this, you will have to work for a large organization. But it is not easy to get a job there because you will have to fulfill their criteria. For instance, they can ask for a clean driving record, a year of experience, or a particular niche skill.
Special Car Haulers
Special car haulers are responsible for transporting luxury cars. The cargo is expensive. And hence, they have to be meticulous on the journey.
And as already stated in the above section, the more expensive your shipment is, the higher you will be paid because of the liability.
Owner Operators
Do you dislike others giving you orders? Well, then you can become your boss. How? You can become an owner-operator like other 350,000 or more truck drivers.
An Owner-operator is a driver that owns a trucking business. They manage every aspect of it, from getting loads to driving, and invoicing bills. While it may look like a difficult job, it is a paying one. You can expect a profit of more than $221,000 if you do a good job.
You can work independently or sign a lease with a fleet for loads. It is a difficult job where you have to pay attention to each operation, but you can surely make it with proper experience, skills, and technology.
Ice Road Drivers
Ice road drivers operate in challenging terrain and risky road conditions. They often deliver cargo in remote areas while facing several challenges. It can be on the icy highways of the northern region or in the extreme wilderness. The truck driver needs to have specific experience and skills to navigate safely through the ways. The ice road drivers are paid nicely owing to the difficulty and risk associated.
Mining Industry Drivers
Another highest paying job in the trucking industry is the mining industry driver. The drivers have to have specific skills and experience to transport ores or raw materials of the mine to the surface. It is not an easy job because any rash movement or impact can collapse the walls burying the whole thing.
Final Words
The trucking industry can be a rewarding job for you if you are experienced, have proper driving skills, and have a clean driving record. You can try getting a job in any of the above-suggested jobs for higher salaries. Do share your thoughts or queries in the comment section below.