8 Best Truck Tracking Devices In 2023 – Buyer's Guide
Operators of fleet services must have a thorough awareness of the significance of GPS tracking devices. Without GPS tracking systems, it is inconceivable to imagine the trucking sector. However, the characteristics of these devices are continually altering due to increasing technology. Tracking fleets and assets is a major task of a fleet manager. GPS tracking solutions help boost driver safety, control vehicle health, and follow legal requirements in addition to tracking the trucks. It's critical to comprehend current trends and the best option for your business strategy. The objective of this article is to get you acquainted with these tools and the advantages they provide.
What are Truck Tracking Devices?
Truck tracking devices, are tools that let you monitor and manage your trucks in real time. GPS connectivity enables round-the-clock monitoring of your truck from a computer, phone, or tablet. These gadgets can be hardwired or connected to the OBDII diagnostic port of your truck. These devices collect valuable data that can be sorted, organized, and processed using the fleet management software and make improvements to the fleet and business.
Benefits of Truck Tracking Devices
Truck tracking devices come with a multitude of benefits & can prove to be cost-effective in the long run. It is imperative to understand your business requirements & choose the tracking device accordingly. Following are some of the benefits derived from installing a truck tracking device.
Cost Reduction
Tracking devices enable monitoring of every aspect of fleet management. Driver and vehicle monitoring becomes easy with a GPS installed in your truck. GPS trackers indicate the speeds needed for optimum fuel efficiency. Trackers give you the shortest and best routes to reach your destination, thereby saving valuable fuel costs.
Improve Safety
Truck tracking devices assist owners in understanding the conduct and poor driving practices of their drivers. These habits may lead not only to increase fuel consumption but also prove costly to the lives of the drivers. Most GPS trackers have built-in accelerometers that can record erratic driving, abrupt stopping, and abrupt acceleration.
Increase Productivity
GPS software can give you accurate reports on the performance of each vehicle, thereby allowing the management to make necessary changes if required. These reports can accurately target areas like engine idling and empty miles to ensure optimum vehicle utilization. Awareness of being monitored constantly results in driver alertness and thereby increased productivity.
Optimize Routes
Routing is a crucial component of transportation. Tracking devices can use GPS and real-time mapping data to convey accurate information on road and traffic conditions. This results in savings because it enables the trucks to maneuver appropriately and get there quickly.
Prevent Theft
GPS trackers have a Geofencing feature, which helps you create custom geofences, that alert you when your truck strays from its designated routes. Tracking ensures recovery of your goods and truck if stolen, as it is easier to locate. GPS trackers act as a deterrent to thieves as they run a risk of being apprehended. 
Customer Satisfaction
Due to the fleet tracking devices, you can have tight controls over the dispatches to your clients. When making the deliveries, you will be able to let them know if there will be any delays because of traffic or other circumstances that are out of your control. This goes a long way in projecting a positive image of your business. 
Discounted Insurance
There are special discounts given to companies for installing tracking devices. GPS trackers mitigate threats of thefts and accidents, which are the main risk factors considered by insurance companies.
There are numerous companies engaged in the business of manufacturing truck-tracking devices in the United States. This blog lists eight such devices for fleet owners that stand out in the crowded space of truck tracking devices.
#1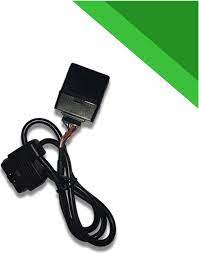 On top of the list is Matrack, with great devices in their GPS tracking range. Matrack is based in San Francisco and operates on three continents. With a global footprint, Matrack provides its customers with high-end, cutting-edge technology products.
The Matrack XT-2169 Hardwire GPS tracker is a solid, tried, and tested device specifically designed for fleets and transport services. The device is compact in design with a direct battery connection and can be hardwired into your vehicle. The device can monitor location, speed, and idling times.
Product Features
Real-time Tracking and Travel Logs
The tracker provides reports, that are simple to read and include information like whether the engine was on or off. It also displays latitude and longitude coordinates of specified events, address, speed, mileage, battery level, etc.
Alerts customizable include settings for towing, low battery, ignition on/off, and speeding.
Setting up virtual boundaries for your vehicles and getting alerted for boundary breaches.
This unique feature has been designed to streamline the operations of the trucking industry. The system maps all jobs and deliveries to the Matrack GPS tracking platform. Priority-based organization and assignment of jobs to various drivers and routes are possible.
International Fuel Tax Agreement (IFTA) Fuel Tax Reports
Save time and effort by quickly obtaining information on IFTA fuel tax calculations based on your vehicle's data.
Provision for tracking of your In-transit deliveries.
Preventative Maintenance Alerts
Set system alerts for when your vehicle needs maintenance.
Blink Roadside Assistance
Matrack, in partnership with Blink roadside assistance, provides responsive emergency services at deeply discounted rates.
#2
Samsara – Vehicle Gateway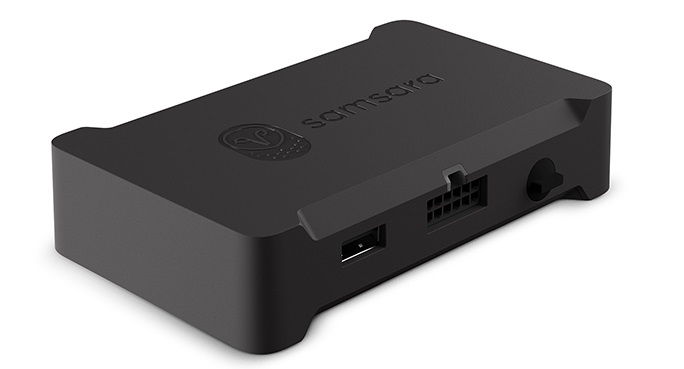 Featured in the Forbes AI50 list as one of the top AI firms, named the second fastest growing company in the Americas by Financial Times and other such accolades, Samsara has carved a niche in the transportation and logistics space.
The Vehicle Gateway device offers features like live GPS tracking, ELD capabilities, WiFi hotspot, engine diagnostics, advanced analytics, and many more. Anyone who has used The Vehicle Gateway has been pleased with it because it is a tried-and-true product.
Product Features
Accurate Real-time GPS Tracking
The GPS tracker immediately displays assets on the ground in an aerial view. They assist law enforcement with navigation and the recovery of stolen goods. Samsara's cutting-edge GPS reads simultaneously from several separate satellite systems, allowing it to offer accurate, real-time location even under challenging geographic settings.
Total Control Over Operations
The Vehicle Gateway keeps track of driver performance, safety, fuel economy, and engine diagnostics. The Vehicle Gateway integrates data from multiple built-in and auxiliary sensors to provide you with a complete and understandable picture of your fleet.
One Solution for Dash Cameras, ELDs, and Other Devices
The Vehicle Gateway solution empowers the operators to implement ELD-ready hours of service recording, deploy Internet-connected dash cams for increased safety, link wireless sensors to monitor reefers and cargo, and do much more.
Durable and Flexible Device
The Vehicle Gateway is a robust device for dependable performance under the demands of industrial fleet operations. It has a durable design and has undergone vibration, stress, wetness, and extreme temperature testing.
Complete business solution
Operators using Vehicle Gateway will find significant savings in operating costs and driver productivity. It will also help to monitor route performance, enhance driver safety and simplify reporting and compliance.
#3
Verizon Connect Reveal
Verizon Reveal is a comprehensive tracking device that is best for any fleet size. The tracking solutions can handle vehicles, equipment, and drivers much better. The tracker offers features like dashboard metrics, scheduling maintenance, a driver mobile app, advanced reports, and advanced alerts.
Product Features
Increase Fleet Visibility with Tracking
Get a 360-degree, nearly real-time perspective of your fleet's daily operations so you can maximize each business day while assisting in cost-cutting, productivity-boosting, and maintaining vehicle maintenance activities.
Streamlined Fleet Management
With GPS tracking technology, it will be easier to identify unaccounted expenses and opportunities for increased production and efficiency. Gaining greater fleet insight enables you to assess your resources and their usage.
Monitor Activity and Status of Your Fleet
High-resolution maps with intelligent grouping and detail available on demand offer a straightforward yet effective vehicle tracking solution to:
Reduce fuel consumption.
Provide accurate ETAs.
Monitor vehicle maintenance & diagnostic needs.
Monitoring mobile workforce & equipment.
Geofencing.
Google traffic data.
Reports
Get the following customized reports
Daily Report: View start and arrival timings, mileage, detours, and idle time.
Detailed Report: Obtain a complete travel history of your drivers, vehicles & assets.
Geofence Report: Monitor the number of visits to key locations.
Distance Travelled Report: Analyze the distance covered by your vehicles during trips.
Automated Alerts
The tracker gives real-time alerts for events like speeding, idling, and geofencing.
Get prompt, affordable coverage to get damaged vehicles back on the road.
Get upgrades in the future to avail following features
Electronic Logging Devices (ELDs)
Fuel Card Integration.
Commercial Navigation.
#4
Azuga GPS
Azuga has been in the fleet management space since 2012 & offers end-to-end solutions for all types of fleets. Azuga utilizes the capabilities of GPS, diagnostics, and driver rewards to accomplish the work and make the job easier and safer.
Azuga offers many products like fleet tracking, eLogs (ELDs), tracking apps, asset tracking, scheduled maintenance, dashcams, etc. The Azuga GPS is an easy-to-install and-use plug-and-play gadget.
Product Features
Fleet Management Software 
The fleet management software helps in improving safety and accountability.
Provides information such as speeding, hard braking, cell phone distractions, and service warnings to get the best out of your vehicle and driver.
You can use the Azuga Drive Safe app, which is a distracted driving app used to monitor and block distractions like calls, text messages, and applications. The customization feature enables you to create unique rules for each driver in your company.
The Diagnostics feature provides accurate and valuable features each time your vehicles are deployed.
Efficiency Optimizing Reports 
Azuga GPS offers call scheduling, team member assignment, and automated dispatch alerts. Verify each call status, length, driving time, and mileage.
Keep tabs on your trucks. Live maps enable you to monitor your trucks at all times. Get details like speed, location, driver, and weather instantly.
Add scheduled maintenance and quickly get vehicle alerts that will allow your service staff to take care of maintenance tasks before more expensive repairs are required.
With reports assisting you in streamlining operations, get a deeper insight into vehicle usage, operational expenses, and driver performance.
 Efficient Driver Application
A feature-rich driver monitoring app with the following features
Event reconstruction.
Analytics and data visualizations give fleets the tools they need to communicate with their risk control team.
The Azuga Fleet mobile app makes it simple for drivers to log their time in real-time and submit timecards directly from their phones. The weekly timecard feature makes it convenient for drivers to log and track their time.
#5
Teletrac Navman TN360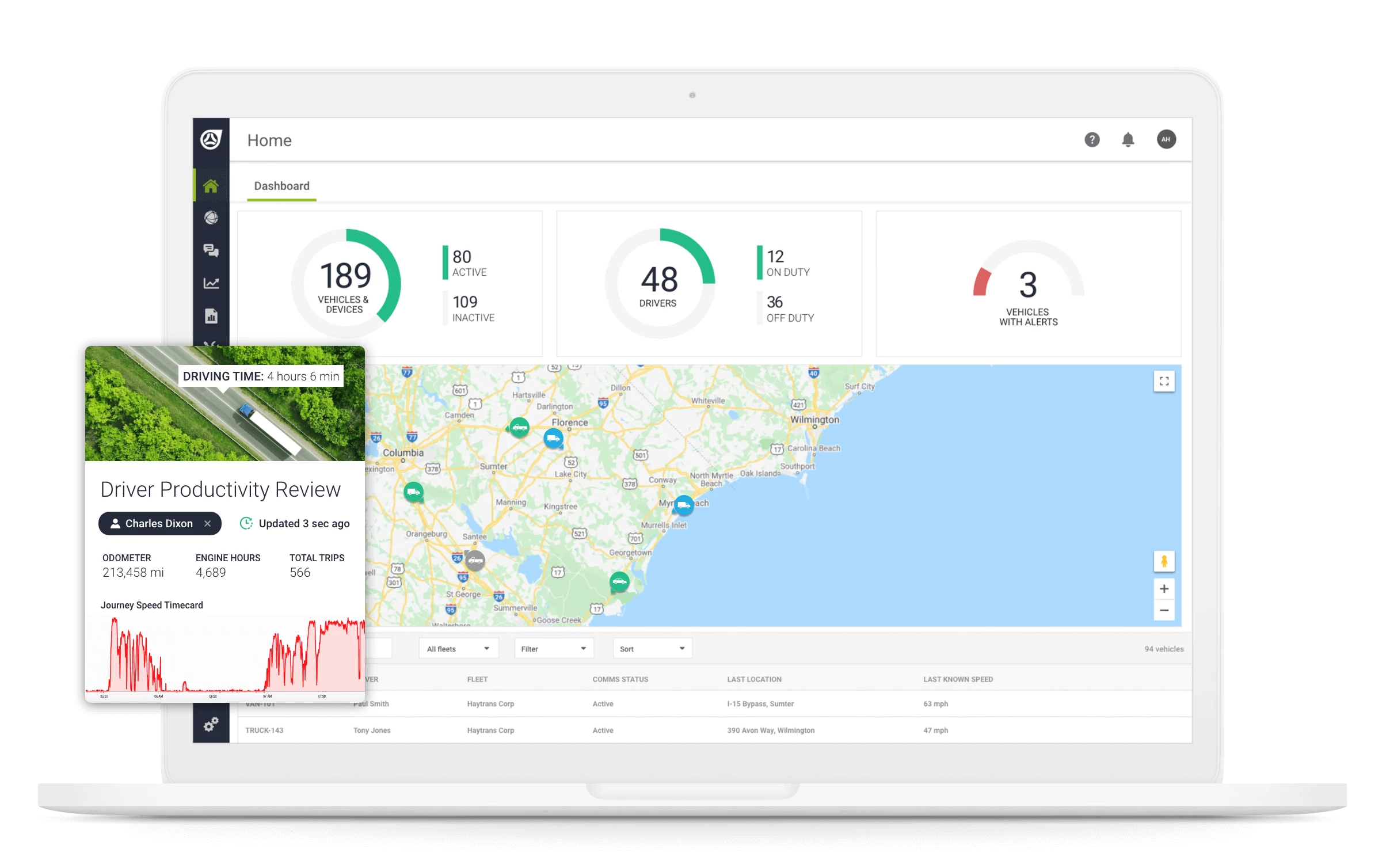 Teletrac Navman offers customized telematics solutions for industries like Trucking, construction, retail, passenger transport, connected services, etc. The award-winning AI-powered fleet management platform TN360 is a product specifically designed for managing vehicles and assets. The TN360 is worth considering due to the flexibility it offers.
Product Features
Increase Operational Efficiency
You can use the software to make decisions by converting data into solutions to your urgent problems. Real-time location tracking, quick data collection from driver apps, and industry-leading analytics will provide you with everything you need to keep your vehicles running smoothly.
Insights built into the dashboard of TN360 uses the power of Artificial Intelligence (AI) to turn real-time data into business intelligence providing visibility into operations. Insight offers access to information needed to make decisions about
Business.
Compliance.
Safety.
Maintenance.
Productivity.
Employees.
Every employee in a company has access to the data they need to make business choices in real-time thanks to insights, which give visibility into fleet and business operations.
With the driver safety solutions on TN360, you can develop customized training programs, make sure your vehicles are fully maintained, record performance and benchmark drivers with automated scorecards, and have complete visibility with Smart Dashcams. The driver scorecard feature gives unique insights into driver performance, helps identify high-risk drivers, and suggests opportunities for improvement.
Real-time warnings, streamlined workflows, automated logging, and extensive reporting help you relax, knowing that employees are secure and the fleet is adhering to regulatory requirements.
ELD is an easy-to-use solution that helps you keep track of compliance matters like DOT roadside inspections and Hours of Service (HOS) requirements.
Teletrac Navman's platform streamlines the IFTA reporting process and ensures you stay compliant with IFTA & DOT regulations by showing the total intrastate and interstate mileage of your fleet.
#6
GPS Trackit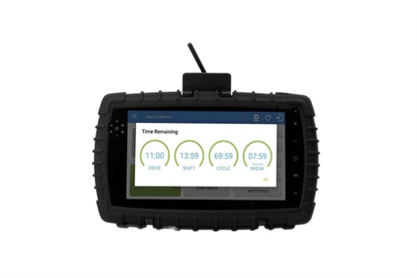 GPS Trackit is a comprehensive GPS tracking device. It is the perfect tool for fleets requiring customization and more control over the reports. You may get real-time information on the weather and traffic. The tracker comes with a 30-day money-back guarantee from the firm. The report customization option can provide automated reports at the frequency you choose.
Product Features
Knowing where your company vehicles and employees are at all times is easy with GPS Trackit. Create geofencing rules so you can be informed when vehicles enter or leave specific sites or areas.
GPS Trackit's VidFleetTM video telematics system helps companies clear their drivers of liability when an accident wasn't due to their fault. Video tracking gives the driver a full view of the road and the cabin. For a 360-degree view, there are multiple cameras. The video and image resolution are the best in the business.
GPS Trackit provides real-time alerts for the usage of mobile phones, smoking, tiredness, and distraction while driving.
You can track and record your vehicles' planned maintenance using GPS Trackit's maintenance service, helping you prevent expensive repairs and lengthy vehicle downtime. You can get service history data to know the schedules of service. You can set calendar reminders for impending services.
GPS Trackit protects your trailers, equipment, and truck by reducing theft and damage. Your trucks and other assets can be located instantly on demand. You will get alerts for use after hours. For breakdowns, GPS Trackit offers roadside assistance.
Easy retrieval of reports located at one location to support your business
30+ configurable report options
Provision of truck-specific report generation.
Driver safety reports.
Driver behavior reports.
Vehicle and asset utilization reports.
#7
ClearpathGPS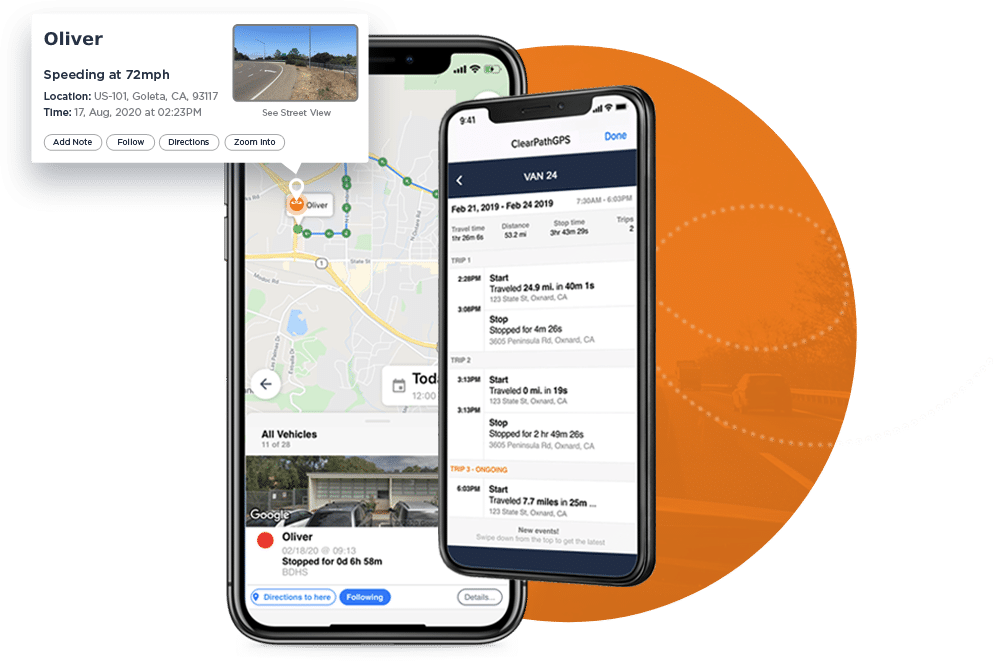 Clearpath GPS is an all-in-one fleet management solution providing vehicle tracking, equipment monitoring, AI Dashcams, field management, and more. The intuitive yet simple-to-use mobile app and web platform help customers get rid of business blindspots and help streamline processes. Ease of use, accuracy and robust customer service makes Clearpath GPS a complete package worth considering for your company.
Product Features
Real-time live updates to know where exactly your vehicles and assets are. Live traffic feeds help route optimization, which is a cost-effective way of identifying the shortest and fastest routes. It also helps in studying historical data to spot issues and boost route effectiveness.
Identify critical areas of your business, like the parking lot or job site, and create virtual fences around them to record the entrances and exits. This will guarantee adequate personnel and asset monitoring, preventing theft, unauthorized use of your vehicles, etc.
Live text or email notifications with location information can let you know if something needs your attention. Deal proactively with problems before they escalate. You are alerted when any scheduled maintenance is due. Alerts are sent, for the usage of the fleet outside business hours, excessive speeding or idling, and moving outside of virtual geofences.
Repository of fleet usage, driver behavior, and more enable you to monitor trends and act swiftly. The availability of historical reports helps you to analyze trends and make necessary changes. Other types of reports are virtual timecards, geo zone departures and arrivals, ignition details, and much more which are useful in saving time and increasing the bottom line.
The availability of iPhone and Android apps makes tracking the fleet on the go much easier. With access to live maps, reports, vehicle and driver information, and more, you can manage your vehicles and respond to clients using an accessible interface.
#8
Linxup GPS
Using Linxup GPS to manage your fleet and assets is a cost-effective option. You can effectively manage your vehicles with features like intuitive maps, intelligent reporting, driver behavior scorecards, maintenance tracking, and alarms for unauthorized use. The Linxup is a plug-in gadget that is simple to set up and operate.
Product Features
The GPS vehicle tracking software enables you to monitor your fleet's performance through your smartphone or PC. You can identify the following:
Speed and direction of your vehicle.
Time since the last GPS report.
Current location of vehicle or equipment.
Nearest driver to any location.
By offering a score for daily driver safety and a ranking of each car, Linxup GPS assists you in keeping an eye on your driver. You can get reports to show which vehicles are speeding and which ones are idle.
Linxup transforms data collected from your vehicle and assets into insightful information. Customized alerts can be generated for different vehicles and groups. You can get notified in real-time or choose daily/hourly summaries.
The in-built maintenance management system helps you monitor oil changes, tire rotations, warranty expirations, license renewals, and preventative maintenance routines.
Diagnostic Trouble Code (DTC) Monitoring
DTC monitoring will alert you for engine trouble, with specific codes explaining the same. You can choose to receive a text, email, or app notification when the engine light is activated.
You can subscribe to the IFTA fuel tax reports. Linxups' IFTA-add-on option collects your mileage data by integrating with your Linxup GPS tracking device. You can get various reports like –
Fuel mile tax summaries.
Calculate fuel-tax information for individual vehicles or the entire fleet.
Actual fuel gallons used.
Tax rates for individual states.
Amount of fuel tax due.
Dispatch Jobs & Track Times
LinxupPlus mobile app aids in managing and dispatching jobs. It can broadcast messages to your entire fleet or individual drivers. LinxupPlus simplifies the process by dispatching jobs from the office or on the road. It monitors and tracks job progress. It also keeps a history of all jobs assigned.
Conclusion
Deciding on the best truck tracking device is tricky, considering there are too many players in the market. Partnering with the right brand which understands your needs can take your fleet to the next level. We hope this listicle will help you choose the brand that suits your fleet.