6 Best Battery Powered Dash Cams In 2023 – Complete Guide 
Dashcams are one of the other things that you need to improve your fleet's safety and protect your business and drivers from false claims. It allows fleet managers to monitor their drivers remotely and ensure they are not engaging in reckless driving behavior.
Dashcam offers numerous benefits, such as discounts on insurance premiums, improved fleet safety, customized training programs, etc.
But do you know you can further maximize it?
How? By using battery-powered dashcams.
What Are Battery-Powered Dashcams?
Battery-powered dash cams have two sources of power, i.e., internal and external. It is connected to the vehicle's power source and has an internal battery backup.
While most of the dash cam connects to the vehicle's engine to derive power, these have additional external batteries. So even when the engine is off, you can still get the recordings.
It allows the managers to access the footage even when it is parked. There are many times when you leave the truck. But what if any accident happens then? How will you prove your innocence?
But when you have a battery-powered dashcam, it will start recording as soon as it detects vibration.
Why Should You Buy A Battery-powered DashCam?
A battery-powered dash cam is on a higher price side than a normal one. So why should you invest in it? Well, there are multiple reasons for the same:
Theft
A battery-powered dash cam can help you maximize the safety of your vehicle when you are not there. The drivers park their trucks in the parking lots and take breaks. What if someone tries to steal it?
A battery-powered dashcam would provide video footage both in-cab and off the road, so you can use this to locate the vehicle and the thief.
Parking
In another scenario, what if your driver parks the vehicle illegally somewhere, even if it is for a minute? If it gets towed away, you and the driver would be left panicking. But once you have footage, you can know what happened and retrieve your truck.
Assets
If you run a renting business, you might need a battery-powered dashcam to ensure that your valuable possession is safe.
Accident
Dashcams are a lifesaver in an accident. But a battery-powered dash cam can help you way beyond.
Think of a scenario where your driver has passed the truck roadside, and someone else comes from behind and bumps them. How will you prove your innocence if you don't have footage?
But if you have a battery-powered dash cam, it will automatically record the accident even if your engine is off.
Insurance
Buying dashcams can help you to get discounts on your insurance premium.
Improved Driver Safety
A dash cam can help you to monitor the driver's driving behavior virtually. You can check if your driver is inhibiting any reckless driving behavior or is engaged in distracted driving.
Reckless and distracted driving is harmful to everyone, including the drivers, people on the road, and your business.
You can identify if your driver is engaged in any of these with the help of a dash cam. You can approach the driver individually and provide them with proper training so they can drive safely next time.
Customized Training Program
The dash cams also help you to provide customized training programs for each driver. You can view the area of improvement of each driver individually and provide them with specific training. It also helps you to choose your driver training program effectively.
Reduce Idle Time
You can also use the dash cam to restrict vehicle idling in your fleet. You can always check if the drivers are working for the business or using the vehicle for personal use.
Route Management
You can use real-time reports for efficient route management. You can check out the road conditions with the help of footage and plan the best one to deliver the cargo fast and safely.
Avoid False Claims
One of the known benefits of the dash cam is avoiding false claims and proving your innocence. The dash cam provides you with an unbiased scene of the accident. You can use the same to prove your innocence and seek compensation.
Things You Should Consider Before Choosing A Dashcam
Before we start listing the top six dashcams in the market, let us discuss the factors you should consider before choosing any.
Easy Installation
No one wants to go through a complicated process to install a device. Look for a dashcam with a simple installation process so your driver can easily install it within a few seconds without any difficulty.
Video Quality And Resolution
The whole purpose of installing a dash cam is to find crucial evidence that can help you to avoid false claims. But if the quality of the weed you recorded is not up to the mark, you won't be able to find it.
And therefore, you should look for a dashcam that promises you high-quality video with better resolution.
Recording Time
You should choose a dashcam that provides enough recording time. Ideally, it should be ten minutes long.
Storage
To ensure that you have the evidence with you for a long time, look for a dashcam with good storage capacity.
Here is the top 5 dash cams with local and cloud storage , which all have several storage options to suits your need.
Battery Life
Look for a dash cam with a durable internal battery so that you can record videos even when the vehicle is parked.
6 Best Battery Powered Dash Cams
#1
Matrack Dashcam
Matrack dash cams are AI-enabled dash cams that can help you to boost driver safety in your fleet. It offers various safety features that can help you reduce accidents and avoid unwanted claims.
Matrack dash cam provides high-quality videos that you can use to save your drivers from false claims and help them to prove their innocence during an accident.
Two Facing Camera
The Matrack power dash cam is dual facing, i.e., one is the lane, and the other is driver facing. It gives you a comprehensive visual of the truck. You can monitor both in-cab and road activities.
Easy Installation
Matrack dashcam has simple installation. You can install the dash by following three simple steps:
Dashcam registration
Installation
And Calibration
Distracted Driving
Distracted driving is one of the major causes of accidents. Whenever the driver is using the phone, texting, talking to someone, or simply busy with the navigation system, they lose their attention from the road.
Accidents are bound to happen if the vehicle in front of the truck abruptly steps on the brakes. But with the Matrack – you can monitor the in-cab activity of the driver, determine if they are distracted while driving, and notify them not to do so.
The system also detects if the driver is drowsy using the phone or smoking while driving. It will capture images and video footage for your future reference. And send a real-time alert to the driver so that either- they can pull off or refocus on the road.
D.U.I Alerts
The Matrack dashcam can also detect whether drivers are smoking or driving under the influence. It will automatically send an instant alert to the driver to stop the truck.
Collision Alert
The Matrack dashcam lane monitoring and collision alerts feature. The system uses advanced AI-tech to detect when the driver changes lanes without indicating first.
The Matrack dashcam sensor calculates the distance between the vehicle in front & at the back and notifies the driver if there is any possibility of collision.
Driver Training Program
With the help of the comprehensive report of the Matrack, you can understand the driving behavior of each driver and know where they need to focus.
By knowing the individual need, you can choose an effective training program for your fleet that can help you to maximize safety and reduce the number of accidents.
#2
Motive Dashcam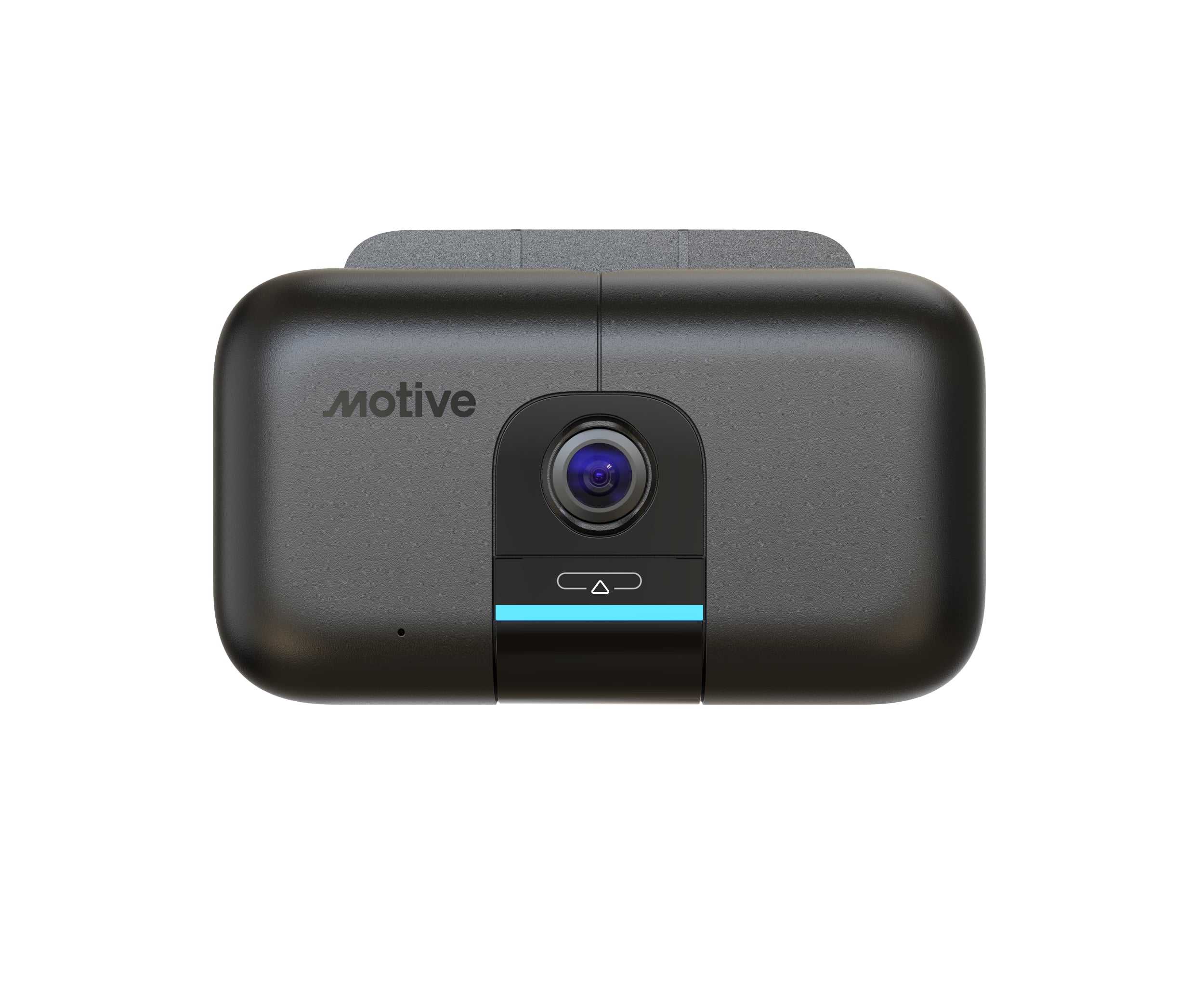 The Motive dash cam is a reliable dash cam packed with safety features. It can help you to improve driver safety in your fleet and avoid false claims from road accidents. It uses AI processors and advanced computer algorithms to reduce accidents and detect unsafe driving behavior.
High-resolution Video
Motive dash cam provides the best image quality in the industry. You can view the video with a 1440p high resolution. It ensures that you don't miss out on any details that can help you to prove your innocence during a road accident. Or check the vehicle's number plate in front to find evidence to prove your innocence.
Real-time Alert
The Motive dash cam provides you with a real-time alert. It uses AI technology to detect driver behavior.
Copied 2 blocks to clipboard
If it detects unsafe driving behavior, such as using a mobile phone while driving, it will send the driver a warning to look in front.
Automate Driver Coaching
The Motive has a dedicated in-house safety team that reviews each dash cam video and filters out the noises so that you can focus on what matters.
It assigns a severity level to each video based on several factors such as place, time, road condition, traffic level, etc. It saves you countless hours in reviewing all videos to note anything important.
It also provides coaching to the drivers post-trip to help them avoid repeating the same mistakes.
Industrial-grade Battery
The Motive dash cam also comes with an inbuilt battery. It enables you to capture significant events even when the vehicle is parked or the power is off in an accident.
Quick Capture
The driver can capture any important event in their route by pressing a button. It is helpful in several ways. For example, if road construction is going on road A, the driver can save the event so that the manager can assign alternative routes next time to save time and prevent wear and tear.
Live Stream
If you have a new driver on your fleet, you can train them with virtual ride-along and provide remote on-road training.
Driver Privacy
The drivers can turn off the driver-facing camera when they are not working. It protects their privacy and allows them to rest during breaks.
Driver Score
The Go motive dash cam uses powerful tools to give scores to the performance of your drivers and company. It provides complete visibility to you over your company.
It also helps you to identify a driver who inhibits reckless driving behavior so that you can provide assistance and training to correct them.
Further, you can also provide incentives to the drivers who practice safe driving throughout the month.
Protect Your Business
The go motive dash cam can provide HD video footage that can help you to prove your driver's innocence and defend against false litigations.
#3
Garmin 66W Dashcam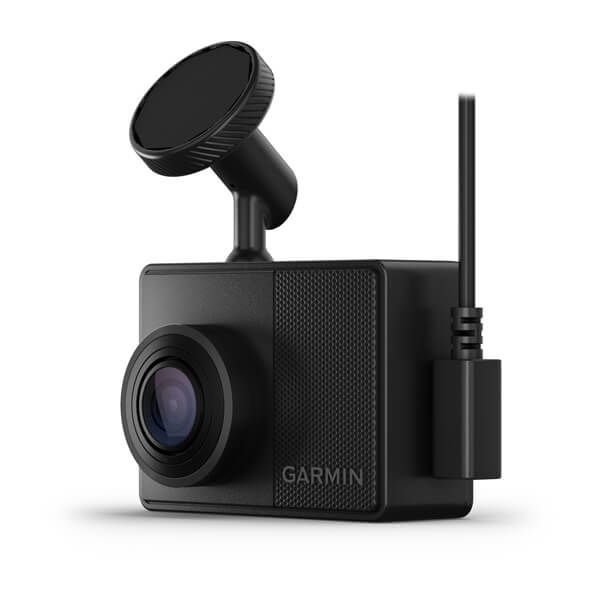 Garmin 66W dash cam is a compact and discreet device with an extra wide 180-degree field of view. It provides you with high-quality footage of 1440P in all light conditions. It automatically records the footage if an accident is detected. It has various safety features that can help you to maximize the fleet's safety and save it from false claims.
Compact And Discreet
Garmin is a pocket-size dash cam that you can install discreetly without attracting much attention.
Extra-wide Lens For Extra Coverage
Garmin dash cam has an extra-wide lens with a 180-degree field view that captures way beyond other dashcams. It allows you to get a better visual of the road.
Crisp HD Video
Another thing we love about Garmin is its high-quality video. It provides 1440p HD video so you can see every detail clearly, such as the number plate.
Automatic Recording
As soon as you install the device, the camera starts recording.
Accident Detection With GPS
Another notable feature of the Garmin dash cam is incident detection. As the camera detects an incident, it automatically saves the footage and notifies you. With the help of an in-built GPS tracker, you can also get the exact location information to send immediate assistance.
Collision Warning
The Garmin dash cam also provides driver collision warning, so they can always know when they are driving too close to the vehicle ahead.
Lane Departure Warning
The driver will also receive an alert if they change lanes without indication.
Go Alerts
Another feature of the Garmin dashcam is the go alert. It notifies you and the driver when the traffic in front of them has started to move. So you can also know when your driver is stuck up in the traffic and can inform the customers about the late delivery beforehand.
Red Lights And Speed Cameras
The Camera sensor can also detect the red light and speed cameras and notify the drivers beforehand to help them avoid traffic rules violations.
#4
Rexing V1 4K Dashcam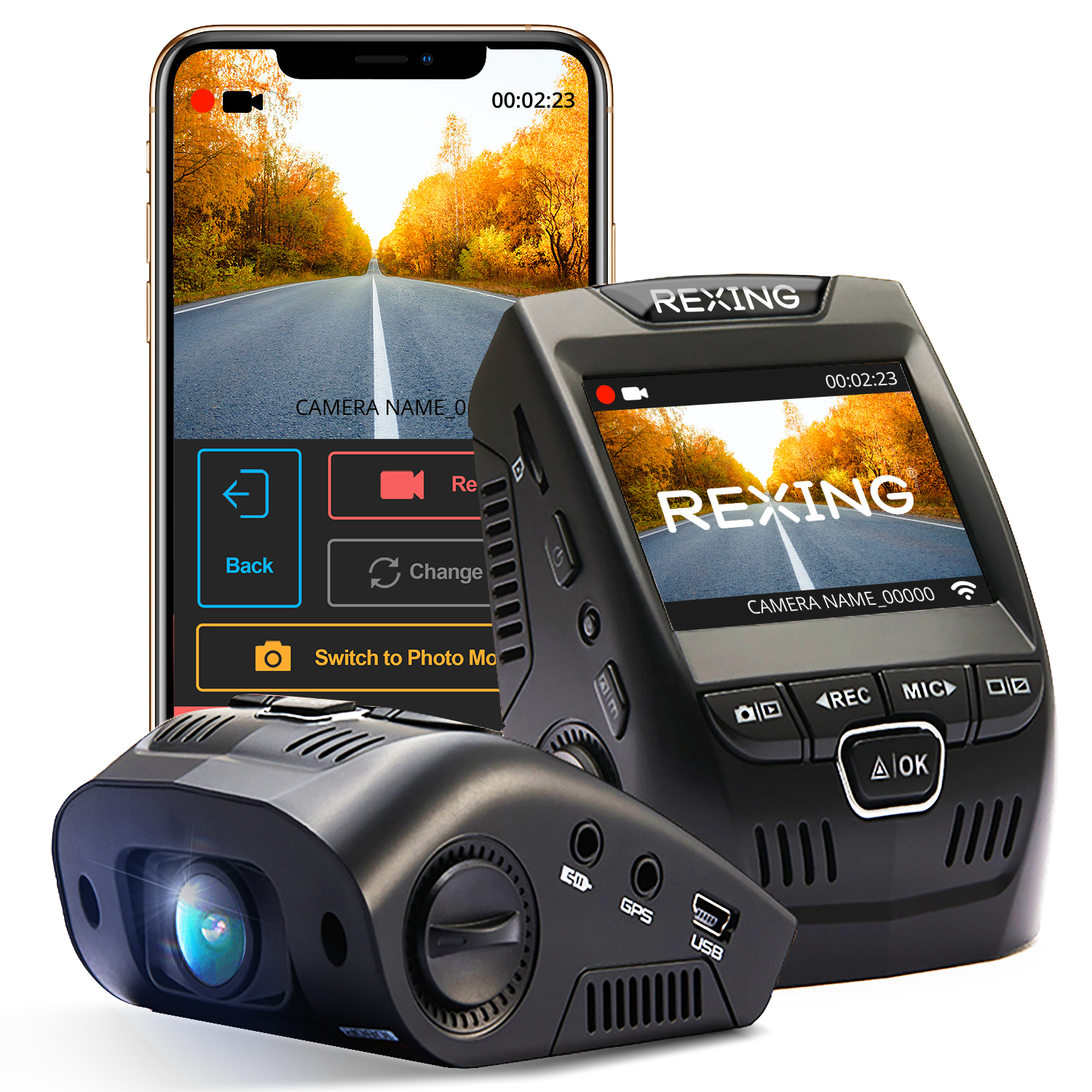 Rexing V1 4K is an ultra-HD & discrete dash cam with a top image sensor that can capture high-quality video even if the driver is driving fast. It has a low profile design that hides it well to be a witness. It provides a better view of your surroundings with 170-degree ultra-wide angle lenses and a better dynamic range. It also has an optional GPS tracker that allows you to track the driver remotely.
4K Resolution
Rexing dash cam is known for its high-quality 4K resolution camera that provides videos and images rich in color and contrast. It is a reliable feature as you can always view the license plate of the other vehicles.
Ultra-wide Angle Lens
The dash cam has a 170-degree ultra-wide angle lens that you can mount anywhere to capture the whole road. It automatically adapts to the exposure and provides a well-balanced image and footage.
Supercapacitor And Parking Monitor
The dash cam has a supercapacitor that can withstand extreme temperatures, so you can use it without fear of damaging the device in any climate.
The parking monitor feature automatically starts recording the footage when a vibration is detected.
Loop Recording And G-Sensor
The Rexing dash cam allows you to optimize the use of your storage. You can choose the video to be recorded at one or three-minute intervals so that unnecessary parts are left out. If there is no storage, the new recording will start overwriting the oldest recording.
Optional GPS
The Rexing dash cam also has an optional GPS tracker that allows you to see the real-time information of your vehicle's location, speed, etc.
#5
Trimble Video Intelligence
Trimble video intelligence dashcam is AI-powered and can help you to save a life, mitigate risk and improve diversity in your fleet. It is more than a simple dashcam that guarantees you both safe driving habits and accountability. It supports four configurable cameras to monitor the road and driver in high resolution. The system processes the data in real-time by the powerful artificial intelligence platform that provides driver feedback at the same time. It has the driver to inhibit good driving habits and enhance your safety program.
Cabin Intelligent Monitor
With the help of in-cab intelligence, you can protect your drivers from distractions and restrict distracted driving in your fleet.
Distracted driving is an activity where your driver is distracted while driving. They could be talking, texting, using their phones, eating, talking to the co-driver, etc.
With the help of Trimble video intelligence, you can monitor the in-cab activities and ensure that the driver has an eye on the road while driving and not anywhere else. It also helps you to provide customized training for your drivers according to their needs.
Advanced Driver Assistance System
The Advanced driver assistance system can assist your drivers in avoiding accidents. The Trimble video intelligence uses the latest interface and multiple vision-based algorithms to recognize danger on the road and alert your drivers.
Real-time Coaching
Trimble video intelligence can help you to provide customized training programs for your drivers. You can access the customized reports to focus on areas where improvement is needed. It assists you in making your fleet safer and more efficient.
Real-time Data
The onboard event regarding high-resolution video provides you crucial evidence in case of accidents. Additionally, the Intelliview technology divides the videos into footage so that you can focus on what is essential rather than viewing the whole video.
Safety Analytics
Trimble Safety Analytics provides you with report cards about the drivers driving behavior and helps you to make better decisions for your organization.
Pod Camera
With the help of a small pod-style camera, you can provide the driver full view of their surroundings and reduce the blind spots.
#6
The Vantrue N2 Pro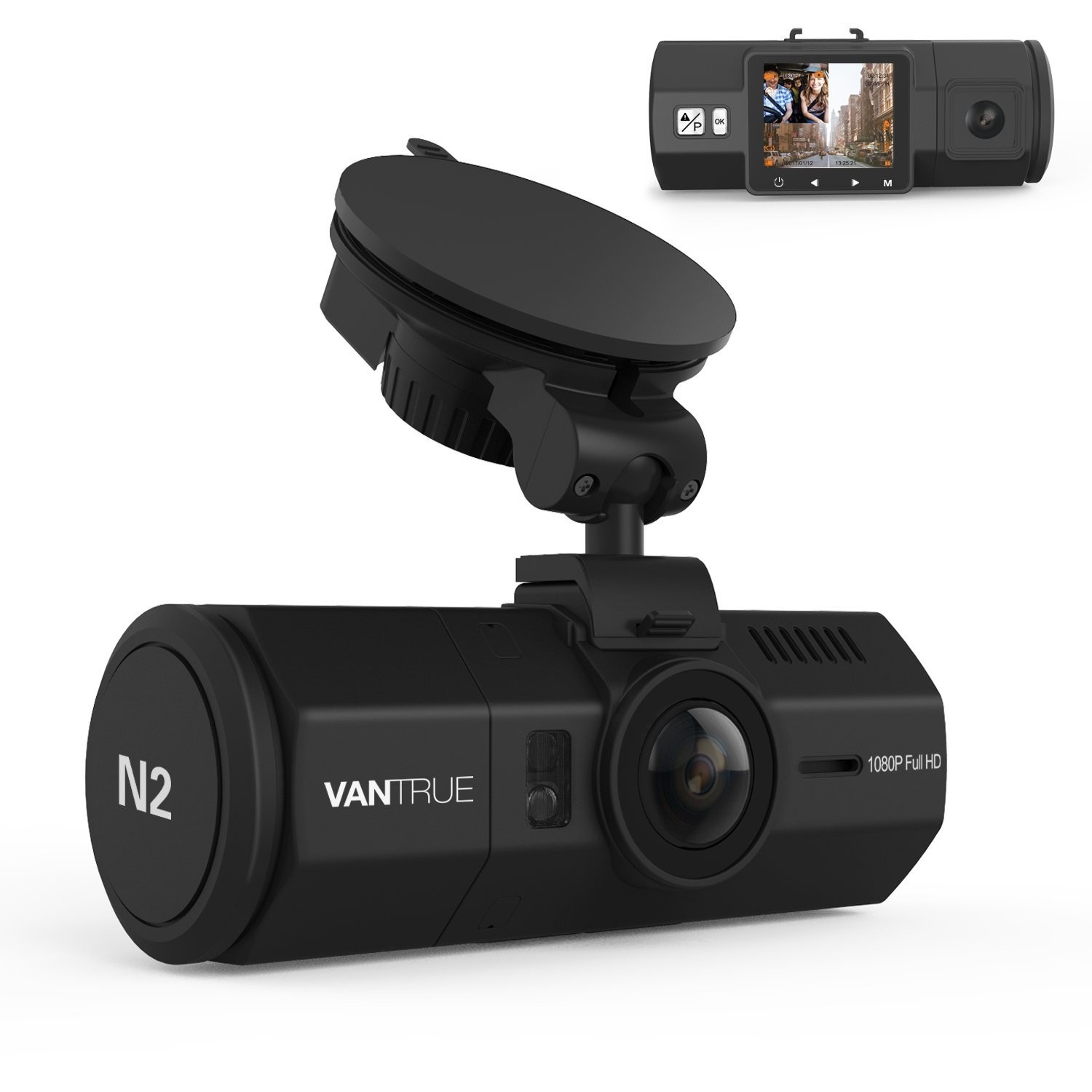 Vantrue N2 Pro dash cam is a reliable dash can that provides high-quality video footage. It offers various features that make it an ideal dash cam you need in your fleet to prevent accidents and maximize security.
It includes a camera that records the activities on the road and inside the cabin. It has an inbuilt microphone that allows the driver to hear the alerts.
Dual 1080P Front And Inside Dashcam
The Vantrue dash cam is a dual dash cam. It provides a better and clear view of the road, both in front and behind, with a 170° front-facing and 140° rear-facing camera. The rear-facing camera is also 80° rotatable. It enables it to capture a comprehensive picture of the road.
Simultaneously it also records the activity inside the cable using the HD-dash cam.
Sony Sensor Infrared Night Vision
The Vantrue dash cam has a Sony Sensor Infrared Night Vision camera that allows you to capture the recordings, even at night or in a low-light environment.
Loop Recording & G-Sensor
The Vantrue dash cam will automatically overwrite the oldest when the storage capacity exceeds. The sensitive G-sensor locks the footage as it detects a sudden collision so that no one can damage the footage, which can be crucial evidence for you.
Parking Mode
You can also switch to the parking mode when parking your truck. If the camera detects motion, it will start automatically recording.
Final Words
A battery-powered dash cam has multiple benefits for your fleet. Even if they are on a little more expensive side than a normal dashcam, it will benefit you in the long run.
So you should not waste a single second and buy one for yourself. But before you choose anyone, look into the resolution, price, camera quality, and other features. Always opt for one that offers you maximum security at minimum cost, just like Matrack.