What is Vehicle Fleet Management?
Managing a fleet without the right resources can be quite a tedious task. As customer expectations keep rising, vehicle fleet owners, operators, and managers must meet those expectations while also cost-effectively maximizing their profits. Not only do vehicle fleet management solutions oversee and manage vehicles but also increase the productivity of the fleet and enhance business operations in the long run, making your organization a reliable choice for customers and drivers too. The activities and jobs undertaken by fleet management organizations grow more extensive by the day, demanding a better sense of control to improve operations every day. Apart from business operations, a fleet manager's duties also include ensuring safe driving practices, stabilizing and increasing driver retention, and ensuring driver safety.
These days vehicle fleet tracking has become more beneficial as these tracking solutions are backed by strong GPS tech. And when it comes to GPS technology and related products and services, with a custom-made application for managing vehicle fleet tracking, Matrack Inc. is the best choice. Boosting a wide range of services at an affordable price, Matrack now is a popular GPS-enabled vehicle fleet tracking service provider for companies in over three countries. Matrack's offerings include vehicle fleet tracking, asset tracking, ELD, wired and wireless devices, integrated platforms, easy download applications, dashcams, driver safety, and behavior monitor, fuel tax calculation, exclusive fuel cards, and more.
What is Vehicle Fleet Tracking?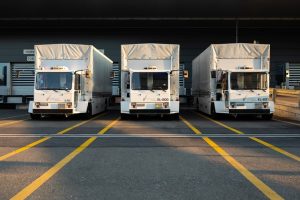 Vehicle fleet tracking has become an invaluable asset to fleet management companies today. It is essentially a management system that uses GPS to aid the managers in keeping track of the location and operations of their vehicles. Through this feature, managers can see and track their fleets in real-time on a digital map. By monitoring the location and activity of their fleet, managers improve the efficiency and safety protocols of their vehicles and drivers. They get an unprecedented level of independent control over fleets, from the convenience of a mobile phone or laptop. GPS fleet tracking uses telematics technology to collect data from fleet vehicles and assets. The tracking device is attached to the OBD port or via the vehicle's wiring harness. The fleet tracking system can also be used to make better strategic decisions about fleet operations, such as deciding which vehicle to dispatch, locating the nearest resources, and making smart decisions during an emergency setting.
Why is Fleet Tracking an essential component of fleet management?
Fleet tracking brings with it an array of benefits, which have become prerequisites to having a successful fleet management organization. Without these resources, the chances of your fleets functioning properly become less, directly impacting your operations and your costs. Some benefits are discussed below.
Driver safety
Installing a GPS improves the safety of your drivers and vehicles by great margins. The drivers behave more responsibly with the vehicle as they know they are being tracked. Furthermore, in case of an engine breakdown or fuel leak (any emergency, basically) managers can easily call for roadside assistance to help their driver without wasting any time.
Reduces Costs
By using a vehicle tracker, you eliminate variables like excessive vehicle idling, driver speeding, extra fuel consumption, or even any unauthorized activity. This reduces the cost of fuel that you spend now and then and eliminates unnecessary expenditure. It also reduces insurance costs, as some insurance companies offer discounts for vehicles that come with GPS trackers.
Saves valuable information
The GPS tracker offers a recorded history of the location, travel time, and routes taken. This can help drivers manage driver time and trip easily. Managers can also keep track of traffic situations and road conditions and take responsible decisions accordingly. It also helps managers and drivers plan routes that will save time as well as money.
Increases customer satisfaction
Using a fleet tracker also increases customer satisfaction and delivers improved customer service. Through this system, you can easily identify the vehicle closest to the service destination and select it for the job or delivery. This can be done using a smartphone or a tablet, making communication easier and more efficient. It also saves a lot of time and increases the speed of services.
Reduces scope of theft
One of the biggest advantages that come with fleet tracking is the protection it offers in terms of cargo theft. With fleet tracking systems managers can opt for custom-made geofencing services, and alerts when vehicles move out of their assigned locations or operate outside working hours. Even if they receive an alert after the vehicle has been stolen, managers can still share the real-time location of the vehicle with law enforcement authorities to quickly recover it.
The utilization of resources
Most GPS trackers use telematics technology that gives the managers detailed insights on vehicle activity, fuel consumption, engine idling, etc. in real-time. With all this data that is obtained from the tracking system, it makes it easier for the manager to identify key patterns and areas where improvement is required and where costs can be reduced. This will also help in managing finances better and formulating a budget accordingly.
What should you consider before choosing a fleet tracking solution?
There are a few factors that come into play while choosing the fleet tracking solution that is right for you. Some of them are listed below.
Passive tracking and Real-time tracking
There are two types of tracking systems available. While the passive tracking allows the receiver unit to store all data which can be accessed only after the work for the day is done, the latter uses satellite signals to immediately update data in the server.
Control
The amount of control you get over the tracker and vehicles differs from product to product. You can opt for full control, however the same will be expensive.
Flexibility
Different types of fleets require different types of features and monitoring. Choose a service that supports your fleets while delivering high-quality results and good-quality hardware.
Support
If you're managing a fleet that offers services globally, you may need to opt for a service that can support your needs as well. Even on a local basis, the support services offered by organizations vary from company to company. Look into what they offer and choose one according to your needs.
With GPS fleet tracking systems, managers can reduce expenses while providing top-notch, good quality services while keeping their employees satisfied as well, resulting in a well-structured and systematic organization to be a part of.
Why choose Matrack GPS fleet tracking solution?
Matrack Inc. is recognized in the fleet management industry for offering all-comprehensive, customizable fleet management solutions to businesses of all kinds and fleets of all sizes. While our devices are affordable and reasonably priced, we never compromise with quality. We make all our hardware, ensuring that you only get the best solution.
With us, you get to enjoy our services stress-free. There are no contracts or activation and cancellation fee. You pay month-to-month for the services you have used. We also offer a lifetime warranty on all our hardware.
Matrack GPS fleet tracking solution incorporates productivity-increasing, time-saving features that allow fleets to manage the workforce and resources with the utmost capability. Here is how our services and products benefit you:
Real-time location
Knowing the real-time location of your vehicles is pivotal and directly influences your operational costs. It also ensures the safety of your resources and workforce. When you know where our vehicle is – at your garage or any loading/unloading dock, or if it is on the road – that information gives you better visibility and helps in assigning the jobs. In case of an emergency like an accident or theft, fleet managers get immediately notified, enabling them to alert the local authorities and send the required help, potentially minimizing the loss. Matrack also has a Roadside Assistance program, available for our fleet solution customers.
Big Savings
Matrack's GPS fleet tracking solution is a money-saver in countless ways. You can optimize the best route considering traffic, weather conditions, the amount of time it will take for the vehicle to be loaded/unloaded, fuel stops, driver break times, and more. With everything planned efficiently and all the bumps provided for, the solution enables you to save fuel, and use the driver's working time optimally. The data is recorded automatically ensuring its authenticity, thereby saving the time required for paper documentation. With vehicle diagnostic records, fleet managers can plan for routine maintenance of vehicles, elongating the life of their vehicles.
GeoFencing
Geofencing refers to creating a virtual boundary. If the asset or vehicle being tracked through a GPS device, enters or exits this boundary, an alert is sent to the authorized user. For fleets, this feature serves a special purpose. Through Geofencing, fleet owners and managers get an alert when their vehicle is either near a loading dock or near a delivery site, and inform the clients of the estimated time of arrival of the vehicle. It can improve customer satisfaction, and also reduce the time taken to unload.
Alerts and notifications
Matrack devices come with an easy access application, downloadable on any mobile device of choice. The application is designed to tandemly function with all our hardware, and send you alerts and notifications for pre-set incidents like a violation of Hours of Service, fuel levels, next maintenance appointment, unauthorized use of vehicle, bad driving behavior, and more. It helps you to be in constant touch with your driver without having to make numerous calls about absolutely everything.
Driver safety
Apart from vehicles in the fleet, managers, and owners are also responsible for the drivers. They need to create a safe working environment for the drivers as well as ensure that they are motivated and encouraged to practice safe driving and professional ethics. Matrack's GPS tracking solution also records unsafe driving data like hard braking, rash driving, unnecessary speeding, and more. With immediate alerts for accidents, they can also ensure that their driver gets all the medical attention on time.
Vehicle and asset recovery
Matrack solutions come from Aggressive Theft tracking mode, which allows for quicker than usual retrieval of stolen goods, you can definitely be assured of reducing losses and damages.
Efficiency
Our fleet tracking solution takes care of all your operational functions and eliminates tedious tasks like paperwork, giving you more time to focus on business verticals that are more important and profitable. You get intelligent reports on idle time, fuel usage, mileage, engine status, and more, giving you useful insights into those sections of your business that can be improved for better productivity.
Compliance
According to FMCSA's ELD rule, all commercial motor vehicles are required to have electronic logging devices to adhere to DoT's Hours of Service rules. Matrack's ELDs are GPS-enabled and approved by FMCSA. With us, you get the benefit of being compliant with all the regulations and avoid huge amounts of losses in fines.
24/7 support
At the heart of Matrack's success as a leader in vehicle fleet tracking rests our cherished customers. That's why we have a dedicated team of experts, at your disposal 24 hours a day. Whatever query or problem you have, we assure you of a quick and perfect solution.
You can avail of all the above benefits with Matrack's OBD Classic Plug-in or Standard/ MA-HW Classic. Our GPS vehicle trackers are easy to install and do not require expert help. The hardware is designed to be sturdy and reliable and can survive any harsh weather conditions and terrain, with absolutely no extra maintenance. You can get real-time precise location with 4G compatible fleet tracking devices.
Our GPS trackers for fleet vehicles – OBD Classic Plug-in, Standard MA-HW Classic, and Weatherproof MA-HW Silver – are all available at a competitive rate. Our subscription plan for these devices is the lowest in the market at $12.95 per month only. There are no extra or hidden charges, you get what you see. There are no contracts, and you can unsubscribe from our services at any time. You also get a lifetime warranty on our devices and a 30-day return policy.
For a free demo, contact us here!