How To Verify Mileage For Fleets With OBDII GPS Trackers
Are you also considering purchasing a GPS Tracker? We would have observed that more and more people have started using GPS trackers in their private cars and business fleets with time. But with the increasing number of options on the market, it becomes challenging to decide which one you must be contemplating.
Here, we acquaint you with all the details about the OBD II tracker and its best features.
What is an OBDII tracker?
The automobile manufacturers introduced OBD in vehicles in the 1980s. OBD-II came in the 1990s. By 1996, most of the cars in the US started having OBD-II.
OBD tracker is one of the most convenient and feature-rich positioning devices available today. The user can directly plug this device into the fleet OBD port. It is effortless to install and use. It offers a variety of features, making it a highly suitable option for fleet tracking. The applications of OBD GPS tracking are extensive.
Types of GPS trackers
There are three types of trackers. These include GPS devices with wire, wireless GPS devices, and lastly the most efficient OBD devices. It is imperative to have a basic understanding of all these systems. Most people know about wired and wireless devices but might not know about OBD trackers.
Difference between OBD Tracker and Wired Tracker
The primary difference between the OBD GPS tracker and the wired tracker is that the user installs the former into the car's onboard diagnostic port. In the case of a wired GPS tracker, the user has to install the same behind the dashboard, and it needs wiring.
The wired tracking system is hardwired into the fleet and uses power through a battery. Wired trackers are more challenging to install than OBD trackers as the wired tracking needs a connection to the power line of the car.
A wired tracker remains hidden and does not disturb the driver and passengers. You can install it in any car, truck, etc. As mentioned earlier, the most significant disadvantage of this device is that it is complicated to install in vehicles. Many people do not know how to install the same, and they need to call professionals to do the job.
Talking about the OBD GPS Tracker device, one can directly connect to the vehicle's OBD port. So, you do not need any assistance in installing the OBD equipment, which means saving time and money.
Also, OBD trackers help you record transmission diagnostic data in large fleets and private cars. The OBD GPS tracker takes a plug into the OBD port. It is easy to install in vehicles. You do not need special tools and knowledge to do it.
Though both the trackers have their benefits, OBD 2 is more advantageous than a wired tracker.
OBD II GPS Trackers – Highlights
OBD port combined with the GPS tracker has become a desirable tool for owners who want to track their vehicles. Here are some of the utilities of an OBD tracker:
Authenticate Mileage: It is considered the best tool to authenticate the mileage of the fleets. Many of us keep struggling to find the precise mileage of our vehicles. OBD tracker is also essential for us to have as it helps us calculate the correct mileage of the fleet. It allows us to take necessary action to resolve the mileage issue, cut fuel costs, and increase profits. So, having an OBD II tracker is a lucrative proposition.
Problem diagnosis: The OBD Trackers provide vehicle problem diagnosis too. It can monitor the exhaust gas treatment system whenever the user wants. In case of excessive emissions, the tracker alerts the manager. OBD -II system is also a key to recording all kinds of faults and informing the maintenance personnel.
Vehicle Details: After you insert the OBD Tracker into the vehicle, it collects vehicle information. You can record all the data remotely and get to know it in real-time.
Easy to install: The most acknowledged benefit- OBD II trackers are the easiest to install. It just needs a simple plug into the OBD port.
Multiple vehicles: It also allows an easier transition from one vehicle to another in the fleet as and when needed. It is a great benefit when you take it along while working with multiple vehicles. This feature helps when you handle several rental cars with short-term leases, and you want to monitor them closely. The system works with most of the vehicles.
Plug and play: OBD Tracker is plug and play. Most of us know that the OBD port is located below the steering wheel and above the accelerator. You can put the OBD II tracker device into the port and start using it.
Driver behavior monitoring: OBD GPS tracker also improves driving behavior. You get to know when the driver is going rash, allowing you to take action on time.
Easy to use: One of the best features of the OBD Tracker is that it is profusely convenient to use. It gives it an edge over traditional and cumbersome wired GPS devices. You can also use the same in your fleet management other than operating in private cars.
Wide range: Another most prominent advantage of the OBD II GPS tracker system is that it can communicate with a range of vehicle subsystems. It also has an expansive range of types of vehicle information. It can share everything with the owner. You can access this information in many ways, like via apps, etc. This system augments workability and flexibility. It ensures that you have a user-friendly experience.
Augments Security: If you want to invest in a gadget that offers you better overall security, you must buy only OBD II trackers. It has a built-in alarm. You can check your vehicle when you hear the alarm beeping. With the advancement in technology, the quality of the OBD II tracker has improved considerably. For example, Matrack offers feature-rich OBD trackers at the best prices. It is a must-have device for your fleet as it assures superior security. It sends alerts right to the owner's phone and lets them know that something might be happening with their vehicle. You also receive a message if someone moves your vehicle or disconnects the OBD tracker.
Alerts: The tracker system lets you know when your vehicle moves or gets towed. The system is so sensitive that it senses in case of any strange and different vibrations. The device is smart enough to acknowledge that the vehicle has experienced power tools and anyone is trying to open it. It is a good security feature to have.
Faster Recovery: The best part of the alerts is that you can timely track the position of your vehicle in case of theft. It allows an easy and quick vehicle recovery. Today, GPS tracking has become vital to offer you peace of mind as you can recover your vehicle from anywhere in the globe.
Battery: One of the leading advantages of the OBD connection is that it does not rely on the battery connection. The OBD tracker has a battery backup and is always working and protecting your vehicle.
OBD Extension cable: If you come across a problem where you find that the connector is too close to the accelerator pedals and the OBD tracker will experience difficulty, then you can quickly get an OBD extension cable. It will make the device easier to use and provide you with flexibility. So, with the extension option, you can put your OBD device at a location that is slightly away from the pedals. This feature makes the OBD II work for anyone!
No extra cost: Another benefit of the OBD II is that you do not need to bear any additional cost for using a wireless tracker. While wired ones may require you to pay an installation fee if you call a professional with an OBD tracker, there is no need to pay extra, and it is 100% free.
Communication: A wireless OBD system can communicate with other vehicle parts. So, the owners have all the valuable information about their vehicle.
It is undeniable that the OBD trackers offer a slew of benefits. It is worth investing in them to eliminate stress and make your life peaceful. A device alerting you in case of suspicious activity in your vehicle and pinpointing its location is all you need!
Matrack OBDII GPS Tracker: Highlights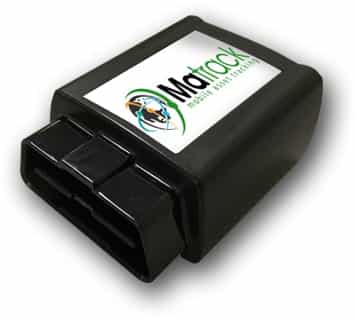 Matrack OBD Real-time GPS vehicle tracker offers a sea of benefits. This versatile diagnostic device offers 24*7 monitoring and is simple to install. It can monitor your vehicle's speed of your car, you get OTC or Diagnostic Trouble Code reports, and a protected account if you have an onboard issue.
The functions of Matrack OBD II GPS trackers include:
Accurate time tracking and reports
A real-time comprehensive report system is easy to read and has extensive details like vehicle's engine status, location coordinates, street address, battery status, vehicle speed, mileage, direction, and more.
Customized alerts
Matrack system offers all types of alerts. An added advantage is that it allows you to customize alert settings. You can create a customizable alert system as per the specific requirements you need to meet. The Matrack alert system provides settings for speeding, engine ignition, tow alerts, low battery, and more.
You can also avail the benefit of maintenance alerts. You can set your system to alert you when the vehicle needs maintenance such as Tire rotations, Oil changes, and more.
Geofencing
One of the best features is setting boundaries for your fleet location. If the vehicle crosses the border, you will immediately receive alerts and notifications. The device allows you to create ten geofences per account.
Dispatch Manager system
The dispatch manager feature streamlines your business operation. Once integrated with GPS tracking, you can prioritize tasks and delegate responsibilities to your different staff members and drivers. It also helps you automatically map out routes and maximize your fuel efficiency.
IFTA reports
You need IFTA fuel tax reports for intrastate travel for commercial vehicles. To calculate these reports, you need the number of miles traveled in each state, the amount of fuel bought in each state, and the Matrack will figure the information. You can read more about IFTA in this comprehensive blog post.
Arrival tracking
You can offer your clients a delivery track while the shipment is in transit. Matrack can provide you with a tracking link.
Roadside Assistance
Matrack Inc. is available when you need help the most! Matrack has a partnership with BLINK Roadside Assistance to help you at discounted rates. The company provides you with emergency services to cover you at times of need.
Diagnostic reports
You can plug Matrack OBD plug-in devices directly into the computer of your fleet. Hence, you get a unique function in your device to read and monitor the diagnostics reports. When having issues with your vehicle, you can use this facility and download the diagnostics report without incurring any additional cost. You can also pass it on to your mechanic to help him ascertain the exact problem and perform the repair.
Wrapping up
While buying a GPS Tracker for your fleet, it is worth deciding which tracker you want to purchase. In most likelihood, you will find the OBD II tracker most beneficial and hence, the right choice for you.
Though these vehicle tracking systems work with most cars, you must ensure that the device works for your vehicle. If you have an older vehicle, it may not have an OBD system. Hence, double-check whether the OBD II vehicle tracking device is a solution for you or not.
Since many people have already been using real-time GPS trackers for their vehicles and business fleets, the market is flooded with the best options. You may have too many options to choose from, making you feel lost, thinking about the best decision to take. If you research and dive deeper, you will know that it is wisest to invest in the Matrack OBD II tracker to improve your fleet security.