Fuel Cards – How do they help truckers and the fleet industry?
From the early years until the introduction of fuel cards in the 80s, key and standalone card locks helped record fuel expenses for fleet operators. In this system, fleet operators were issued private keys by the company selling diesel. Drivers could access the pump through this private key and data recorded by the company through a totalizer. At the end of the week or month, each fleet operator would get a bill for their share of fuel, based on the totalizer number taken down by the company selling diesel.
With subsequent technological advancements, magnetic stripe or swipe cards capable of storing wide-ranging data replaced the key locks/card locks.
Since the introduction of magnetic stripes used on credit cards by IBM in the 1960s, credit cards have become the most preferred mode of electronic payments. However, the introduction of fuel cards and their advantages over credit cards made it a popular choice with fleet managers. These cards used for trucking and fleet operations got greater acceptance due to the flexibility and range of benefits offered.
Matrack helps you get an insight into how fuel cards work and their benefits:
What are fuel cards?
Fuel cards help pay for buying diesel, gasoline, and other kinds of energy sources at gas stations. These are plastic cards with magnetic strips or RFID (Radio-frequency Identification) chips, which empower truck drivers to pay for gas or diesel at regular gas stations. With fuel cards from Matrack, you can pay for other expenses like boarding, lodging, and vehicle maintenance.
Who issues fuel cards?
Various banks, financial institutions, and merchant establishments tie-up with fleet and fleet management service providers to issue dedicated fuel cards. For example, Matrack has a tie-up with American express bank. Matrack's Amex fuel card is a comprehensive service that covers all the bases required for the trucking industry. The fuel card provider earns a commission on the diesel sold when it sends its members to partnering stations or truck stops.
Who uses fuel cards?
The transport industry is the biggest user of these cards. The card providers issue them to the fleet management companies, who, in turn, give them to their drivers. Truck drivers or commercial drivers use these cards for fuelling their trucks at the locations owned or prescribed by the card provider.
How does a fuel card function?
When filling diesel at a pump, the truck driver swipes the fuel card, enters details like unit number, mileage, and trip number, and takes the receipt. Since these cards are issued to drivers and employees, the bills are sent directly to the company. The card issuer generates a single itemized bill at the level of each authorized individual user.
Benefits of using a Fuel card
Cash Flow
Fuel is the second biggest expense in the transport industry. While large fleets have contingencies to support the cost and inflated prices, owner-operators and small fleets need the cash flow to keep the business going. Fuel cards with long-term repayment and a low-interest rate offer the much-needed respite and help them keep their business afloat.
Convenience
Fuel cards for trucking offer a lot of conveniences. They reduce the risk of drivers carrying wades of cash, vulnerable to theft. They reduce administrative expenses incurred because of reimbursements made to employees for using personal credit cards for official purposes.
Security and Control
You can have better control over your fuel usage. You can set individual limits for drivers to give you a better insight into their spending patterns. You can monitor exactly how much each truck driver is spending on the routes. If the company finds that the driver fuels their vehicle frequently, they can downgrade the purchase limit.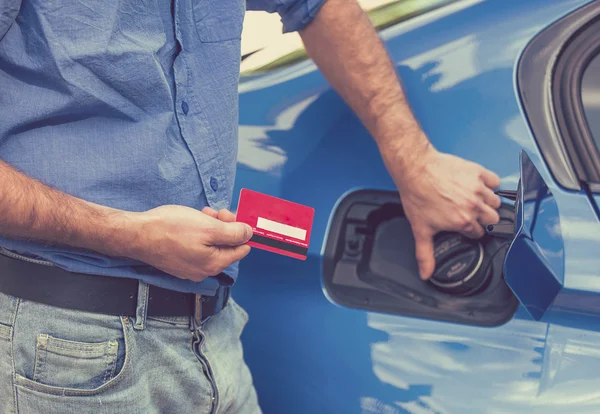 Savings
Savings are the most important feature offered by these cards. In the case of a credit card, you pay the credit price for using them. Paying with credit cards or cash also results in missing out on discounts and savings. In addition to discounts, fuel cards offer you many more additional benefits.
Additional services
Many fuel card companies provide additional services like giving a personalized account manager responsible for clients' needs. They provide various reports which will be helpful in planning fleet optimization. Certain cards allow you to pay for lubricants such as engine oil, accessories, and credits for car washes. Fuel cards for trucking offer discounts on emergency repairs, maintenance & tires.
Convenience for Truck Drivers
A truck driver undertakes the rigors of transporting the goods and has to multitask and manage time and resources. It is not an easy job. A fuel card eliminates the hassle of advance payments for diesel and other maintenance expenses and waiting for reimbursements.
Flexibility
These cards offer flexibility and help avoid getting trapped by offers of cash advances from brokers. This practice gets you tied down with such brokers and turning down high-paying opportunities due to a lack of cash to cover the fuel cost.
Centralized billing
These cards consolidate the billing process and this, in turn, helps streamline the accounting system. If the fleet operates from multiple locations, it helps in generating a central billing statement for individual branch invoices.
Alerts
You can customize fuel cards to set alerts for transactions that need close monitoring. These alerts can be time or location-based. For example, transactions made outside the geographic location or site, or if drivers do not fill diesel at a designated fuel station, you receive an alert.
Different types of fuel cards
Every fuel card company has something unique to offer to its customers. To take optimum advantage of these cards, the operators should know where they are accepted. Not all cards get accepted at every gas station. In case of such concerns, it is better to go with globally accepted cards like MasterCard, Visa card, etc.
There are a variety of cards available in different forms like:
Universal fuel cards: These cards do not belong to any particular brand. They provide universal coverage and provide benefits like online reporting tools.
Branded fuel cards: These cards are issued directly by companies and offer interesting customization options.
Merchant Fuel Cards: These cards are issued when fuel merchants partner with fuel companies for global or branded cards
Which fuel card to choose?
This question is dependent on various factors. It is imperative to know what will suit your business and choose accordingly. You can consider the following points while selecting a fuel card.
Routes coverage and location: You can choose a card that has acceptance on regional, national and international routes.
Vehicle type: You need to choose the card depending on the type of vehicles that make up your fleet, whether haulage vehicles or a small mixed fleet.
Fuel type: You need to consider if you would prefer a pump-price or fixed-price card.
One of the most important aspects of fuel cards is the cash flow. In the transport industry, the drivers or fleets ideally get paid after a period of 60-90 days after the job is done. Large fleets have funds for these, but small fleets and owner-operators do not. With a fuel card that offers low interest and long-term repayment, they can pay for the fuel once they receive payment for the job.
IFTA – International Fuel Tax Reporting
IFTA is an arrangement between 48 US States and 10 Canadian provinces that reports fuel use by commercial carriers. IFTA report is a quarterly report that needs to be filed by every IFTA licensee. It is a detailed report of jurisdictional distance traveled and motor fuel purchased in each jurisdiction for the quarter. The reporting software can use the consolidated data from these cards and logs for IFTA calculation and reporting.
Fuel Card Integration
This feature is the Integration of the Fuel Card with GPS devices. This integration feature gives an idea of MPG (Miles Per Gallon) usage regarding fuel spending and vehicle performance. It further enables us to identify the best and worst-performing vehicles and drivers. Data for individual vehicles or fleet is available, along with summary tables that give an insight into fuel used, distance traveled, and MPG used.
In the crowded space of Fuel cards, it gets confusing on which brand to choose. While many companies offer good features, the Matrack Amex Fuel Card deserves special mention. The vendor offers flexibility and benefits. There are substantial savings on fuel in addition to great coverage across locations. Matrack's Amex Fuel Card offers a 1.5% early-pay discount and a 60-day no-interest payback period.
Conclusion
The fuel card industry is looking at a bright future by adapting and integrating new technologies. Introduction of telematics, RFID in fleet management has proved invaluable for fleet managers and drivers. However, it will be interesting to see how the industry adapts to the Electrical Vehicle (EV) scenario. The infrastructure needed to support widespread EV charging will take some time to materialize. Power shortage is a global reality.
The challenges are many, but the field is wide open with abundant scope. These are exciting times for the fuel card industry, and it is up to the stakeholders to make the most of the opportunities.