Federal Motor Vehicle Safety Standard (FMVSS) – A Complete Guide For Fleets
Fleet vehicles are the most basic yet significant asset in the fleet and transport industry. And fleet owners, managers, and drivers jump through various hurdles to ensure the safety of this asset, as well as others on the road. But what if this very dependable asset is actually unsafe? As this is a global issue, the World Forum for Harmonization of Vehicle Regulation has guidelines for manufacturing automobiles and their safety features. These regulations have been more or less accepted by most countries, except for the United States, which follows the FMVSS under the United Nations Regulations (created by the above authority), and Canada, which follows the CMVSS regulations.
What is FMVSS?
Federal standards for manufacturing safer automobiles are issued by the National Highway Traffic Safety Administration (NHTSA), a federal government department that is a division of the Department of Transportation (DOT). These are detailed guidelines specifying the design, quality of construction, performance, and durability expected from motor vehicle manufacturers. These safety requirements guarantee motorist security and guard against traffic collisions, casualties, and injuries.
Safety Standard Categories
The three categories that make up the Safety Standard are:
Crash avoidance.
Crashworthiness.
Post-crash survivability.
Crash Avoidance
The 100-series of crash avoidance category has 35 specific standards that broadly cover the Control & Display systems, Braking systems, Lamps & reflective devices, Accelerator, Tires, Electronic stability controls, and Wind-shield operating systems. A few of these rules have been listed and explained herewith.
Controls and Displays in the Vehicle – FMVSS No 101
Every vehicle needs to ensure an accurate and clear view of controls, both in day and night driving conditions for driver focus and safe driving. Standard 101 has been set to ensure that the controls are as per the prescribed standards and that there are no accidents due to mistakes in selecting controls
Transmission Apparatus – FMVSS No 102
The transmission can be impacted over a period of time by the accumulation of dirt, debris, and other minute particles, resulting in transmission slides and jerky shifts. To address these kinds of issues the FMVSS 102 has set guidelines for the transmission shift position sequence, a starter interlock, and brakes of automatic transmissions to lessen the possibility of shifting faults and offer additional braking at speeds under 40 km/h (25mph).
Windshield Defrosting and Defogging Systems – FMVSS No 103
The formation of fog on the windshield and humidity in the cabin spoils the driving experience causing discomfort to the occupants. Addressing this issue is standard 103 which requires vehicles to have a windshield defogging system to clear fog by either heating the windshield or dehumidifying the passenger compartment.
Windshield Wiping and Washing Systems – FMVSS No 104
Driving in challenging weather conditions, especially monsoon, requires a clear line of vision on the highways. The wipers play a critical part in ensuring your safety during extreme rains. To address this FMVSS 104 has given specifications for windshield wiping and cleaning systems. This is to ensure that the systems shall wipe the specific percentage area of the windshield at least two frequencies or speeds. Regardless of engine speed or load, one frequency or speed must be at least 45 cycles per minute.
Hydraulic and Electric Brake Systems – FMVSS No 105
Brakes are the difference between life and death on the highways. Every vehicle needs to be equipped with a sound braking system, to prevent any catastrophic accident from happening. The 105 standard outlines the specifications for cars with hydraulic and electric service brakes. The purpose of this standard is to ensure safe performance and driver safety while braking, in an emergency, or under normal conditions.
Brake Hoses – FMVSS No 106
Brake hoses are a critical part of the braking system in a vehicle. The brake hose transfers hydraulic brake fluid which helps in braking. The FMVSS 106 standard specifies the performance and labeling requirements for brake hoses, assemblies, and fittings made of hydraulic, air, and vacuum materials. With the implementation of this standard, fewer people will die or suffer injuries due to brake systems failing due to hose assembly rupture or pressure or vacuum loss.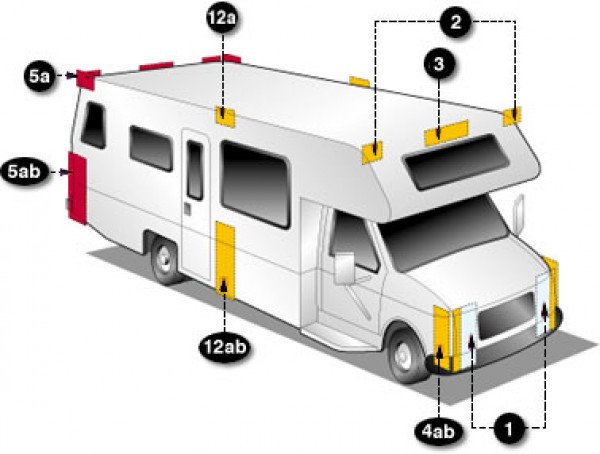 Crashworthiness
The 200-series crashworthiness category has 24 specified standards that broadly cover Restraints for passengers, including child restraints, Impact and crash protection for drivers and occupants, Rear impact guard and protection, Bus emergency exits, and window retention and release. A few of these rules have been listed and explained herewith.
Occupant Protection in Interior Impact – FMVSS No 201
The standard outlines the performance specifications for the head impact protection of the occupant. These are applicable for passenger cars, multipurpose passenger vehicles, trucks, and buses with a GVWR of 4536 kg(10,000 lb) or less.
Head Restraints for Passenger Vehicles – FMVSS No 202
The interior of the vehicle needs to be constructed with enough deformation space to lessen the loads on the head in order to minimize injuries from the occupants' heads colliding with it. To lessen the likelihood of neck injuries in rear-end and other incidents, standard 202 defines specifications for head restraints. Head restraint is a mechanism that restricts how far the head of an occupant's head may move rearward with their torso. These are applicable for passenger cars, multipurpose passenger vehicles, trucks, and buses with a GVWR of 4536 kg (10,000 lb) or less.
Impact Protection for the Driver from the Steering Control System – FMVSS No 203
The driver of the vehicle will always suffer the most damage in a head-on accident. Such collisions can be lethal since the driver is struck by the steering wheel and the windscreen.
Standard 203 specifies standards for steering control systems that will lessen impact-related injuries to the driver's chest, neck, and face.
We have accumulated a list of some significant steps you can take to maximize driver safety in your fleets. Here are the 8 essential tricks drivers' safety tips to minimize risk
Steering Control Rearward Displacement – FMVSS No 204
In a head-on crash, the steering column is pushed into the cabin and proved fatal to the occupants. To address this standard 204 specifies the restrictions on the steering column's ability to move rearward into the passenger compartment without risking head, neck, or chest injuries. It applies to passenger cars and vehicles, buses, and trucks with an unloaded vehicle weight of 1814 kg (4000 lbs) or less or UVW of 2495 kg (5500 lb) or less.
Glazing Materials – FMVSS No 205
Glazing Materials include laminated glass utilized for the windshield, the tempered glass used for the side windows, back window, and sunroof of a car. The glazing materials specify the requirements for glazing materials used in motor vehicles and their accessories. The objective of this standard is to lessen injuries caused by impacts to glazing surfaces, ensure that motor vehicle windows are sufficiently transparent for driver view for safe driving, and reduce the likelihood that the passengers will be thrown out, through the windows during collisions.
Door Locks and Door Retention Components – FMVSS No 206
People getting ejected from the vehicle due to collision is not unheard of, and the 206 aims to minimize the same possibility. The standard defines requirements for side and back door locks and door retention parts, such as latches, hinges, and other supporting measures.
Post-crash survivability
The 300-series post-crash survivability category has five specified standards, listed and explained herewith.
Fuel System – FMVSS No 301
Fuel spills are one of the major causes of road accidents. On highways, fuel spills have been reasons for pile-up of vehicles resulting in serious injuries and loss of lives. The 301 standard specifies the requirements for the fuel system integrity for motor vehicles. The objective is to encourage safe driving and lower the number of people killed and hurt in flames brought on by fuel spills during and following car accidents. It is applicable to passenger cars and vehicles, buses, school buses, and trucks with a GVWR of 4536 kg (10000 lbs) or less.
Flammability of Interior Materials – FMVSS No 302
The careless flick of a cigarette butt or carelessness in transporting inflammable materials is enough to ignite a spark and turn your vehicle into an inferno. To address this critical issue the FMVSS 302 standard stipulates the materials used in motor vehicle occupant compartments must be fire resistant and adhere to the requirements of this standard. The objective is to lessen the number of people killed and hurt by vehicle fires, particularly those that start inside the vehicle from things like matches or cigarettes. It includes trucks, buses, passenger vans, and multifunctional vehicles.
Fuel system Integrity of Compressed Natural Gas Vehicles – FMVSS No 303
The requirements for the integrity of compressed natural gas (CNG) fuel systems for motor vehicles, including those in bi-fuel, dedicated, and dual fuel CNG vehicles, are outlined in this standard. This standard aims to lessen the number of people killed and hurt in flames brought on by fuel leaks during and after car accidents. It applies to passenger vehicles, trucks, and school buses, irrespective of their weight, that use CNG-Compressed Natural Gas as a motor fuel and has a GVWR of no more than 4536 kg (10000 lb).
Compressed Natural Gas Fuel Container Integrity – FMVSS No 304
Compressed Natural Gas (CNG) is a very cost-effective way of fuelling your vehicle. Up to 3,600 pounds, psi pressure is used to compress and store CNG inside of vehicles. The 304 standard outlines the requirements for the integrity of fuel containers for motor vehicles using CNG It at driver safety and lessens the number of people killed and hurt in flames brought on by fuel leaks during and after car accidents. It applies to containers that store CNG as motor fuel onboard any motor vehicle.
Electric-Powered Vehicles: Electrolyte Spillage & Electrical Shock Protection – FMVSS No 305
The key danger associated with an electric-powered vehicle is the presence of high voltage batteries that can lead to electrocution in case of an accident. This standard outlines the requirements an electric vehicle chassis must meet including limits on electrolyte spillage, retention of propulsion batteries following a crash, and electrical separation of the chassis from the high voltage system. This standard will reduce the likelihood of fatalities and injuries in accidents where propulsion battery electrolyte leaks, propulsion battery system components enter the occupant compartment, or electrical shock occurs.
Miscellaneous
Interior Trunk Release – FMVSS No 401
There are instances where children or even adults get trapped inside the trunk of a vehicle.
This can cause death due to asphyxiation. To prevent such occurrences the 401 standard
specifies the requirements for offering a trunk release mechanism that enables an individual trapped inside a passenger car trunk to escape. It also allows the installation of a passive trunk release system to detect the presence of a person in the trunk and would immediately unlock the trunk lid.
Platform Lift Systems for Motor Vehicles – FMVSS No 403
Platform lifts perform the important function of transporting elders and disabled people. It is imperative that the equipment does not get stalled and cause anxiety and inconvenience to people using it. Under this standard, platform lifts intended to transport disabled people using canes, walkers, wheelchairs, or other mobility aids in and out of motor vehicles must comply with specifications and complete performance tests.
Platform Lift Installations in Motor Vehicles – FMVSS No 404
Proper installation of platform lifts in motor vehicles is essential for the seamless movement of people using them. Faulty or improper installations could result in serious injuries. Platform lifts certified to Standard 403 must be installed by vehicle manufacturers under the lift manufacturer's instructions. The objective of this standard is to avoid injuries and death while platform lifts installed in motor vehicles are in use.
Low-speed vehicles – FMVSS No 500
Low-speed vehicles used on public streets, roads, and highways need to have a bare minimum of safety-related motor vehicle equipment. The standard 500 specifies fundamental safety features for motor vehicles with a top speed of 20 to 25 miles per hour, such as headlights, reflectors, mirrors, windshields, and windshield wipers.
Conclusion
As someone in the fleet and transportation industry, your business depends on the quality of the vehicles you use. Without these federal regulations, big corporations will not hesitate to cut corners to make profits and jeopardize the safety of their drivers and cargo. The FMVSS is to safeguard customers, not automakers. The FMVSS requirements are crucial because they encourage safe driving and protect your assets and employees. To be able to address any safety concerns that may arise with your vehicle, you must get familiar with the rules.