Effects of Canadian ELD Mandate on US Fleet Operators
The United States published the Electronic Logging Devices (ELDs) Mandate, established by the Federal Motor Carrier Safety Administration (FMCSA), which went into force on December 2017. ELD regulations mandates that drivers of commercial motor vehicles track their Record of Duty Status (RODS) electronically instead of in paper logbooks using compliant Electronic Logging Devices (ELD). Although they were still bound by federal limits on the hours they could drive, the paper logs gave truckers more flexibility in recording hours.
The paper records allowed drivers to weigh business and safety needs individually. However, electronic devices require drivers to adhere to HOS laws more strictly. The underlying rules have stayed the same, just the method for measuring compliance.
Following the footsteps of the U.S. in trucking with requirements for Electronic Logging Devices (ELDs), Canada is on its way to the commencement of enforcement efforts.
The standards for maintaining an ELD are comparable in Canada and the U.S., notwithstanding differences in the laws governing hours of service. A driver's log, also known as a record of duty status (RODS), is a written log that includes information on the driver and the distance traveled. Roadside safety and compliance inspectors frequently discover drivers who have inadequate or out-of-date records of their duty statuses. Utilizing automatic electronic logging devices can close the gap.
Since both Canadian and American carriers must follow local ELD laws, cross-border trucks must be familiar with both countries' regulations.
What is Canada's requirement for ELD?
Statistics made public during Canada Road Safety Week in 2020 indicate that 20% of fatal automobile incidents in Canada are thought to be caused by fatigue.
Transport Canada put forth the Hours of Service (HOS) legislation to remedy this. Commercial truck drivers must wear electronic logging devices, or ELDs, to record their hours of service (HOS). These regulations outline how much sleep drivers should get and how long they should spend driving. Driving restrictions, ELD record-keeping requirements, and an operator's obligation to monitor their drivers are outlined in HOS, which federal regulators and law enforcement authorities claim is necessary to stop fatigue driving.
Since 2021, when Transport Canada's ELD mandate went into effect, electronic logs have been necessary for motor carriers in Canada that are subject to federal regulation. The Canadian government said in May 2021 that all jurisdictions would experience a progressive enforcement phase that would finish in June 2022. However, due to pandemic issues, full ELD enforcement has been postponed until January 2023.
Since the ELD mandate is in effect, it is the operator's job to ensure that the electronic logging devices record driving time and off-duty status. ELDs aren't just about complying with local, state, or federal regulations; they also guarantee a safe working environment for the drivers and effectively move customer freight.
Let us examine how the Canadian ELD requirement impacts American transportation companies.
What Sets the U.S. Mandate Apart From the Canadian Mandate?
American drivers should know the various distinctions between Canadian and U.S. laws before traveling to Canada. Remember that American drivers must adhere to Canadian regulations when driving in Canada.
Here are the key distinctions that businesses need to be aware of because cross-border fleets are expected to abide by the laws of both countries. This list is not exhaustive, though. Ensure your fleet complies with the rules and guidelines by working with your ELD provider. 
ELD Certification
While Canada demands third-party certification by the Standards Council of Canada (SCC) of ELD devices, the Federal Motor Carrier Safety Administration (FMCSA) permits ELD vendors to self-certify that their products comply with regulations. For fleets operating across international borders, even though their gadget complies with all U.S. regulatory requirements, if the business has yet to apply for Canadian third-party certification, it won't suffice.
ELD Standard
Canadian ELDs must meet the minimum standards outlined in the Technical Standard for Electronic Logging Devices published by the Canadian Council of Motor Transport Administrators (CCMTA).
Log Transfer Methods
The Federal Motor Carrier Safety Association's (FMCSA's) U.S. mandate requires that records be electronically uploaded to a central database called eRODS (Electronic Records of Duty Status).
Canada will require the device to produce an electronic file that includes a data output file and a non-editable document that the inspection officer observes during a roadside inspection in the interim. The ELD must be able to email the file with a unique identifier to the designated compliance officer. The officer may also get the log data via a USB or Bluetooth. Transport Canada permits the data transfer to occur later, or via a USB or Bluetooth because there are large areas of Canada where cellular service or WiFi is just not available.
ELD Malfunctions
In Canada, the carrier has 14 days to correct, repair, replace, or service the ELD if it fails. The carrier only has eight days in the U.S., though.
Off-Duty Time
After an eight-hour shift, drivers in the U.S. must take a 30-minute break from driving. On the other hand, Canadian drivers have more flexibility; they can operate for up to 14 hours without stopping. By Canadian HOS standards, drivers are given a window of 16 hours to finish a driving shift and are required to set aside two hours for off-duty time. You can take the two hours at once or divide them into one- or half-hour chunks.
Additionally, under Canadian ELD laws, drivers may defer taking up to 2 hours of their daily off-duty time to the next day if specific requirements are met. Deferrals are not allowed by American ELD standards.
Defining Rule Sets
The ELD must define and measure specific rules following the Canadian ELD mandate. Every ELD used in Canada is required to be able to measure Cycle 1, Cycle 2, and the North 60th parallel rules. There is no requirement for rule sets in the US mandate.
Available Logs
In the U.S., Roadside logs must be available for seven days plus the current day during an inspection.
Transport Canada requires ELDs to have 14 days' worth of logs plus the current day ready at the roadside or whenever an authority requests them.
Personal Conveyance Hours
The Canadian ELD mandate differs in how personal conveyance hours are recorded. When operating a CMV for non-work-related objectives, a driver may claim this time. The distance a driver may travel, or the amount of time it takes to get there. Canada limits drivers to a 75 km (50 mi) radius. When drivers reach their conveyance limit, Canadian ELDs will force them into driving status.
How Do U.S Companies Get Ready for Canada's ELD Mandate Enforcement?
Although the Canadian ELD Mandate incorporates many US ELD Mandate features, there are a few significant variances, as discussed above. The Canadian ELD Mandate specifies technical requirements that ELD devices must meet. You must look for an ELD product that complies with the Canadian ELD Mandate if you operate a trucking firm in Canada or are a US-based carrier that enters Canada.
You have less than a month to find out from your ELD supplier whether they intend to apply for Canadian certification if you currently use an ELD. The time it takes to finish this certification process ranges from three to six weeks. Also, keep in mind that Canada only has one certifying body. If your provider does not intend to obtain certification, you must quickly finalize an ELD that already possesses or intends to obtain third-party certification in Canada.
Vendors of ELDs must guarantee that current devices comply with Canadian regulations, which cover things like off-duty time deferral, adjustments to a driver's preferred duty cycle, the North of 60 provisions, etc. These rules impact how the driver's record of duty status is recorded, processed, and reported. Canadian Technical specifications allow for the use of portable devices that are only sometimes in sync with the vehicle's electronic control module.
If you are a U.S.-based carrier and your ELD solution does not adhere to Canadian laws, you have two choices. You can depend on two ELDs—one for the U.S. and one for Canada—but this cannot be very clear for your business and is expensive. Alternatively, you could switch to a product that complies with Canadian laws.
Many of the products now available on the market include some or all of the attributes Canada mandates. Most vendors should be on board with the move. However, others might conclude that the Canadian market needs to be more significant to justify the expense of customizing their ELD product, and they may choose not to.
ELD-Compliant Fleet Solution From Matrack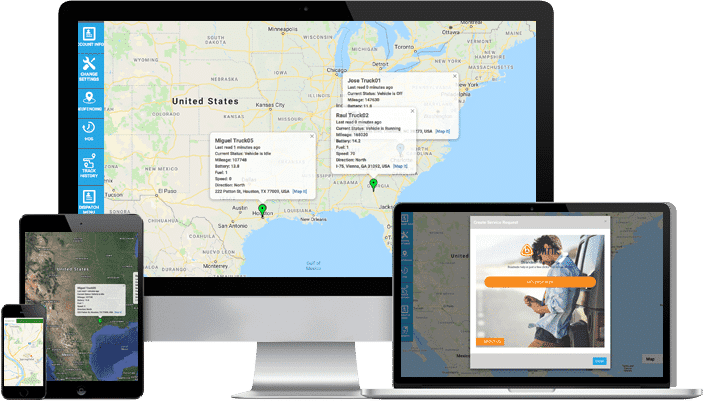 With the right ELD, you can avoid tickets. Matrack ELD meets the requirements of FMCSA's mandate and will uphold your compliance across U.S. and Canadian international and provincial and international boundaries.
Matrack provides owners, operators, and drivers with ELD and GPS telematics systems that enable them to adhere to FMCSA ELD mandates. You can avoid the fines, fees, and tickets you might otherwise incur by electronic logs instead of trying to record them manually.
You can install and activate the device in a few easy steps and then use the companion software, which can be used with any Android or iOS device to access fleet management and tracking features.
Matrack ELD solution provides:
ELD Compliance and FMCSA Approved Electronic Logbook
Voice-based ELD status changes
DOT Log Transfer
HOS Logs
Geo-Fencing
Dashboard Summary
Idle Time Tracking
Travel Logs
Real-Time Alerts
Vehicle Inspections
Driver ID & Messaging
Automated Reporting
Accident Reporting
IFTA Fuel Tax
Advanced Violations Warning
Customizable Alerts
Although ELD's primary duty is to record the hours of service following DOT guidelines, it is more than just following regulations set by the government. Consider investing in a compliant ELD solution to decrease variable expenses. This solution will, among other things, minimize fuel waste, increase driver safety, lower potential liabilities, and monitor driver behavior.
Whether you are already using ELDs in the U.S. or considering moving before the Canadian mandate, a comprehensive fleet management solution from Matrack goes above and beyond the fundamentals. It offers multiple features to streamline operations and boost revenue.