Best GPS Fleet Tracking Solutions for Small Businesses in 2022
GPS technology has become a household name. What began as only a location tracking system, has now completely changed how various businesses and industries function. In simpler terms, GPS tracking has made it easier to manage day-to-day operations, allowing business owners and managers to focus their energies on other priorities. Together with cloud and automated solutions, GPS fleet tracking has proved to be a beneficial investment, especially for small businesses.
When we talk about GPS fleet tracking, we don't just mean a solution that lets you know the location of whatever it is that you are tracking. A Fleet tracking system is actually a combination of hardware (GPS device), software (platform), and an application (dashboard). The device is connected to the vehicle or asset and collects valuable data regarding its location, engine status, run-time, mileage, fuel consumption, as well as vehicle diagnostics. The software or fleet tracking platform records this data and creates meaningful reports and insights like driving behavior, maintenance requirements, route optimization, fuel tax calculation, and more. The application or dashboard is basically a tool for the user to access all information and make informed decisions.
What do you need to know about fleet tracking for your small business?
With a small business fleet tracking solution, you get the precise real-time location data of the vehicle through a GPS device. This device also collects vehicle performance and diagnostic reports allowing you to make informed decisions regarding fuel, maintenance, and driver training.
Once the device has been installed, it collects the data and transmits it to the software application that evaluates the data and generates useful reports that are easy to understand and record. For this purpose, small business fleet managers prefer hardwired GPS trackers with three-wire installation to engine, power, and ground sources. Hardwired GPS trackers are best for small businesses as they are usually tamper-free and can withstand rough terrain and unfavorable weather conditions.
If a primary requirement of your small business is location tracking, you can also choose plug-and-play devices that can be connected to the OBD II port of the engine. These are cheaper than the hardwired option, are extremely easy to install, and are best for fleets that keep changing vehicles frequently.
Small business GPS fleet tracking systems are an all-inclusive extension of GPS tracking for fleet vehicles and include information and records of fuel purchases and consumption, maintenance and repairs schedule, compliance and related documentation, as well as IFTA calculation.
Vehicle fleet tracking applies and is used by small businesses from different sectors and industries. Any business that requires vehicles for any part of its operations can benefit from these solutions.
Vehicle tracking is a necessity for small businesses looking to reducing operational costs and increase productivity and efficiency. Even if your fleet has 2 or more vehicles, you can opt for a good GPS-enabled tracking system.
How GPS Fleet Tracking Can Benefit Small Businesses?
Most small businesses have their own set of challenges. They have lesser resources and a small budget. Small businesses might have fewer vehicles, but they do require proper management. However, because of the lesser number of vehicles and the cost of fleet tracking, small businesses have to struggle with reaching a breakeven point.
Several regulations like compliance with HoS, implementation of ELD, and more are the same for the entire fleet industry, no matter what the size of the business. Small businesses that already struggle with generating enough revenue to keep operating also have to adhere to these regulations.
Currently, the fleet management market has grown exponentially, and according to Global Market Insights, the industry will cross $56 billion by 2026. This is sole because of the multi-fold benefits that fleet tracking has for businesses of all sizes.
How do GPS vehicle and fleet tracking benefit small businesses?
Safety: We have already learned that GPS-enabled fleet tracking solutions offer real-time location. This allows you to keep track of where your resources are and ensure their safety. While you are sitting in your office, your vehicle/asset and staff are out in the road. If they get into an accident or your vehicle breaks down, you can easily get them the help they need. In case your vehicle/asset is stolen, you can also quickly recover it and minimize the loss.
Driving behavior: The new-age intuitive and smart GPS solutions also record driving behavior like hard braking, speeding, and more. As a small business owner, you can use this information to train your employees in better and safer driving practices. It will keep them and your vehicle safe, and also avoid any traffic or other regulatory violation.
Efficiency: The one thing that has made fleet management solutions popular is that they make your work efficient. From managing routes, reports on violations, workforce and workflow management, security, consumer satisfaction, scheduling maintenance, and more, a fleet tracking system can completely optimize small businesses operate. It can help them achieve the best ROI with the minimal resources they have.
Economical: For small businesses, any new investment they make must pay back tenfold. Fleet tracking does that and more. It saves money as well as time, taking care of the most basic requirements for a functional business so that the owners and managers can focus their energies on improving their growth. Fleet tracking can help save on fuel expenses, eliminate the chance of paying fines, increase customer satisfaction, and get you better and more business. Also, a good fleet tracking that safeguards your vehicle and assets can help you save on insurance premiums as well.
We have carefully researched and curated a list of the 5 best GPS tracking solutions that can benefit your small business. However, before you choose, here are some criteria you must consider while choosing the best GPS tracking solution for your business:
Customized solution based on the size of your fleet and your tracking requirements.
Choice of devices being offered – wired and wireless.
Compliance
Installation support
User-centric platform with a comprehensive solution – reports, alerts and notifications, integration support, accessibility, ease of use, intuition.
Economical – affordable device and subscription
Contract duration – best if there is no contract or obligation
Customer support – look for 24/7 customer support
Coverage and connectivity
Device specification – build, battery life, device life, warranty
Best 5 GPS Tracking Solution for small businesses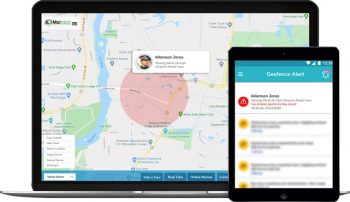 With over a decade of experience, Matrack has perfected its GPS-enabled solutions that can be used by businesses of any size. Matrack offers a range of business-boosting tracking services for fleets – asset and trailer tracking, ELD, dealership, ATV, and boat. Matrack GPS devices come in both – wired and wireless specifications.
Along with real-time GPS tracking devices, Matrack also offers a plethora of fleet management services that offer full visibility in your fleet operations. You can timely organize, schedule, and assign jobs and help propel the profitability of small businesses through GPS tracking. For vehicle tracking for small businesses, Matrack offers real-time location, engine and vehicle diagnostics, route management, driving reports, fuel expense management, idle time management, geofencing, and several other features.
Matrack GPS tracking solution for small businesses also has safety and compliance features that help you maintain CSR rating, get better consignments, and also get discount premium on insurance. The company also has an exclusive fuel card with a factoring service, thereby reducing your expenses at various operational levels.
Matrack is ideal for small business GPS tracking needs because they are affordable, and you pay what you get. There are no contracts, no cancellation, or activation fees. Moreover, Matrack GPS tracking devices are accurate and precise, support 4G tracks, and offer coverage all over the U.S., Canada, and Mexico. Matrack also has an aggressive tracking mode feature, that can be activated in case of emergencies. The company also has round-the-clock customer support through various channels.
Overall, Matrack is recommended GPS tracking solution for small businesses from various industries because it is truly a one-stop solution for all vehicle tracking needs.
Features and Pros:
Enterprise Solution with 99.99% uptime
Telematics solution for fleets – bikes, cars, trucks, ATV, Boats, and more
Comprehensive Fleet Management, including asset tracking, ELD, IFTA calculation, Trailer tracking, Safety Management, Geofence, Dealership Solution, Weigh Station Bypass, and Fuel Card
Compact and sturdy GPS devices with precise GPS location
Easy Installation
Integrated Companion App – compatible with all android and iOS devices
4G, Wi-Fi, Alexa Integration
Voice-enabled status change
Lowest subscription @$7 per month (customized as per solution)
Cons:
Does not offer worldwide coverage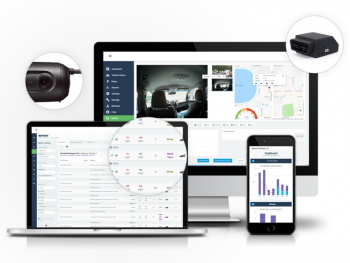 GPS Trackit can be described as an "Excellent GPS tracking solution for small businesses at an affordable rate". With a month-to-month contract and a 30-day money-back guarantee, GPS Trackit is a favorite choice amongst first-time vehicle GPS tracking users, as well as those who want to shift to a relevant service provider with lower rates.
Although affordable, GPS Trackit surprisingly offers a wide range of tracking and fleet management services like driver safety, maintenance reports, fuel reports, route optimization, and more. Like Matrack, GPS Trackit also offers a fuel card solution that allows small businesses to keep a closer track of fuel expenses, and avoid misuse.
For GPS-enabled vehicle tracking needs of small businesses, GPS Trackit has several devices to offer – OBD II port device, ELD, and two hardwired devices, dual dash cameras, asset tracker, and trailer tracker. The devices are priced at a comparatively economical price and offer precise location. One thing that needs mentioning here is that company-assisted installation is chargeable, however, these devices are easy to install and don't need expert handling.
If you are a small business owner and new to GPS tracking devices and related solutions, GPS Trackit is a good place to start.
Features and Pros:
Cloud-based platform
All-inclusive solution – fleet management, asset tracking, ELD compliance, construction fleets, service fleets, and more.
The solution features like driving behavior management, monitoring fuel consumption, real-time alerts, and notifications
Easy to use software
Easy installation
Month-to-month subscription, No Contracts
Affordable devices
Excellent customer support
Cons:
Installation charges are extra, not included in device cost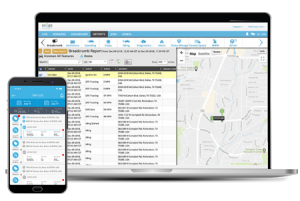 Although the company offers various tracking services, the Azuga GPS tracking solution is best for small businesses that deal in heavy-duty machinery and other assets like construction equipment, storage containers, trailers, and more.
Azuga's GPS tracking solutions are driver-safety-centric. They focus on ensuring safe driving by monitoring incidents of speeding, hard braking, deviation from pre-set route, unnecessary idling, and more. Users and managers can also avail of the Geofencing feature, and create virtual boundaries around their offices and shipment delivery address/ destination to avoid unauthorized use of business assets.
Apart from asset tracking hardware and software, Azuga also offers a compatible dashcam. The footage from the dashcam can be used in monitoring and training the drivers as well as decide accountability in case of any mishap. Because of the asset tracker and dashcam features, Azuga customers can get discounts on insurance premiums.
Azuga has customized pricing based on the client's requirement – a type of asset or vehicle that needs tracking, and the number of assets/vehicles. Our research indicates that Azuga is best for small business asset tracking needs.
Features and Pros:
End-to-end Fleet Management Solution
Focus on driver safety
Asset tracking, ELD, Dashcams
Rechargeable Asset trackers with good battery back-up
Various alerts and notifications for easier management
Customized solution based on fleet size and type
Cons:
Coverage can be weak in certain areas
Long term contracts

Samsara is widely recognized as one of the best GPS tracking services providers for vehicle tracking as well as for small businesses. The company offers customizable contracts, an easy-to-use, intuitive platform along with real-time tracking. One thing that differentiates Samsara from other fleet management solution providers is its third-gen integration capabilities, which allows users to integrate it with third-party platforms as well.
Like its contemporaries, Samsara devices are also compact and made to withstand forces of nature. They support 4G connectivity, covering the US and several European countries. The devices offer real-time precision location tracking, route optimization, complete and thorough visibility for your small business tracking needs
The all-in-one fleet tracking solution for vehicle and business tracking by Samsara is available at custom pricing. Based on the type of fleet – car, bus, trailer, or other, and also on the number of assets/vehicles in the fleet, the pricing for services can vary
Features and Pros:
Cloud Platform
Intelligent API allows 3rd party platform integration
Custom solution and custom pricing
Real-time GPS tracking and Geofencing
Coverage in the USA and several European countries
Best for fleets of small businesses of any kind
Cons:
Long-term contracts
Minimum 3+ vehicle limit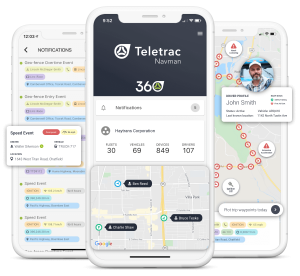 Small businesses need a lot of reports to identify and understand the areas that need improvement to increase the overall profitability and efficiency. This is why Teletrac Navman is on our list. Their fleet management platform is user-centric, allowing you to collect and generate reports relevant to you. You can easily look for fuel consumption report on one or all of your vehicles, in one place. Their intuitive AI-enabled platform is accessible through any device – computer, tablet, laptop, smartphone.
Teletrac Navman is also known for robust devices with 4G compatibility. The hardware is easy to install and is ready to use within minutes. The device can collect a wide range of information – real-time tracking, vehicle diagnostics, engine on and off status, unsafe driving incidences, and more. Users can create preset criteria and get instant alerts for those incidences.
The company does not disclose the pricing for its devices and services. Users can get a quote based on their small business tracking needs.
Features and Pros:
AI-enabled fleet management platform
Custom reports
Instant Alerts and notifications
Allows integration of the various solution
Offers Wired and wireless devices
Cons:
Long term contracts
Can be expensive for small businesses
Final Word
Small businesses can be hugely benefitted if they adopt a good GPS-enabled fleet and vehicle tracking solution, that works for them. These solutions can help small businesses reach goals easily and efficiently. With a suitable tracking solution, small businesses can boost their profitability and improve overall business functions.