5 Best ELD Devices in Canada- ELD Canada
ELD Canada- The Best ELD Devices in Canada
"All Canadian commercial motor vehicles must now have an electronic logging device (ELD)."
Yes, you heard it right; ELDs need to be fit into Canadian fleets of all sizes by June 12, 2021.
If you're a Canadian trucker who drives heavy, this is how you can keep your commercial fleet running without a dent.
The wise decision taken by the Canadian Council of Motor Transport to mandate electronic logging devices(ELD), is an attempt to keep the roads safe from increasing mishaps.
In 2019, Transport Canadian transport introduced final regulations to the federal law, which safeguards the best interests of truckers and other drivers on the road. It warrants them to drive in a secure domain by keeping a check on-duty status record. The law is believed to change the lives of roughly 3 million drivers by abstaining them from bumpy rides.
Matrack ELD- Best ELD Device In Canada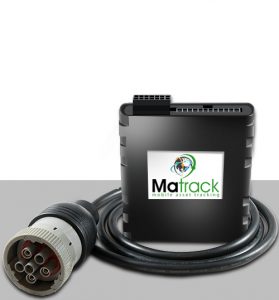 Matrack ELD is the best electronic logging device available in Canada in 2021 because of its numerous features. It's a smart ELD with GPS –enabled real time location tracking, Bluetooth compatibility, voice-based ELD status changes and more. Some of the other amazing features include:
Lowest monthly fee of 22.95/month

Free Device

NO CONTRACTS

FMCSA and DOT compliance
Automated and accurate HoS logs
Easy DOT log transfer on inspections
Geo-Fencing
Accurate travel logs
Idle time tracking
Real time safety management and risk alerts
Automated reporting
Accident reporting
The guidelines come precisely under the law known as The Canada ELD mandate.
What exactly is the Canada ELD mandate?
The ELD mandate is one of the most significant developments in the transportation industry, which otherwise was in the shackles of a mismanaged system.
This trucking law affirms the obligatory use of automated recording devices onboard all Canadian vehicles. Clearly, the ELD mandate emphasizes using electronic logging devices to count hours of service (HOS).
ELD devices are connected to the commercial engine control module. They bind commercial drivers to drive within a specific daily limit by tracking down the driver's time on the steering wheel. These tamper-resistant devices collect an accurate record of a driver's working hours.
ELD mandate will forever replace the system of manual data entry. The conventional use of a preceding recorder called an Automatic Onboard Recording Device (AOBRD) will be deemed subsidiary very soon. ELD technology reassures sustainable use as it promises to collect data in a standardized format.
What does the government want to achieve with the ELD mandate?
The government has implied that all Canadian motor vehicles should complete a certified ELD device installation before the compliance date.
Safety of the Drivers
Being a commercial driver is a full-time job. Attending long transportation journeys can be pretty tedious for people at the driver's seat, who constantly drive from scratch. Recent studies have shown that fatigue is a vital factor that eliminates attention.
Unfortunately, the graph of street and highway accidents is increasing day by day. Careless driving may prove fatal and can cost a life.
Easy Administration
ELDs are a preventive measure that improves drivers' quality of life and helps make the administration more manageable. Drivers who violate the regulations can easily be checked and acted upon by checking their service records. Overworked drivers can finally be put to rest by the simplest means.
The implementation of ELDs is an empowering step by the government, which only aims to track businesses and transportation across their territory.
Forgery and data loss was serious threats faced by the management. Since ELDs are to be lodged electronically, analytical and dishonest use will also be held punishable. CSA points will be delivered to you permanently in your record every time records are crossed.
Increased Sales
The mandate will initiate goods transfer and product exchange between multiple businesses. It was reported that around 30,000 trucks are traveling between Canada and the USA every day. The USA is currently up to date with its ELD laws, which means that Canada needs to upgrade at its earliest to have maximum profits.
How do Canadian ELDs define the hours of service?
The ELD mandate law was set to check a driver's hours of service(HOS) by reporting the data into an electronic device instead of adding manual data entry. As of now, the Canadian HOS laws have set 13 consecutive driving hours, 14 hours of combined driving and on-duty time, 16 hours elapsed time in a single shift.
This set of timings ensure a proper rest of 8 consecutive off-duty hours. Back in time, the Canadian HOS laws were malleable and could entertain the grandfather clause. With the formation of the ELD Canada mandate, it has now become compulsory to comply with the hours of service.
Enforcement authorities are employed to render all Canadian commercial motor vehicles out of the service if they fail to meet the requirements.
This is how an ELD works.
ELD locates your current status. Whether you're On-duty, Off-duty, or Not Driving, an ELD knows everything.
An ELD device sets an automatic record of crucial figures and elements at a specific interval. A few such features are date, location, engine runtime. and distance traveled.
Hence, the ELDs, when attached to an engine, records data based on whether the engine is running, the duration for which the automobile is operated, and the distance covered during a journey.
The list also includes the driver's ID, motor carrier, and vehicle number. It is essential to know that an ELDs works on software. Fleet drivers must be up to date with ELD software since it needs to be compatible with their fleet management software(FMS). The ELD manufacturer provides this fleet management software.
The Government of Canada makes it compulsory for Canada's ELD providers to have a third-party certification before they prepare their catalog. ELDs that have been tested and certified by an accredited certification body can only be put on sale.
Read more: 11 Underrated ELD Benefits that go beyond Mandates and Compliance
5 Best ELD Providers in Canada 2021
Now that you have to choose, here is a list that might be of some help.
The products on our list are not only FMCSA approved but market-ready too. Our ratings are based on customer opinion, usability, adaptability level, cost-effectiveness. We aim to offer a complete package with the below listing.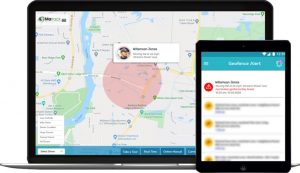 The Matrack ELD is voted as the best electronic logging device currently in the market. It is famous for its reliable set of functions and easy operation.
Optimum results are delivered with the help of a smooth, responsive application. You can install this ELD device quite effortlessly, owing to its robust design and unbreakable hardware.
The manufacturer makes a note to provide the best services at a minimum subscription cost.
One can blindly go by this ELD, as it ticks all points in the FMCSA checklist.
The app provides a user-friendly experience. You can run the app on almost any UI, whether it's the Apple or Android device. Customer support and satisfaction are a massive deal in the world of Matrack ELD solutions. It is available at a pocket-friendly price of $22.95 a month.
You won't be charged a convenience fee during any transaction. The hassle-free subscription can be canceled anytime, but I guess you would hardly do so, for the provider guarantees a lifetime warranty on all its logging devices. The fleet management solution helps you to manage and record all your data in a simple space.
The readings are entirely accurate. Using this device, you can avoid any possible problems. You can even manage your fuel consumption to start a profit-generating cycle. The best part about this ELD is the voice-enabled interface, making it even easier to denote block transfers and accident reports.
Pros
FMCSA and DOT policy and smooth log transfer, in case of any inspection.
The ELD offers Geofencing and accurate travel log provision which gives accurate information, at any instant.
Risk elevators and safety management protocols are strong enough to prevent any accident.
Complete track of fuel cycle helps to save a lot of money.
Backups are easy to restore and retrieve, whenever needed. The voice-enabled user interface provides ease of use.
Cons
Due to Geofencing and tracking, some people feel it is harmful to their privacy.
Fleet managers and every worker involved in the transportation needs to be up to date with the functions. It requires a lot of learning.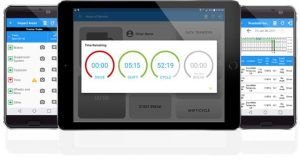 GPSTrackit ELD offers easy installation of their ELD device, which works sincerely to be a good choice for owner-operators who do not want to be involved in a contract.
A simple plug-in-play can turn on your hardware which can then be compiled with the software application. The app can be easily downloaded on any device you like.
It's a return on investment for those small-size fleet owners who want to first examine the functions of their ELDs before they sign into a long-term contract. The monthly subscription is priced at $ 25.95 onwards. GPS tracker will be highly beneficial to all the truck owners who travel frequently and often find themselves in theft-prone areas.
Along with transmission and report storing facilities, these ELDs alert you to curb violations, thus saving time and life.
Pros
By using the GPS track it e-logs you can save an enormous amount of time since you are always backed by honest results.
The mechanism of action of this particular ELD, helps you to stay on track and avoid any violations which can put you at risk. This ELD can track the status of any vehicle on which it is installed.
Phone service, customer service, and training is quite welcoming
Cons
They run system maintenance setups at 3 am, at which local drivers have started their daily journey.
You have to keep power consumption at bay, every time.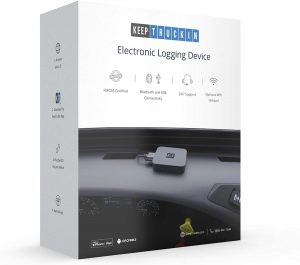 Keep trucking ELD is evolving every day to sustain itself as a premier driving innovator. This cloud company has climbed up its way into the top hundred in the Forbes list. The company produces some reliable products that have a standard FMCSA mark. The ELD devices come at a modest price, as the company aims to create cost-effective products concerning state laws.
Just like this ELD, its other contemporaries keep trucking electronic logging devices of monthly subscription pricing. The core feature includes optimum fuel monitoring, safety alerts, and auto records. KeepTruckin's ELDs can set time alerts based on your preferences.
Also, geofencing technology helps you be cautious on the road.
The manufacturer does not charge any upfront price and offers you the whole deal in the installment of $35 a month. Yes, these ELDs operate on a contract. Customer service is always available at any time of the day. The hardware is easy to install and will last almost a lifetime. There are so many reasons to go for this deal, but it's the brand value that sets it apart from others.
Pros
Easy setup and easiest replacement service. The device is compatible with every kind of vehicles such as a van, box- truck, tractor, truck, or light-duty vehicle.
You can have all data and information at your fingertips as log retrieval is simple and stress-free.
The ELD always complies with the FMCSA changes.
Customer support is powerful and timely.
Cons
Some people have reported trouble with the software and specific features like the odometer. It is important to know that these setbacks can be handled.
Reports are difficult to combine to generate a full report.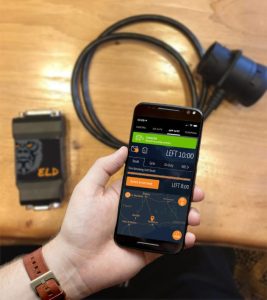 Gorilla Safety ELDs primarily provide a document management system in its list of operative features. It is often found that fresh models are constantly evolving with the latest technology. Gorilla Safety is a new service provider, which promises to deliver some fantastic pieces to operate in the fleet management industry.
The company makes a note to follow the latest law of ELD mandate, and even the products are up to date with FMCSA regulation. The app, which comes along with the service, switches on document tracking mode while you are in the driver's seat.
The category sections or scrolls all the relevant information targeted to the truck, its driver, and even the company. Cool features like easy driver mechanic communication, location sharing, E-log mobile app, and the website makes Gorilla safety a premium name among ELD providers in Canada.
Pros
The document management system is excellent. 4 subdivisions help to maintain uniformity. They are ELD Company Dossiers, Truck Dossiers, Patent Dossiers, and
Driver's Qualification Dossiers.
This ELD helps to maintain a good CSA score, which is based on vehicle compliance, safety, and accountability.
It can track the status of any vehicle on which it is installed. Thus, the ELD is extremely useful in accident investigations. Users can protect themselves from unfortunate lawsuits, especially when they are not at fault.
Cons
This is a very good ELD but not the best. There are some unique and extremely important features like engine fault codes, which are missing.
Some users recorded incorrect calculations. However, this problem can be avoided by little changes in the software.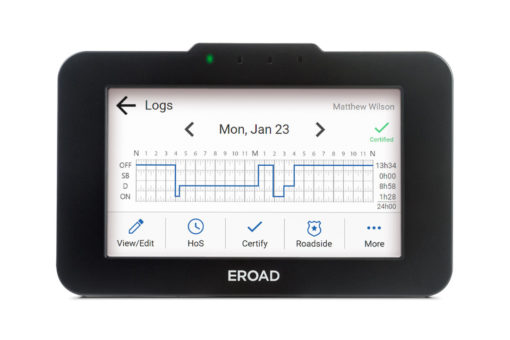 Broad Ehubo ELD comes under the category of an essential budget-friendly ELD device. With the back of the FMCSA mark, this device can record accurate results. Its resilient hardware assures robust use.
The manufacturer considers customer support and timely reporting as a matter of grave importance. The ELD offers lots of extensive features on the table. You can actively go for a plan that meets your budget since the pricing falls between the range of $30-60.
You do not need to pay any extra hardware charges apart from a primary setup fee of $35. The device is easy to install and align due to its compact and single-in vehicle design. The geolocation feature holds a significant value to the drivers. The screen provides mileage count and even considers displaying fuel information. You can save a lot of money by investing in this basic ELD.
Pros
The cellular coverage of the product is excellent, works accurately even in the remotest of places.
Driver behavior can be regulated by regulating functions like speed, driver routes.
Easy to use and understand.
Provision of a free trial.
IFTA reports and single-vehicle units.
Cons
Lacks a non-regulated driving mode.
Customer Service cannot always match up.
Costs can be overwhelming to some.
Conclusion
It's advisable to go for an ELD that you can resonate with, after all, it's a matter of safety. It's always better to choose an ELD that passes all the standardized tests and contains the necessary features, as the ELD mandate is here for a really long weekend.