Learn How To Build A Fleet Management Budget In 4 Easy Steps
No matter how many parameters there are in judging the success of a fleet, it always comes down to money. And the cardinal rule to making profits is managing the money you already have. A fleet budget is a rightful determinant of well-run operations. The success of a fleet is often measured by how its manager manages or controls the expenses. A budget, when created thoroughly, can help a fleet set its financial target and highlight the areas that need improvement.
Budgeting is tedious work. Without enough information, anyone can find it a complicated and time-consuming process. So whether you are a veteran fleet manager or new to the role, here are some steps that you can undertake to create a functional and flawless budget for your fleet.
Fleet Costs Or TCOs
Calculating and managing expenses should be the focal point for any fleet. It all starts with determining and calculating the fleet costs, also known as the total cost of ownership. Knowing the TCO helps with budget management, allowing you to take proactive decisions for asset replacement.
First, let us understand what TCO is.
Fleet cost or total cost of ownership is the total cost associated with asset management. It includes costs related to the purchase and maintenance of vehicles in the fleet.
There are two types of expenses categories comprising TCO:-
Fixed cost:
As the name suggests, this category is for fixed expenses that include taxes, purchase, loan or lease payments, insurance, registration, depreciation, etc.
Variable cost:
This type of cost fluctuates every month due to various factors. It includes parts replacement, fuel expenses, maintenance, parking, tolls, etc.
Among the above, fuel and maintenance costs constitute the largest operating cost of a fleet. And hence, it is significant for a fleet manager to monitor these expenses and take action to control them.
How To Build A Fleet Management Budget?- Four Simple Steps To Follow
Set Goals
Planning for a budget is just like planning for everything else. So the first step is identifying your goals. But your goals must be realistic. And to do that, you will need to go through your previous budget or financial performance.
First of all, you should begin by specifying goals for your fleet. One of the ways to do so is by SWOT analysis.
SWOT analysis helps a business identify its strengths, weaknesses, opportunities, and threats. For example, it can help you identify where you are overspending or where you have to spend a little more than usual. And also which asset you have to purchase or replace to improve your productivity.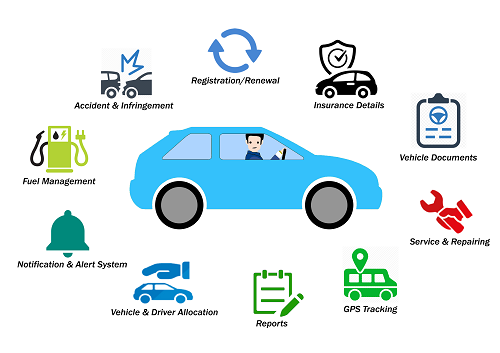 You can construct your budget according to the goals decided for the upcoming year. It will help you to allocate money to various operations under a set strategy.
Some of the expenses that a fleet has to incur are:
Gas and fuel cost
Vehicle maintenance cost
Tax or licensing fees
Vehicle depreciation
Insurance or accident claim
Safety programs
Interest cost
Parts replacement
Review Previous Year Expenses
The second step is reviewing the past year's expenses. Reviewing the previous budget helps the fleet manager identify mistakes and look for room for improvement.
It is also important as you can use it to develop the baseline for the current budget.
It can also help them to access the answer to various questions:
Did they overspend or underspend?
Which was the largest area of expenses?
Are the assets of the fleet utilized- properly or not?
What was the unexpected expense?
What were the measures taken to control or reduce the fleet cost?
Did they achieve their previous year's goal with the budget?
These questions will not only help you to identify where you were wrong but what measures you have to take this year to correct those mistakes.
For example, if the maintenance cost is higher than usual, you can select a fleet management software such as Matrack for preventive maintenance schedules and service reminders. Or arrange a driver training program to help drivers overcome reckless driving behavior.
Budgeting Technique
An ideal budget is well prepared for the upcoming future challenges. It is prone to unexpected costs and inflation.
There are two different techniques you can use to cope with the fluctuating costs:
Incremental Budgeting
Zero-based Budgeting
Incremental Budgeting
It is one of the most common types of budgeting. A flat increase, say 4 to 5%, is added to the previous year's expenses. This technique tries to make adjustments for unknown expenses such as inflation.
While this is an easy way to cope with the fluctuating cost, it has some major shortcomings.
First of all, it does not assess whether the spending done in the previous year was appropriate or not. And secondly, it may encourage overspending.
This technique can help small businesses or new owners operators to outline their budget but can be detrimental to large fleets.
Zero-based Budgeting
The zero-based budgeting technique is more detailed and rigorous than the incremental method.
According to this, the budgeting process starts from zero without considering the previous year's expenses. A manager has to review the expenditure of each fleet and approve it accordingly.
This technique aims to achieve an optimal allocation of the resources by making managers justify each expenditure.
The whole process involves five different stages:
Analyzing the causes of the activity
Determining its purpose
Finding alternative ways to do the same thing
Establishing performance measure
Accessing the consequences of not performing it.
To start with, you have to ask yourself these questions:
Is this expense necessary?
What if the activity ceases?
Is the current amount of money adequate for the function?
Alternative ways to carry out the same activity
Monitor, Control, And Reassess Fleet Budget
After you have completed the above process, all that is left is to keep everything in alignment. You have to periodically examine the actual expense and income against the projections in the budget and make changes if needed.
You can make monthly, weekly, and even daily reviews according to the situation. You can also benchmark the budget against your previous year's expenses for more clear insight.
How Can Matrack Fleet Management Reduce Expenses?
The Matrack fleet management software helps you determine all of the above expenses. It also calculates your fleet TCO automatically, saving your time for other activities.
Fuel is the largest expense of a fleet budget. The Matrack offers you a fuel card to provide you with discounts on fuel purchases. You can integrate it with fleet management software to get a broad overview of the fuel expense of your fleet. It automatically updates the data according to the fuel purchase made. So you don't have to waste your time manually entering the fuel receipts for better fuel consumption data. Additionally, you can integrate Matrack fuel card service with the fleet management software to receive 10-15% off on fuel purchases and IFTA refunds.
Maintenance is the other major expense of a fleet operating cost. Matrack helps you stay on time with vehicle maintenance with features like preventive maintenance schedules and service reminders and save up to $5k. By tracking every aspect of your maintenance, you can prevent unexpected breakdowns and improve the lifetime of the vehicles.
With complete visibility over your expenses, you can save yourself from overspending.
Apart from this, Matrack can also help you to save money in several ways:
It can help you with asset management. You can view the cost breakup of each vehicle and know when you have to replace it.
You can maintain continuous cash flow in your fleet with the help of our dispatch and factoring service and get up to $10,000 per year at the nominal interest rate.
Matrack offers you affordable and powerful telematics solutions.
You have to pay the lowest monthly or annual subscription fees in the market given to our advanced features.
You don't have to sign any contract so you can activate or deactivate your subscription as per your choice.
You can save up to $5k with a real-time tracking feature and also improve your customer satisfaction.
You can also avoid fines and liabilities with the use of FMCSA-certified ELD.
You can get a free ELD by paying subscription fees.
With our telematics system, you can improve your route management and expect an up to a $300% increase in your profits.
If you employ our system in your fleet, you can get up to a 15% discount on your insurance.
You can get all of these benefits and more at just $7 per month which is the lowest monthly subscription fee. You don't have to sign any contracts, you can enter or exit as per your needs.
To know more, click on the link.
Takeaway
As a fleet manager, you are responsible to monitor and control expenses. And for this, you have to learn how to make a budget.
To make a failproof budget, you need to have proper knowledge and data on various operations. A fleet management software like Matrack can help you with that.
Matrack fleet management software can be helpful for the budgeting process. It provides you with significant data insights to identify new ways of cost-saving. When your budget is ready, it can help you to track fleet operations and associated expenses.