Secure Your Bicycle Rental Business with Matrack FMS
Introduction
There has been a gradual change in the behavior and mentality of vehicle users. People are shifting from the mindset of owning their vehicles and going for rental vehicles. The growth witnessed in rental services can be attributed to many reasons. Some crucial aspects are the increase in traffic congestion, the hike in fuel prices, and the cost associated with the vehicle's purchase, operation, and maintenance costs.
People moving from rural to urban areas have also helped increase the demand for rental vehicles, especially bicycles. There is a conscious shift in consumer preferences after experiencing the various benefits of the rental system that helps the consumer save time and money. It also allows rental business owners to make profits by catering to the increased demand.
In the current scenario, the bicycle rental business has been building a foothold, and the leading business players are trying to restructure, sustain, and gain profits. The newcomers and experienced business owners in the bicycle rental business need to consider certain factors to improve efficiency, productivity, and customer service to remain on the competitive edge.
The fleet management system (FMS) based on advanced tracking technology has given the rental business new directions by providing innovative techniques. It ensures real-time tracking, theft protection, accident avoidance, and driving behavior monitoring which is advantageous for business operations.
Matrack GPS tracking device is an essential tool in a fleet management system that helps the business owner of a rental company track the fleet in real time, ensuring its safety. It is also a reliable tool for monitoring fleet performance and generates vehicle maintenance data for every bicycle. Matrack offers multiple features that make it an effective device for efficiently managing bicycle rental services.
The Role of FMS In The Bicycle Rental Business
As a person or group starting the bicycle rental business, there are numerous factors that you would feel the need to take care of. Several factors influence your business growth and sustainability, starting from regulatory requirements and assessing potential risks to choosing your fleet model and technology solutions.
There are service providers for bicycle rental solutions that can help you streamline essential business processes. Investing in an effective fleet management system will improve efficiency, ensure safety and save cost. It provides a satisfying customer experience and helps you improve the reliability of your rental business. The fleet management system offers a whole range of facilities that helps in the efficient functioning of bicycle-renting business operations producing tangible results. The FMS can provide several benefits as follows:
Improved Efficiency: The tracking devices allow monitoring of the bicycle location, speed, mileage, and driving performance which helps business owners make informed decisions towards improving efficiency. The GPS tracking system provides a clear view of distance traveled, mileage, idle hours, and driver behavior. This information allows fleet managers to decide on maintenance needs and resource allocation, achieving better efficiency.
Reduced Time of Travel: The FMS collects information about real-time situations and analyzes it to identify the best-suited routes for vehicles to avoid traffic congestion and disruptions. This facility ensures reducing the time of travel and reaching the destination earlier. It eventually improves customer satisfaction and also helps reduce fuel consumption.
Safety and Compliance: Fleet management aims to ensure the safety of bicycles and riders by gathering data on risky road conditions and potential hazards. The fleet management system can generate alerts to inform the drivers to improve driving patterns and ensure safety and compliance.
Asset Protection: The GPS trackers track the precise location and movement of bicycles at frequent intervals. It provides a reliable solution for detecting the position of lost or stolen automobiles and protects the assets from mishandling and unauthorized use.
Customer Satisfaction: The main objective of the rental business is to ensure customer satisfaction. The fleet management system helps to improve customer service by managing routes, providing map assistance, and ensuring safety. The well-maintained vehicles also give a smooth driving experience to customers.
Better Resource Utilization: The FMS ensures effective utilization of assets and resources, thereby improving profitability in business. The real-time tracking of delays, downtime, and travel time allows better vehicle and driver utilization. It provides various inputs that help business owners make strategic and timely decisions.
Factors You Need To Take Care of In The Bicycle Rental Business
Asset protection: A rental service involves keeping several bicycles on the road, making them prone to lose or theft. For this reason, rental businesses must incorporate tracking technology to monitor each vehicle's movement and avoid any incident of mishandling, theft, or unauthorized use.
Scheduled maintenance: Timely maintenance and repair schedules are critical in the vehicle rental business. The daily usage of bicycles by different riders might lead to technical issues and gradual deterioration in the vehicle's health. Regular maintenance of bicycles is necessary to extend their life and ensure smooth performance. It would also provide a safe riding experience to the users.
Customer-centric features: Customers often use rented bicycles for traveling, hiking, or adventure trip. They focus primarily on comfort and ease of driving. They would also look for guidance about their routes, updated information about risky road and weather conditions, and efficient vehicle performance on roads. Business owners need to diversify and update their operating standards with new technology to extend better services to customers.
Automated process: Automating the business helps streamline operations and provides customers with an easy and responsive interface to handle their requirements. Applications are available that help rental companies cater to their customers in a customized way meeting their specific requirements.
Cost-efficiency: You must ensure cost-efficiency by cutting unnecessary costs and improving profitability. It would enable you to rent out your bicycles at lower prices, helping you to reach more customers.
Challenges In The Bicycle Rental Business
As an owner, you must have considered all relevant issues and taken conscious steps to start your business involving bicycles. You must understand the challenges that your business operations might face regularly and prepare yourself with solutions. The most common challenges that you have to deal with daily are as follows:
Tracing a Bicycle: Sometimes, a bicycle from your fleet may go missing, stolen, or misused. You need to locate the exact location and take the necessary actions to recover it. An efficient tracking system can help you find your bicycle at the earliest.
Rule Violation: The bicycle user may be involved in some rule violations or unsafe driving practices that might lead to potential damage and financial loss to the business owner. A record of driving behavior while the vehicle is out on rent can help in this regard.
Accidents: If any accident happens, the owner might not get clear information about the actual incident unless they have a monitoring system to track their fleet. The owners need to get clarity about the extent of damage, loss, or injury that happened.
Billing: Bicycle renting is usually an hourly affair, but manual records often fail to track extra hours that tend to get unaccounted for. The user and owner often produce conflicting views that may lead to various billing issues. A properly maintained record based on a vehicle's engine performance often stands as critical evidence to resolve such issues.
Operational cost: Maintaining cost-efficiency is also a big challenge as fuel consumption and cost due to breakdowns and repairs cut the profit margins. Businesses need to monitor each vehicle for fuel efficiency and service needs.
Features of Matrack GPS tracking device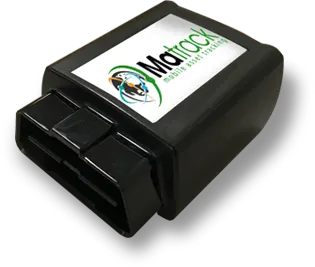 The Matrack GPS tracking system provides an efficient and reliable fleet management system with multiple facilities. It allows you to access your bicycle's whereabouts in real-time and track running hours, downtime, and overuse. This information guides you through planning and optimizing your bicycle rental operations toward better customer service and productivity. Matrack GPS tracking devices also save your vehicle from theft and misuse and help you reduce fleet operation and maintenance costs. It provides the best tracking features as follows:
Strong battery life for five months
GPS tracker that works efficiently using advanced technology
Effective hardware and software integration
Compact portable devices
Warranty and technical support
How does Matrack FMS secure your bicycle rental business?
Matrack brings a robust fleet management system (FMS) to secure your fleet of bicycles operating on a rental basis and help you with solutions to deal with real-time challenges and bottlenecks more responsibly. It offers you several benefits to ensure the safe and efficient operations of your bicycle rental business which are as follows:
Protection Against Theft
Matrack GPS tracker allows you to track each bicycle by sharing the exact location. Bicycles are easy to pick and are prone to theft or mishandling. The GPS tracker can track its accurate location even after dismantling it. The tracking devices are small and compact, making them easy to hide and reducing the chance of finding them and tampering even after the theft.
Real-Time Tracking
It is the most crucial feature that allows owners to keep track of the location, speed, and movements of their bicycles. In case of unauthorized use or rule violation, the owner will get immediate alerts and take appropriate actions. It ensures that your bicycles are safe and secure on the road.
Navigation information
Matrack GPS devices guide customers by mapping the best route to the desired destination along with real-time information on traffic, road, and weather conditions. It is a significant advantage that gives a convenient and smooth driving experience leading to customer satisfaction.
Time-saving
The Matrcak device displays the shortest and easiest route to the destination with traffic alerts, which saves time. It is helpful for delivery or food carriers by helping them reach their location quickly and safely.
SOS facility
Your bicycles may encounter breakdowns or accidents, but with the help of the GPS tracker, the user can alert you or service personnel using the SOS facility. By pressing the panic button, the rider can send alerts with the exact location and directions, allowing others to reach the place as quickly as possible. This feature has received great acknowledgment from customers for helping to save lives.
Weatherproof
Matrack GPS devices are sturdy and durable and can function flawlessly even in extreme weather conditions. The devices are resistant to heat, cold, water, and dust, making them the most reliable tracking solution under diverse weather conditions.
Maintenance indication
Matrack devices track your bicycles' performance regularly and let you know when the vehicles in your fleet need maintenance to avoid potential faults and improve efficiency. It is tough monitoring each vehicle individually for servicing needs, but the GPS trackers make it simple. You will automatically receive an alert when the service schedule becomes due. This feature ensures safety and customer satisfaction because they get to use a bicycle serviced regularly and in good condition.
Geofencing
Matrack GPS trackers also allow you to choose safe and unsafe zones for your bicycle by setting up geofences or virtual boundaries. You will get alerts when the vehicle enters or leaves that area or breaches any rule set on your device for your fleet.
No Billing Ambiguity
Matrack trackers support back-office work to streamline billing procedures with more accuracy and avoid the chances of any ambiguous or missing data. It becomes easier to keep a track record of riding time and total usage while the bicycle is on the go.
Transparency In Records
GPS tracking system from Matrack helps to eliminate any dishonest practices and conflicting facts regarding the rental process. Rental companies are now more confident about managing losses caused due to manipulation as the GPS tracker tracks all the activities and stores necessary records of the same for future reference.
Control and avoid violations
It is necessary to ensure that the riders follow safe driving practices and avoid rule violations while using bicycles. The Matrack tracker monitors driving behaviors like overspeeding, lane deviations, and harsh braking and generates alerts to guide drivers to avoid risky practices to ensure safety.
Cost optimization
The application of the Matrack tracking system enables businesses to reduce the cost of major repairs by effectively planning maintenance work and saving fuel costs by properly tracking fuel consumption patterns and taking proactive actions.
Conclusion
Technology offers solutions for almost every business problem today, including the bicycle rental business. The bicycle is one of the most environmentally-friendly and convenient means to commute. The rental business has seen rapid growth as more users opt for bicycles on a rental basis to save time, fuel, and maintenance costs. Business owners are adopting new methods and techniques to serve customers effectively and provide one-stop solutions to make transportation more convenient. The technology solutions also help businesses offer on-demand services to customers to enhance their reliability and service quality. The profitability of a business depends on how best you can use your resources to their optimal capacity. The FMS helps you reach your goals with better asset utilization, improved productivity, and reduced costs.
Modern bicycle rental solutions with GPS technology applications provide several benefits. It helps adherence to preventive maintenance routines to identify problems and fix issues before they turn serious. When dealing with multiple bicycles in your fleet, the overall efficiency depends on how effectively you handle the technical issues for each one of them. Every vehicle is different and may develop a range of issues. Your fleet management solutions enable you to focus on each bicycle and ensure customizable maintenance and repairs, ultimately improving performance.
Tourists often prefer a two-wheeler on a rental basis to explore unknown places, so by providing a reliable tracking solution to them during traveling, you can improve customer service and secure your business reliability. Tourists' use of rented two-wheelers has become a global trend, and bicycle rental businesses can utilize this opportunity by providing accurate mapping and route directions across geographical areas.
The owners of the rental services can gain a competitive advantage by applying an efficient and relevant fleet management solution as provided by Matrack. It would facilitate automating and streamlining the processes, thereby improving efficiency. It would also provide customized solutions to allow customers to reap the maximum benefits from bicycle rental services that ensure safety, reliability, and convenience.