6 Best Dashcams With Parking Mode
The safety of vehicles is the primary concern for fleet business owners, whether on the road or parked. We recommend you install front and rear dashcams with parking mode features in your vehicles that can help protect your vehicle against tampering or theft when parked.
You might have parked the truck in a suitable place, but you cannot rule out the chances of theft and vandalism. You need to identify the persons involved in this act and prevent them from damaging or tampering with your vehicle. If you have the incident recordings, it will help you take the necessary actions to ensure the safety of your vehicles.
Dashcams with parking mode are a reliable safety solution as they allow the camera to record an event when the vehicle is not in motion. This footage helps get details of incidents around the vehicle when it is parked, such as someone trying to damage or break into it.
Dashcams can work for extended periods in parking mode, approximately for several hours. This mode allows the camera to continue recording even when the vehicle is off, providing footage of any potential accidents or vandalism.
Modern dash cameras enabled with parking mode have motion detection sensors that will detect any unusual movement and start recording the event.
You can manage the dashcam settings remotely through a cloud-based platform that allows you to see video and receive an alert on your phone when something happens. A dashcam with parking mode is the best solution if you want to keep your vehicles safe from vandalism or hit-and-runs while parked.
Different Forms of Parking Mode
Dashcams with parking mode offer great solutions to keep a close watch on your vehicle in turned-off condition. There are different types of parking modes as follows:
The camera senses an impact or movement in this mode and starts recording. The captured video recording will help identify the reason or persons involved. It is the easiest and most efficient method of protecting your car from miscreants.
In this mode, the camera records continuously and saves the video footage to the device's internal memory. The camera starts working when an impact or motion is detected and continues for 20-30 seconds. It saves the footage to the SD card in a write-protected folder, which cannot accidentally get overwritten. You will also get an alert when you return to your car, making you aware of the incident. Buffered mode allows you to find out who damaged your car in your absence.
Another mode of image capturing is a time-lapse mode, in which the camera shoots a still picture at frequent intervals, like one frame/second or so. This series of images allows you to view the time-lapse version of the event that happened around your car while parked. The time-lapse mode takes pictures instead of recording continuously, which saves a lot of space in the memory card. Some cameras may also switch to simple recording for a certain period if they detect an event.
The Effectiveness of Parking Mode
You can select the best parking mode for your dashcam according to your specific needs. Motion detection sensors may activate the camera even when you are parked on a busy street or in a parking lot with lots of movement, and it starts recording and filling your memory card with videos that are not important.
The buffered parking mode is preferable as you get a video of everything that happened before and after the event that triggered the camera to start recording. When parked for several days, a simple parking mode is preferred, as it is the most energy-efficient mode.
The recording by a dashcam in parking mode depends on the following factors:
The type of dashcam you are using
The type of mode selected
Environmental conditions like daylight, rain, dust, etc.
The location of the parking
Why Do You Require Parking Mode Dashcams?
Vehicle theft results in considerable losses to car owners and business enterprises annually. The advanced technology provides an insightful solution to this problem in the form of a dashcam with parking mode. You can implement this technology to curb vehicle theft and damage.
Dashcam parking mode is an extended feature of the dashboard camera that continues recording even when your vehicle engine is not running and the car is parked. Conventional dashcams usually record driving footage, and premium dashcams with advanced features offer a parking mode option.
An effective parking surveillance mode is activated when a dashcam can detect the static position of the vehicle.
Switching from normal recording mode to parking mode should be automatic. A dashcam with parking mode starts recording as soon as it detects a motion or impact, depending on the type of camera. Motion-activated cameras are more reliable than shock-activated ones as they more accurately record pre- and post-incident events.
As mentioned below, the parking mode dashcam is helpful in different situations.
Private vehicles
The vehicle was involved in a hit-and-run while it was parked
You need to contest an unfair parking ticket
When your car is stolen or damaged
Fleet vehicles
Your cargo is stolen while your vehicle is parked
You need to contest an unfair parking violation
When you apprehend stealing of fuel from the vehicle
Your vehicle has been tampered with by miscreants
How to Decide On the Best Cameras For Parking Mode?
Dashcams are primarily used for surveillance but also have many features that you may find relevant. The dashcams used for parking mode must fulfill the following criteria:
The camera system must support dual channels, which implies using both front and rear cameras. It is highly preferable to use a dual-channel camera as it increases your field of view and gives you a better idea of what incident took place around the car.
Dual channel dashcams provide maximum protection when you apprehend chances of theft or vandalism where you have parked your vehicle. You need to install and synchronize two SD cards which is a bit more complicated than working with one single-channel camera with parking mode functionality. However, the dual channel provides added security and peace of mind.
The video imaging quality is one of the most important criteria to consider. The primary purpose of a dash camera is to record events that you can use as a reference for preview and analysis. So clarity, sharpness, and details in recording are essential. Cameras with higher resolution are becoming a benchmark today that provides super-quality imaging.
It is necessary to consider an SD card suitable for your dashcams to store all the recordings. You should invest in a high-quality microSD card to ensure that you can save a large number of videos that your camera captures. The high-resolution cameras generate files of larger sizes, so make sure to choose the best SD card with these specs if you are looking for the best resolution.
You would probably want your dashcams not too visible, especially if you are using them for parking surveillance. The camera design becomes a significant criterion depending on the surroundings and the purpose of use. It is necessary to keep the camera in a position, so the person who wants to steal the vehicle cannot identify it.
The reliability of a device plays a crucial role in selection. Similarly, when choosing a front and rear dash camera with parking mode, it is essential to make a market analysis and read a review of the product to get an idea of how reliable the device is. You should also consider parameters like ease of operation, technical support, and warranty, which indicate the quality and reliability of the item.
You need to connect the dashcams for the car in a way that ensures that it always has power support, even when the ignition is off. You may want the camera to keep recording even when the engine is off, so you need an external battery pack.
A battery pack eliminates the risk of exhausting your car's main battery. Dashcams use little power in parking mode, but if you park a car for several days, it may drain much of your car battery. A modern battery pack holds enough charge to keep your dashcams running for anywhere between 20 and 48 hours,
Best Dual Dashcams With Parking Mode
#1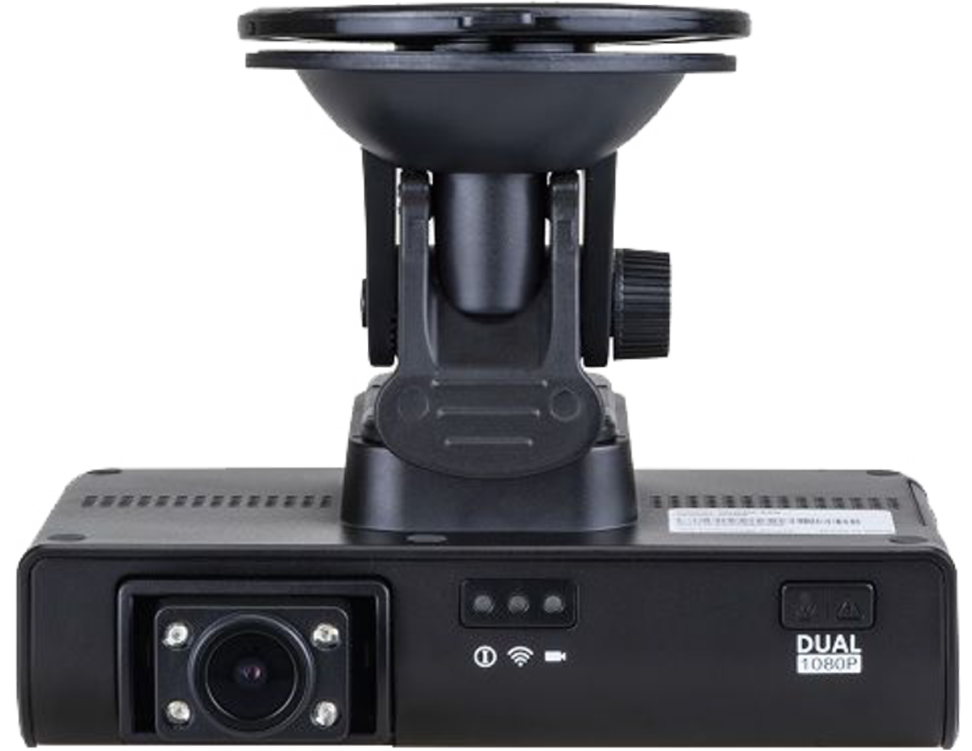 The high-resolution, high-performance front and rear cameras make the Matrack dashcam one of the best tools to keep your fleet safe and productive. It is suitable for different vehicle models, from small vehicles to commercial trucks. The parking mode enables the system to take photos automatically at specified intervals. The dashcam is fully compatible with Android and iOS smartphones, so you can transfer the file to cloud storage.
Key features
Both front and rear cameras work simultaneously to capture the front and behind view while the vehicle is running.
The integration with the mobile app gives instant access to dashcam settings and receiving alerts in case something happens around the vehicle.
The motion-activated parking mode enables the camera to record any activity occurring around the vehicle.
This camera can also function in low-light conditions.
#2
The Thinkware U1000 is a robust camera unit. It has a dual dashcam that records footage from the front and rear of your car. You can spend more on the optional extras if money is not an issue. It is the best parking mode dashcam with relevant features.
Key features
It records excellent 4K video quality through the front camera and 2K 1440p through the rear camera.
The camera has a wide field of view and shoots footage at 30 frames per second.
It uses a 42MP Sony Starvis image sensor.
It has a radar-activated buffered parking mode which allows the camera starts recording as soon as it detects motion or an impact near the car.
It has multiple features, including an optional hard-wiring kit and battery pack.
#3
Vantrue N2 Pro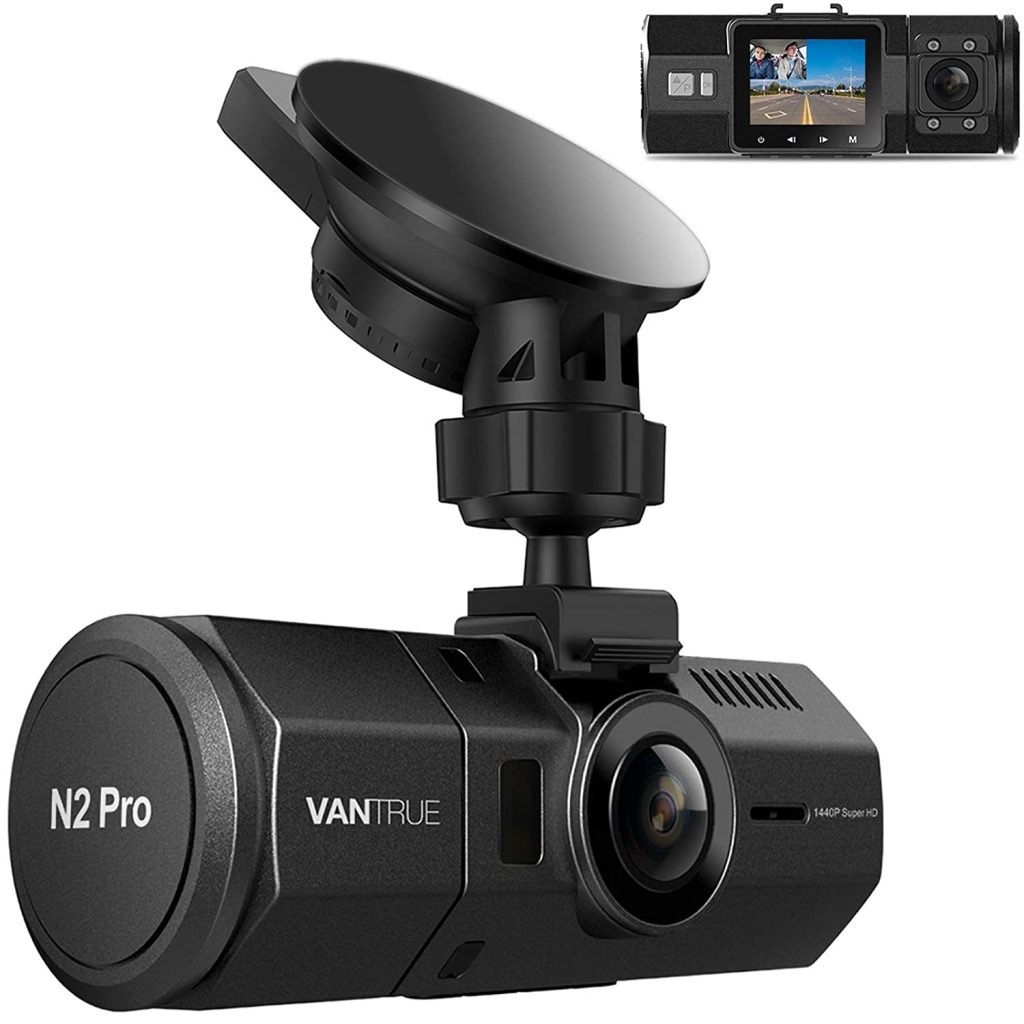 The Vantrue N2 Pro is one of the best dual dash cams with parking modes. It is suitable for different car models, from small cars to SUVs. The parking mode enables the system to take photos automatically at specified intervals.
Key features
Both front and rear cameras work simultaneously to capture the entire surrounding of your vehicle while you are behind the wheel.
The front camera captures a 170 degrees wide-angle view, and the back camera has 140 degrees wide-angle view.
The motion-activated parking mode helps you keep your car safe by recording any activity around it.
This camera has a 32-foot range and can take time-lapse photos every 1 hour.
#4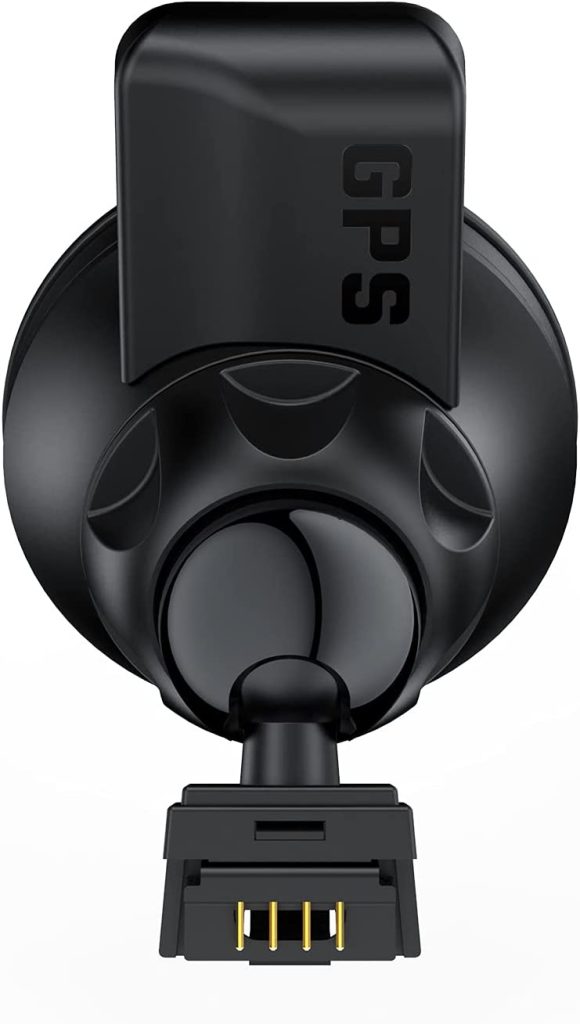 The Vantrue N4 is a triple-channel dashcam with two inside and one outside camera. It is a powerful dashcam with various advanced features and is most effective in recording accidents and other events.
Key features
The Vantrue N4 has a front camera view of 155°, a 165° view inside the camera, and a 160° view for the rear camera.
The resolution of the front, inside, and rear cameras is 1440P + 1080P + 1080P, respectively.
It can function under extreme weather conditions to keep the recordings accurate.
The G-sensor automatically locks the footage in the event of an impact, ensuring that it will not be deleted or overwritten.
The camera can record 2, 5, or 10 minutes at time-lapse intervals.
It has a mandatory loop recording function that auto-overwrites the oldest file when the memory card is full.
It has an adjustable camera that rotates 360 degrees to record incidents behind your vehicle.
The camera offers an optional GPS that can track location and speed.
#5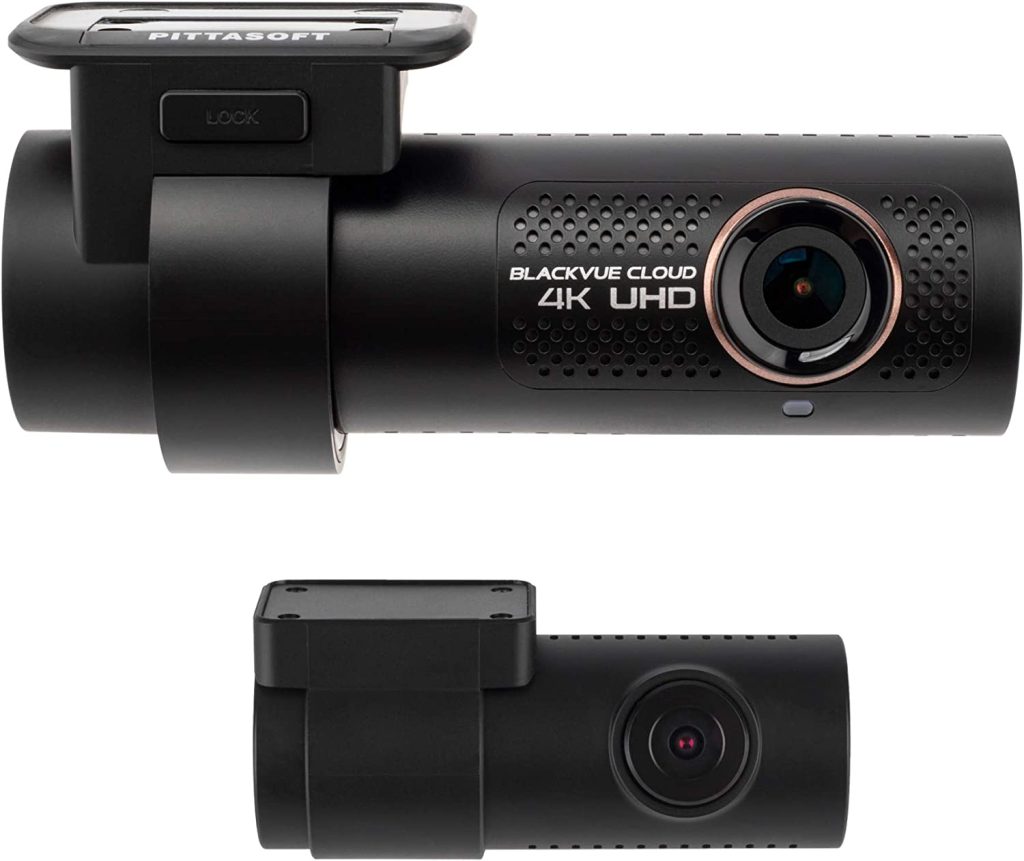 The BlackVue DR900X-2CH dashcams provide some advanced features and are a preferred choice for those looking for high-end dashcams. BlackVue has been the first dashcam manufacturer to support cloud connectivity.
Key features
The front and the rear cameras record in 4K resolution, providing superior video quality.
It is convenient to use and install in parking mode.
It has advanced cloud features that you can access through a free or paid online account.
It has a low voltage cutoff function to avoid depleting the car battery
You can select which areas of the field of view should trigger an event when motion is detected.
#6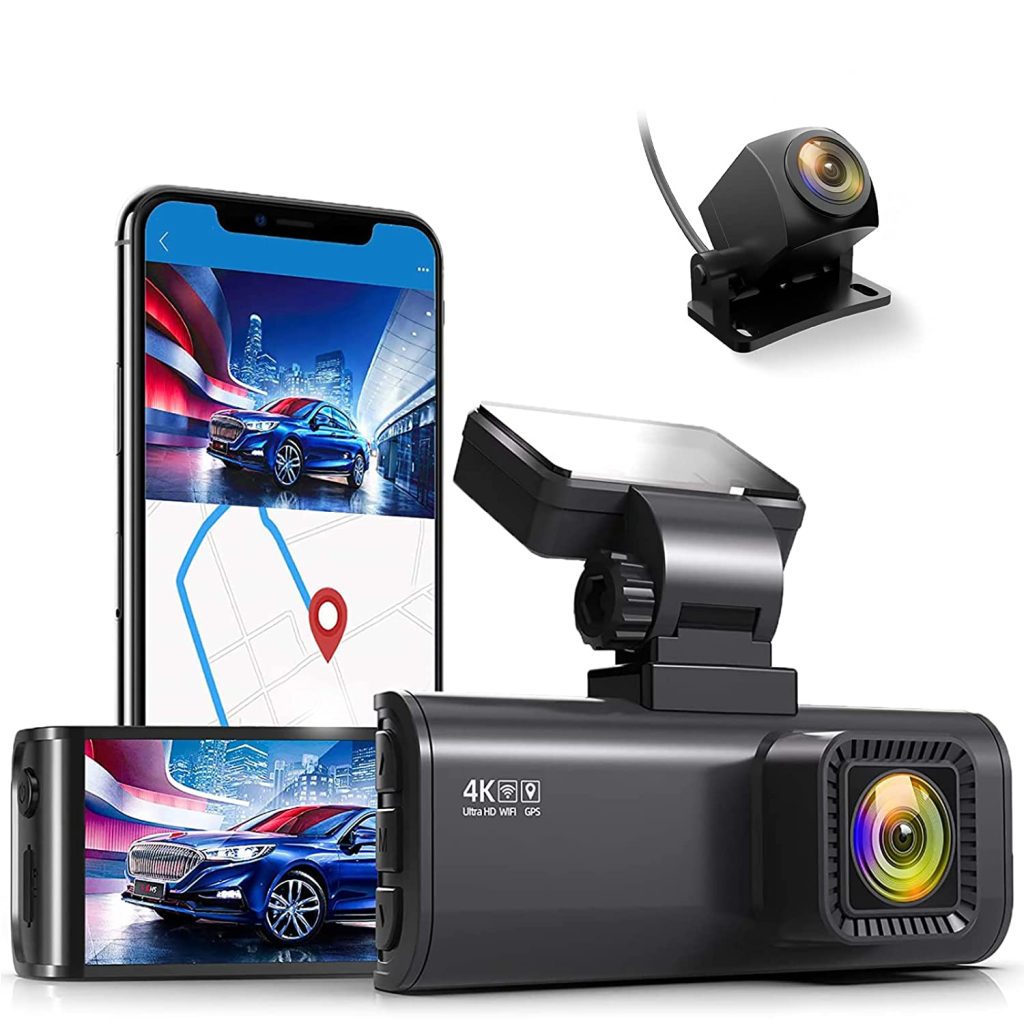 RED TIGER F7N is one of the most reliable dashcams that come with parking mode monitoring so that you can ensure that your car is safe even when it is parked somewhere. The camera lets you record events around the vehicle when it is not in use.
Key features
The camera can record in resolutions of 2160p (Ultra-HD) and 1080P (FHD).
It has a built-in G-sensor which detects sudden shocks or collisions and automatically locks the video to avoid overwriting.
The recording will be seamless, so there are fewer chances of missing any important footage.
The camera has a lifetime warranty that establishes its reliability.
Conclusion
A dashcam with parking mode serves some specific purposes quite different from other uses of the dashcams. The parking mode enables capturing other incidents when your vehicle is parked. This feature helps to save energy, minimizes unnecessary recording time, and improves storage capacity. Whenever the camera detects motion in front of the lens or senses any impact or shock, it turns on and continues recording or taking snapshots. Cameras activated by movements are slightly more reliable than those triggered by the impact because they are more likely to record the events from the beginning to the end.
Some dashcams can record events in a time-lapse configuration. It is a good option if you park in a busy parking place with movements around so that your motion-activated camera becomes active unnecessarily. In the time-lapse configuration, the camera captures images at fewer intervals than in the normal motion detection mode.
The time-lapse format does not occupy much storage space on your memory card and can capture more events that happen to your vehicle while parked.
Purchasing a dashcam with parking mode is an expensive proposition. Still, it is worth the extra cost to ensure that you can capture all incidents involving your vehicle while parked somewhere. It gives you peace of mind and helps you reach out for solutions more conveniently if something happens to your vehicle.